The best tankless gas water heater is one of the most frequently used heating machine, as it is powered by natural gas, the using costs are relatively low.
There are many types of best tankless gas water heaters on the market, indoor type, outdoor type, whole home type and also portable type. On choosing a tankless gas water heater, you should take the actual needs of yours into consideration.
Here we would give you some suggestions on how to choose, and listed several top-rated tankless gas water heaters for you.
Top 4 Tankless Gas Water Heater of 2019
Best Tankless Gas Water Heaters on The Market
This Rinnai natural gas tankless water heater is the star product and the hot-selling type in 2018. It needs to be installed indoor, and twin-pipe installation gives you more options and choices.
Features:
This unit has a high flow rate reaching 9.8 gallons per minute. It can support three to four bathrooms and multiple kitchen faucets at the same time. It can also be used for commercial use when you cascade several of them together.
The temperature range of the unit is between 98 degrees F to 140 degrees F, meets the needs of essential home hot water use. For commercial use, a commercial remote can raise the temperature to 185 degrees F., But you need to buy the remote separately.
The power requirement of it ranges from 15200 to 199000 BTU per hour, and the efficient rating reaches up to 0.95, which means seldom energy is wasted in using period. The high energy efficient heating machine is able to save a large number of heating costs for you per month.
Pros:
2 venting options offered (concentric PVC and twin pipe)
Needs only 2 watts to keep the machine up and to run
Takes up 20 seconds for hot water flowing
5-year warranty of the part
Super quiet working condition
Constantly hot water supply
Commercial use available
Cons:
Difficult to install, you need to get professional for help

---
This unit is an outdoor tankless gas water heater, so no venting kits need to be installed. Both natural gas and propane are available as a power source.
Features:
The same as Rinnai tankless water heater we recommended above, the flow rate of the unit is also 9.5 gallons per minute, which means it can be served as whole-house heater for a large family and for commercial quickly. Multiple bathrooms and faucets can be used at the same time.
The energy rating of the unit reaches up to 94%, which is really a high energy-efficient tankless water heater. Less carbon dioxide emitted in the using process, and it proves to environmentally friendly type.
EcoNet smart home technology of the machine enables you to control it remotely via an app, as an outdoor machine, you can simply adjust the gas power and water temperature at home with your phone.
Pros:
Stainless steel heat exchanger gives your option to connect both vents as water demand turns high
Both propane and natural gas available
Standard 10-year warranty on heating parts
No ventilation requires for outdoor installation
Remote control available
Supports multiple bathrooms and faucets the same time
Endless hot water supply
Cons:
Need to be installed by professional

---
Takagi natural gas hot water tankless water heater has a lower flow rate than other brands of the heater, which is suitable for small or middle size home use.
Features:
6.6 gallons per minute of water flow
The above two tankless water heaters we recommended are large flow rate types, reaching near 9.5 gallons per minute, while the flow rate of this unit is only 6.6 gallons. But it is still able to support one bathroom and one kitchen faucet the same time.
T-KJ2 series is proved to be the lightest and smallest in the whole lines of Takagi tankless water heaters. Able to save large space for you no matter for outdoor or for indoor installation.
150 degrees F temperature
This unit provides hot water with a temperature above 150 degrees F; the demanded power input is 140000 BTU per hour, 0.83 energy efficient is also saving much money for your heating costs.
Pros:
Compact shape
Propane and natural gas available both
Constant hot water supply
Easy to be installed
Able to support two bathrooms simultaneously
Demand minimal maintenance
Cons:
The working noise is a bit loud

---
Naiven NPE-A series is excellent in its patented high technology inserted; it represents the tankless water heater of the future.
Features:
Buffer tank and recirculation pump built-in
This unit is designed with ComforFlow technology, it has a built-in buffer tank and recirculation pump, to reduce cold water sandwich and save water bills by reducing time to get hot water. It boasts that you need only one second for hot water.
External interface installed
The external interface is equipped to show water temperature and error codes, you can turn the button on and off quickly to adjust.
Condensing stainless steel heat exchanger
It is designed with patented condensing technology; dual stainless steel heat exchangers recover extra heat to reduce energy consumption and carbon dioxide emissions. It keeps the exhausted temperature low.
Pros:
Clear installation and using instructions
Short waiting time for the hot water
Pretty powerful
Intelligent preheating technology makes live more convenience
Good at keeping the temperature
Quickly correct water temperature if it draws stops suddenly
Cons:
Slight working noise
You need to buy extra remote for remote control

---
This unit of Noritz is also a relatively small flow rate tankless hot water heater, reaching only 6.5 gallons per minute.
Features:
6.5 gallons of water flow
Compared with other recommended gas tankless water heater, this flow rate is a bit low, but it is still able to meet the demand of two bathrooms use simultaneously. When used in cold areas or cold weather, one bathroom and faucet can be used at the same time also.
There are two heat exchangers made by different materials that can be chosen, one is stainless, while the other is copper, both of them last long and are corrosion resistance. There are also freeze protection devices installed inside.
The gas consumption runs between 15000 and 120000 BTU per hour, and the thermal efficiency rating reaches as high as 93%, which helps save a large amount of money for you.
Pros:
Compact shape design
Quiet working condition
Can be vented with Schedule 40 PVC Pipe and Fitting
Low NOx design
Can be controlled remotely
Freeze protection
Cons:
Coldwater sandwich

---
Best Natural Gas Condensing Tankless Water Heater
Because of the individual working principle of natural gas tankless hot water heater, many of the leading brands make their heaters into condensing types, to reduce energy consumption and greenhouse gas.
There is some best natural gas condensing tankless water heaters we would like to suggest to you: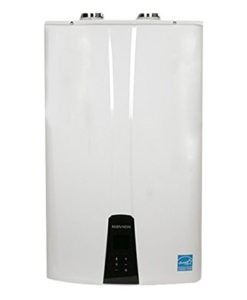 Each of Naiven tankless water heaters is equipped with condensing technology, it helps to reduce energy consumption and carbon dioxide emissions by recovering the extra heat that would be lost in non-condensing water heaters.
There are also many other Naiven natural gas condensing tankless water heaters you can choose, each of them is technically designed.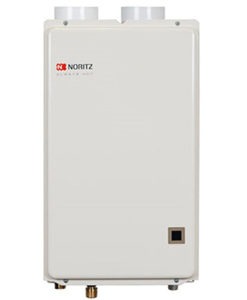 This is also a condensing gas tankless water heater worth recommending. And it has two heat exchangers; one is made of stainless steel while the other made of copper. Together with its low NOx design, it is capable of saving much energy for you and heating costs.
What Is Tankless Gas Water Heater?
The tankless gas water heater is a heating machine, powered mainly by natural gas. It heats water in a few minutes or even in a few seconds, able to support consistently hot water for you. Unlike a tank water heater, it saves far more space for your home, and you do not need to worry about running out of money when taking a bath. However, as carbon dioxide needs to be emitted in use, ventilation needs to be installed especially for indoor types.
Why Tankless Gas Water Heater?
1. It is more environmentally friendly.
Compared with other petroleum-based fuels, the tankless gas water heater is much cleaner; it emits 45% less carbon than other non-gas tankless water heaters.
2. It is more efficient
Compared with other nongas tankless water heaters such as electric types, the gas water heater is 3 times more efficient, and there are nearly up to 90% usable energy in use. The usable energy of other types reaches around 80% or even less.
3. It is more economical
The whole using costs of tankless gas water heater are relatively low but are more powerful. According to a professional test, a gas-powered tankless hot water heater is able to save 30% less money for you on heating bills each month.
4. It is more reliable
For gas tankless instant hot water heater, natural gas is transferred and used through underground pipelines; you can use it in multiple applications at the same time. Thus it is more reliable and safe.
Different Types
With different installation spots and applications, tankless gas water system types are various; they can be divided into an indoor type, outdoor type and whole-home type, portable type. Here we will give a fundamental difference and features of each type. And for each model, we have done detailed reviews for you; you can choose directly the most suitable one based on your needs.
<Installation spots>
1. Indoor gas tankless water heater
Indoor gas tankless water heater refers to the heating machine that installed indoor, whether in the bathroom or kitchen or directly under water sink. The key to the indoor heater is the ventilation; venting kits must be installed along with a machine for gas to let out.
If installed it on point of use, then it takes only a few seconds for hot water flowing, primarily reduced the waiting time and saved much money for you. If you have an interest in such an item, just check our reviews made for you freely.
2. Outdoor gas tankless water heater
Outdoor gas tankless water heater, as the name suggests, is installed outdoor. But to reduce waiting time, it is often installed outside the wall of the bathroom or kitchen. No ventilation is needed. But you need to make sure it is well protected under severe weather and do not put anything flammable on the machine.
There are still many other things need to be considered on an outdoor gas tankless water heater, we have made reviews and pick several best outdoor gas tankless water heaters for you if you would like to know more.
<size>
1. Whole-home tankless gas water heater
When taking a bath, doing laundries and washing hands at home, hot water is needed all the time. Thus you need to get a whole-house gas heater to support hot water for both shower and faucets. The flow rate of whole house type is relatively large and is much more powerful. You can get more information from the whole house tankless system reviews we made for you and choose the most suitable one.
>Click here to get more whole house tankless gas water heater
2. Portable tankless gas water heater
Portable tankless water system, or the small tankless heater, refers to the machine that is small and light-weighted. It can be carried and used outdoor in camping or installed on RV. The flow rate of it is quite small, meeting the basic needs of hot water use. And of course, portable tankless gas water machine price is low. If you intend to get the best portable tankless water heater, please feel free to check on Amazon or read the reviews of us.
Top 3 Best Tankless Gas Water Heaters
Electric vs. Gas Water Heater
Electric and gas are the two main power sources of tankless water heaters, many people may get trouble in which type should be chosen. Here we made a comparison between the two types of tankless hot water heaters:
Pros:
Do not directly emit carbon dioxide
More affordable
Do not need ventilation
Do not affect by high altitude
Cons:
Less powerful, requires multiple units to support equal power as gas type do
Require more maintenance in using
More expensive on using costs and heating bills.
Pros:
More powerful, able to support multiple faucets and bathrooms the same time
Lower cost than electricity
Able to heat water in cold climate
More safe in using
Cons:
More expensive on price than electric
Emit carbon dioxide directly from the vent
Needs ventilation
Buying Guides on Choosing Best Gas Water Heater
Facing so many brands and various types of tankless gas heaters, you must get trouble on which one is the best and which brands should I choose. There are a few factors that you need to take into consideration before selecting:
1. Flow rate
Different flow rate points to different user applications. Small flow rate types such as 2-3 gallons per minute tankless water heaters are normally portable or point of use types. They can be a good helper outdoor in traveling or camping, but for whole house using, the small rate is not capable enough to support enough hot water for you. So before selecting, you need to make sure the exact flow rate you need.
2. Ventilation
As natural gas serves as a major power, the gas tankless water heater needs ventilation kits to emit used gas out. The universal ventilation kits are sometimes not suitable for each machine; some of the heaters require special ventilation. And needed PVC pipes are also different, knowing clearly about the ventilation method can help save a large amount of money for you.
3. Size
The size of the gas heater has something to do with the size of your home. If you have a large home and intend to use it for the whole home, then we would like to suggest the whole house tankless water heaters for you. However, if you lack space and just want something small to support faucet use only, then you can choose the under sink tankless water heater.
4. Energy efficient
An energy-efficient tankless water heater can save a large amount of money on using costs and especially on heating bills. For a gas tankless water heater, thermal efficiency is an essential consideration for you, some of which reach up to 95%, which is highly efficient types, while some reach only 60-70%.
5. Waiting time
The waiting time of the water heater refers to the time for hot water flowing out of the pipe to the destination. The longer the waiting time is, the more cold water wasted, and thus water bills will be added accordingly. Therefore choosing a fast waiting time machine can save money for you to some extent.
Attention:
For indoor installation, venting kits must be installed
Do not put any inflammable things on the heating machine
The heater should be installed at a safe distance with water or other devices.
Stop using it once something wrong happens
Remember to turn off the gas valve every time you stop using it
Always use it under instructions required
Gas Water Heater Prices
One feature of tankless gas water system is its high purchasing price, most of which are around $1000, and of course, there are also installation costs as well as venting costs if installed indoor. But it totally worth the price, for the using costs, can be extremely low and hardly need maintenance in later use.
It is proved that tankless gas water machine is able to save 30% money on heating and water bills each month, and the service life of it reaches as long as 20 years for some brilliant types. For a long term use, a tankless gas water system is basically equal with an electric tankless water heater type or even cheaper.
But still, you need to select reasonably according to your actual needs and budget; there are also many other excellent tankless gas water system with relatively low price, if you have an interest, please feel free to check it on Amazon. Constantly discount on Amazon will save a large amount of money for you.
FAQ:
1. How long does it need to heat cold water?
Heating time is closely related to the performance of a water heater; some are made to heat water in a few seconds, while others need 1 or even 2 minutes. But it is also affected greatly by the distance between heater and destination. If you want an extremely short waiting time tankless water heater, you can install it right near the point of use.
2. Will the water temperature be affected by altitude?
Yes, for gas-powered tankless water heater, the gas loses efficiency at a rate of 4% per 1000 feet when it is used at 4000 feet. But for electric tankless water heater, the temperature stays stable and is not affected by it.
Summary

The natural gas tankless hot water heater is becoming more and more popular now, many leading brands such as Noritz, Naiven, Takagi, and Rheem, etc. are still doing their best to perfect the performance of gas water heaters. If you have any other troubles in choosing or venting, you can ask the manufacturers directly. Also, if you want to get more information about price or products details, you can check them out on Amazon, it will always meet your demand and offer the best service for you.
---