Standing outside the bathrooms and waiting for your turn on taking a bath on a busy morning can really be an annoying thing, especially when there are multiple family members in eager of using bathrooms at the same time. Thus, you may consider installing a large capacity tankless water heater that supports 3 bathrooms use simultaneously.
Getting the best tankless water heater for 3 bathrooms to use require not only the large capacity but also excellent performance in offering stable water flow. But what else?
Well, this post is here to give you the expert guidance on how to choose the best type for multiple rooms to use, and if you find it a waste of time selecting by your own, we have picked out top 7 models on the market of 2020 that you can choose directly.
Now, let's begin!
7 Best Tankless Water Heaters for 3 Bathrooms
Best Tankless Water Heater for 3 Bathrooms Review
1.

Best Natural Gas Indoor Heater

– Takagi T-KJr2-IN-NG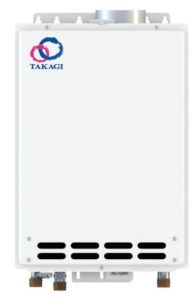 Powered by natural gas, this unit ranks at the top of powerful and high energy efficient heaters on the market. Maximum flow rate reaches 6.6GPM, in warm weathers, it feeds up to 3 or even 4 bathrooms use at the same time.
Look strong and heavy; it is actually pretty light and small. The moment you open up the box, you are stunned of how much room is not being occupied! Stainless steel inlet and outlet prolongs its service life.
It requires indoor installation, and the process of it is a bit hard. You may choose expert installation by digging out more money from the wallet. The downside of DIY is the loss of warranty, but if you are a handyman, this really saves much money.

---
2.

Best Residential Electric Heater for Small Home

– Rheem RTEX -18
The electric instant water heater has always been regarded as a less powerful type, compared with a gas one, yes, it is the truth. However, among other electric heaters, this unit is really worth recommending on providing hot water for 3 bathrooms use.
The maximum flow rate of it is 4.4GPM, with the self-modulation system, it reduces the using costs by adjusting power automatically, which means it heats water only when you need it.
LCD temperature control panel displays not only the current water temperature but also some error codes, in remind of fault operation. No clicky noise, no leakage, and no working noise. What left is a satisfying user feeling.

---
3.

Best Commercial Tankless Water Heater

– Rinnai RUC98iN Ultra Series Natural Gas Heater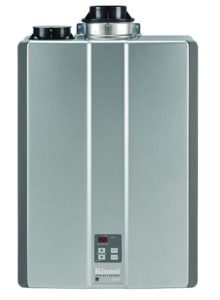 Works as a commercial tankless water heater, it handles 3 bathrooms use at ease. Double pipe offers you binary options on venting, either concentric or PVC. It features best in energy saving. Condensing technology improves the energy factor to 0.96, which means less energy is lost in the process.
In the middle part of the heater set a control panel, for adjusting water temperature and power. If you use it commercially, you may purchase a separate commercial controller.
The water stays at a stable and constant temperature, even when there are multiple water sources use at the same time. Entire working process is also quiet and smooth, with unlimited hot water at hand.

---
4.

Best Condensing Tankless Water Heater

– Takagi T-H3-DV-N High-Efficiency Natural Gas Heater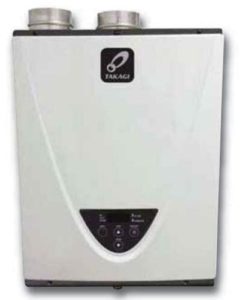 More of a heater for 3 bathrooms, this unit is worth praising as a best tankless water heater for family of 6. Why? Well, it is a commercial standard heater, the water capacity ranks the largest on the market, reaching up to 10 gallons.
Will it waste a lot of money on energy costs? No, it is a condensing type; it improves efficiency with a secondary heat exchanger. The installation is fairly straightforward and requires no venting facilities, but only PVC.
Even in cold weathers, it is suitable for multiple bathrooms to use, for it provides 199,000 BTU gas input in using. Large in power, it is quite compact and small, perfect for installing somewhere small and narrow.

---
5.

Best Propane Tankless Water Heater for 3 Bathrooms

– Rheem RTG – 95DVLP – 1 Direct Vent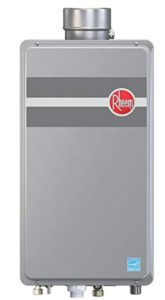 Another Rheem heater, but is a propane type, which is more powerful than electric model but is also not as expensive as natural gas one. You may install it indoor or outdoor; it requires a direct vent. The low NOx design protects the environment greatly.
With an optional control board, you can manifold it up to 6 units, serves well for commercial use. The installation is simple and direct, but we still recommend an expert to help to install for you.
With a 120V power cord, you will get constant hot water with a stable temperature, perfect for 2-3 bathrooms homes.

---
6.

Best 6.6GPM Natural Gas Water Heater

– Noritz NRC66DVNG Indoor Condensing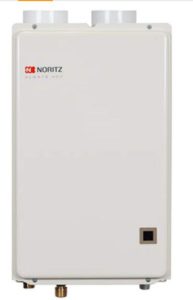 The maximum flow rate of it is 6.5 gallons per minute, which delivers the highest one among its categories. With the fully-condensing design, it narrows the using costs and energy costs to a large extent.
Double venting options allow you to choose a simple PVC venting instead of stainless steel type. Though it uses natural gas as a major power, you still need electricity as ignition. The sound of ignition can hardly be heard from anywhere in the house, and it keeps as quiet during the whole using time.
It takes little time to heat up, and once hot water flows out of the pipe, the temperature of it keeps stable, which means no cold water sandwich occurs.

---
7.

Best Energy Star Tankless Water Heater

– Rinnai V65IN 6.6 GPM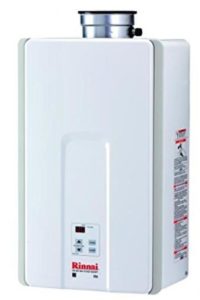 Compared with most large capacity tankless water heater, this one is a lot cheaper and affordable. 0.82 maximum energy factor also works for reducing energy and using costs. The small footprint allows more room for other accessories like a water softener installed.
Being an energy star heater, the temperature setting of it ranges from 98F to 140F. The leak detection shuts off the heater as to lessen the possibility of damage to the unit.
Durable as it is, you will find it highly quiet in working, with only the sound of water flow. Plus, you need only wait for several seconds before hot water flows out. Anyway, a highly recommended type for a tight budget!

---
The Final Verdict
A best tankless water heater for 3 bathrooms use should be capable enough on providing stable and constant hot water; however, purchasing the most recommended one is not always true. What you need is the most suitable unit for your demand; in other words, always take your demands and budgets into consideration in purchasing!
There are many other types available for other using situations; you may check for them also.
---