What if you intend to take a bath in traveling or camping?
Will you go and find someone kind of some hot water?
Well, with a tankless water heater for the camper, you can enjoy hot water anywhere you want. No matter you are going out on an RV or pitching a tent on a mountain, there will always be hot water that meets the demand of yours.
Thanks to its small compact shape, you can put it in your car easily without carrying the heavy tank anywhere. And after traveling, it is still useful for serving as a point of use tankless water heater, supplying flawlessly hot water for your water sink or washing machine.
So how to pick them? And what you should notice on buying a best tankless water heater for a camper? Well, we will give you detailed solutions to those problems.
Followings are the reviews for a best tankless water heater for a camper we have made through professional comparisons and tests:
Top 4 Best Tankless Water Heaters For Camper
Features Of Best Tankless Water Heater For Camper
1. Low flow rate
As camping tankless water heater needs only to support the meet of one single shower or one shower and one faucet use, the flow rate is not as large as normal residential use. The common flow rate of camper water heater is around 2 GPM. Even with a small flow rate, it is still able to offer constantly hot water for you.
2. Not suitable for whole house use
Tankless water heater for the whole house needs to support multiple showers the same time, it needs to be powerful enough. Therefore, camping heater is not capable enough and is not suggested to be served as whole house models especially in a large family with three or four bathrooms. But they can be used for small tiny home or point of use.
3. Weights light
It weighs pretty light, sone even weights only 8 pounds, so you can carry it anywhere and stored it on the back of your car. The installation of it is also simple and straight forward, you need only take about half an hour for installation.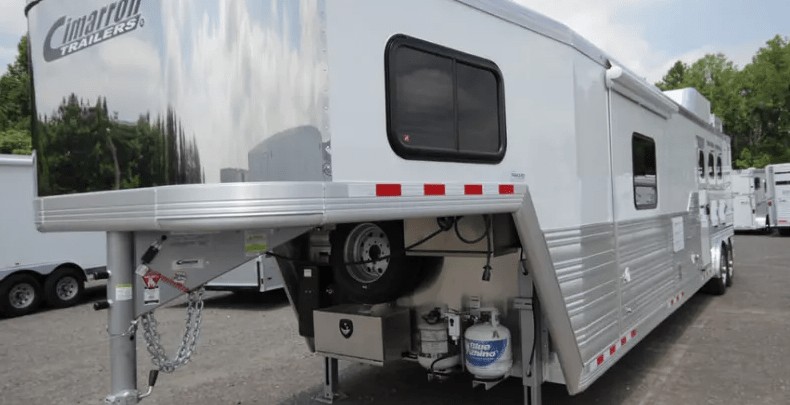 Best Tankless Water Heaters For Camper
It weighs pretty light and processes 1.32 gallons of hot water per minute. Because of its cheap price and high cost-effective performance, it is regarded as the most worth recommending tankless water heater for a camper or for a travel trailer. And is the top-selling heater on the market for several years.
Other features:
Low water pressure required
It needs only 2.5 PSI of water pressure for activation. Once it turns on, there will be an endless hot water supply and you can enjoy hot water anytime on traveling.
For outdoor installation, it may encounter the situation of under zero temperature. When the unit senses the low temperature, anti frozen protection system activates and take measures to protect itself in time.
Corrosion resistance to internal materials
It is installed with stainless steel burner and tinning copper water tank, both of which are highly corrosion resistance and heat resistance.
Pros:
Compact shape, wonderful for camping shower
Two buttons settings for water temperature adjustment
Endless hot water supply
Light-weighted
Unbeatable cheap price
Cons:
The temperature needs to be adjusted through gas and water flow control, difficult to get the exact temperature you want

---
This is a propane tankless water heater with electronic ignition, it requires outdoor installation, and activates on the pressure of 20 PSI. With its compact and lightweight size, it is easy to be stored and carried, thus it is widely used for camping, outdoor shower, animal bathing and recreational vehicles (RVs).
Other features:
Manual temperature control
Two buttons set on the machine, one for gas control, while the other is for water flow, through adjusting the two buttons, you can get the suitable temperature that you want. But it, of course, takes some time, especially for first use.
For outdoor installation, complicated weathers such as snow and strong wind will do great damage to the machine. The weatherproof rain cap is able to protect the machine and prolong its service life.
20-minute safety shut-off
For safety use, this machine is equipped with a timer, automatically shut off in 20 minutes if you stop using in this period.
Pros:
Perfect for camping and travel use
Easy to use temperature controls
Easy to store and carry
Quality materials including advanced shower head and stainless steel hose
Adjustable pressure range
Cons:
The fittings at the bottom are hard to install

---
This is another portable tankless water heater for a camper, the flow rate of it is 1.58 gallons per minute, capable of supporting one bathroom use easily. It weights light and needs no electricity, only works with 2D cell batteries. All you need for showering and for hooking up, except for battery and propane bottle, are included, making it convenient to use for outdoor.
Other features:
It has a flame failure device, anti frozen protection as well as overheating shutoff protection, etc for safety using.
Low water pressure required
It needs only 2.18 PSI of water pressure to start working, and maximum power output is 41000 BTU per hour.
Easy temperature adjustment
Two buttons are used to adjust water temperature, one is for water flow while the other is for gas. Through adjusting the two buttons, you can get the suitable temperature you want.
Pros:
Heats water fast
An on-off button is set on the shower head
Energy saving
Flame failure system
Overheating protection
Heats up only when hot water is needed
Cons:
The installation is not so clear, you need to read carefully

---
Compared with other best tankless water heaters for the camper, this one is pretty large in flow rate, reaching 3.6 gallons per minute. Therefore is able to support one bathroom and one faucet the same time. During camping, you can install it on your RV or in a temporary tent, anyway, it can not be installed outside. Of course, do not forget to install venting facilities for emitting wasted gas.
Other features:
Easy to adjust water temperature
The water temperature can be adjusted through two buttons on the machine, and error codes, as well as water temperature, shows on the control panel.
If install it near the application fixture, it is capable of transferring hot water in five seconds, and you can enjoy a satisfying bath with endless hot water.
Installation of it is quite simple and straight forward, though being a natural gas tankless water heater, it still needs electricity for ignition.
Pros:
Energy saver
Supports one bathroom and one faucet use the same time
Easy to read digital temperature display
Long service life
Deliver hot water in 5 seconds only
Cons:
Hard to get the exact temperature you want
Can be installed only indoor

---
What To Look For On Picking Best Tankless Water Heater For Camper
The price of tankless water heaters for the camper is relatively low, some take only around $100. But the working performance and flow rates can vary greatly. In order to get the best tankless water heater for the camper, there are some factors you need to consider before choosing:
1. Flow rate
Flow rate and power of the tankless water heater determine how many showers it is able to support. If you need to get a tankless water heater for one bathroom, then a small flow rate is enough. But when there are two or even more showers are using at the same time, a small flow rate one is unable to meet your demand.
2. Temperature
Normal temperature for residential use is as high as 140 degrees F if, for camping use, the temperature can be much lower.
3. Size
Before buying heaters, you need to estimate the amount of water you demand in travel and then choose a suitable one based on your actual needs. If you intend to install it on an RV, then you should think about how much space is left for installing the heater.
4. Energy efficiency
Most of the recommended tankless water heaters for a camper or for travel are propane types, compared with electric types, they are more energy-efficient and are able to save much money on heating costs per month.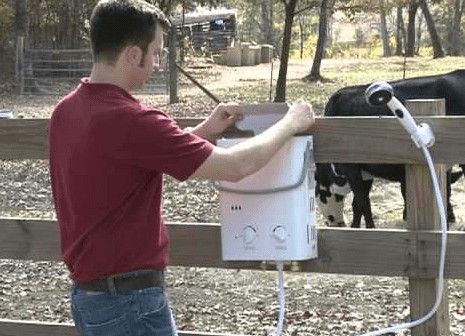 What Types of Tankless Water Heater Do You Need for Campers?
If you are a camper, then you need to invest in a tankless water heater since they heat water with the heat exchanger without requiring a storage tank. The best tankless water heater gives between 2 to 5 gallons of water in a minute.
– Electric.
Electric tankless water heaters are environmentally friendly as well as being cost-effective. The electric tankless water heater is easy to install and you can use it with a solar panel or a generator. The electric water heater is best for a camper since it does not result in greenhouse emissions.
– Gas.
The RV tankless water heater uses kerosene or propane and it is equipped with power vents that assist in releasing exhaust gases. Venting is good to enable proper operation though it can produce greenhouse gases. It is less expensive compared to the electric tankless water heaters as well as being 85% efficient.
– Condensing.
This tankless water heater uses a second heat exchanger that utilizes the heat from the exhaust to heat the water further. Condensing tankless water heaters are up to 94 percent efficient The PVC vents are inexpensive but the units are not economical if the water is used in short bursts.
– Non-condensing.
The non-condensing tankless water heater uses a heat exchanger for heating the water and it is very reliable. The product is not very efficient especially if you use much hot water in short bursts.
Why Buying Tankless Water Heater For Campers?
– Unlimited hot water.
The main reason that will make you choose a tankless water heater is that you will get unlimited hot water at a full-service campground. It is also ideal for full-time travelers or large families. With a tankless water heater, you will not limit your shower time so as to conserve the hot water.
– No recovery time.
You get the hot water when on-demand with a tankless water heater. This means that you will not waste your money heating water that might not even be used. You do not have to wait for hours for the water to warm up after each person takes a shower.
– Weighs Less.
If you are a camper, then you want to carry lightweights. Tankless units are lightweight compared to factory-installed water heaters.
– Pre-set Your Water Temperature.
Most campers enjoy the convenience of knowing that the water in your sink will be set to your comfort level. This gives you a great experience when dealing with tankless water heaters.
How to Install Tankless Water Heaters For Campers?
– Find the right Placement.
The best place to install your water heater is where there is plenty of ventilation. The water heater should also be within your reach so as to reach it for adjustments. You should also place it near your propane and water tanks to minimize the task of long tubing as well as wastewater.
– Look at the connection points.
The tankless water heater will come with three areas for attaching the hoses and these are the gas line, hot water outlet, and the cold water inlet. Ensure that the gas line and the waterline are turned off before beginning the process of installing.
– Attach the water lines.
To guarantee a watertight fixture, wrap your input connectors to the unit using Teflon tape. The propane heater product package is equipped with water tubing. You can consider CPVC tubing for the hot water to prevent the degradation of the hoses.
– Insert batteries.
Insert the two batteries and thereafter switch on the water pump. The batteries are used to trigger the automatic piezo ignition of your heater. You will hear clicking in the unit which means that the igniter is engaging.
– Attach the gas supply line.
Ensure that you are using the gas-specific Teflon tape that is yellow in color and thereafter install the gas fitting. Do not overtighten the gas line since it can crack the regulator resulting in a gas leak.
4. How Can I Convert RV Water Heater To Tankless As A Camper And Use It?
Below are step-step on how to convert an RV water heater to a tankless.
Shut off the kerosene, electricity, and water pressure pump.
Next is to drain the hot water tank through the drain valve and the pressure release valve.
Thereafter, disconnect the gas line, cold and hot water lines, and the electric connections from the ancient water heater. Take pictures to help you in reconnecting later.
Unfasten and remove the old unit.
Scrape off to remove old caulking and clean any residue that is left behind.
Fix the new butyl tape around the exterior compartment opening.
The next step is to slide the new tankless heater to its position.
Screw the new door.
Add the bead of lap sealant around this unit.
Reconnect the water lines and the gas lines. If the water lines that are there do not line up, use flexible tubing to make this connection.
Install the heater control panel on the inside of the PV at a place within reach.
Reconnect the electrical connections.
Switch on the water pump and the propane gas to ensure that there is no leak.
Switch on the power then test the hot water heater.
How To Clean Tankless Water Heaters For Campers.
To ensure your water heater lasts longer, it is important that you clean it often. The cleaning procedure involves flushing the device to remove mineral deposits and dirt.
Disconnect the electricity supply and gas to the heater.
Connect a garden hose to a pond or to sump pump on one end and then the cold water isolation valve to the other.
Connect the second garden hose to the valve for hot water isolation.
Place the pump and the open end of your second hose in a big bucket filled with around 5 gallons of clean water with white vinegar.
Open the cold and hot isolation valves.
Switch on the pump and allow it to circulate the vinegar in the system for about 45 minutes.
Switch off the pump then dump the vinegar from the bucket.
Let the open end hose stay in the bucket, then turn on the valve for cold water supply and allow the water to flow through and into the bucket for six minutes.
Close the valve, then disconnect the garden hoses from the valves.
Switch off the hot-water isolation valve.
Remove the inlet filter screen and rinse it so as to remove the sediments then reinstall it.
Reinstall the cold and hot water supply valves and then open two water faucets to facilitate bleeding air from the lines.
Benefits Of Using A Tankless Water Heater For A Camper
Switching to tankless with your RV water heater has numerous benefits:
– Prevents you from dealing with cold showers.
You get hot water on your demand after installing a tankless water heater. It is also a solution to not having adequate hot water for everyone since it supplies it instantly when required
– Promotes a higher distribution rate.
Since a tankless water heater will provide hot water on demand, then you can carry out various activities simultaneously for example multiple showers, dishwashers, and running your washing machine. This is because the heater is designed to distribute high volumes of water.
– Long-lasting.
This is a remarkable benefit since the tankless water heater will last longer compared to other water heaters. It carries Florida warranty of about 15 years and you can estimate that it will serve you for around 2 decades.
– Energy-efficient.
The tankless water heater uses less energy compared to the tank unit. It is also capable of consuming less water and operates effectively thus giving huge savings monthly and up to 30% savings annually.
Top Brands On Producing Camper Tankless Water Heaters
-Excel
This manufacturer is based in Miami Florida and it has been into this business for 16 years. The company distributes gasFlex flexible gas piping units and also a line of Excel tankless water heaters.
-Suburban
This company was established in 1947 and it is situated in Dayton Tennessee. It is the leading manufacturer and a supplier of RV water heating as well as cooking appliances.
-Atwood
Atwood mobile products were founded in 1909 and entered the RV market in 1936. It is now sold under the domestic brand and its product includes water heaters, cooktops, air conditioners for RVs, and also furnaces.
-Rinnai
Rinnai was founded in 1920 in japan after launching its first water heater and now Rinnai America is among the few tankless water heater manufacturers with their own Canadian standards Association testing laboratory that is certified.
Summary
Tankless water heater for camper weights extremely light and are designed compact, apart from using in travel, you can also use it in a small studio or under the sink for point of use tankless water heater.

There are many other types best tankless water heaters for trailers, if you are interested in the item, you can get more information and price on Amazon, please feel free to check for more.
---