EcoSmart is one of the leading brands in tankless water heater markets in 2020. Most of the products of its are electric tankless water heaters. All the best selling products of EcoSmart tankless water heaters include Eco 11, Eco 18, Eco 27 and Eco 36 series. We will later discuss each of them in detailed.
3 Best EcoSmart Tankless Water Heaters in 2020
About EcoSmart
EcoSmart, as its name suggest, aims to provide energy-efficient and smart technology tankless water heaters for people from all over the world. The key focus of EcoSmart is the area of the water heater. It builds up a complete producing line in designing and producing high technology tankless water heater both for the residential and commercial appliance. It also builds a solid distribution line throughout the western hemisphere.
All the tankless water heaters from EcoSmart are ETL Certified to UL 499, which means it passed the strict North American safety standard and is capable of providing safe and high-quality tankless water heaters. EcoSmart is also the only brand for tankless water heaters that certified through FIDE, it is a Mexico based organization, aims to offer programs and projects of high quality and innovation, as well as generate economic, social and environmental benefits to the country.
EcoSmart Tankless Water Heaters Reviews
EcoSmart tankless water heaters are frequently praised by their high energy efficient and brilliant quality by customers. Among them, the hottest selling hot water heaters are Eco 27 tankless water heaters. Besides, there is still some other worth recommending.
So we pick the 3 best EcoSmart tankless water heaters for you and made detailed reviews for you as follow:
This is an electric tankless water heater and requires 27kw at 240-volt electric power. The temperature range is among 80 to 140 degree F.
Features:
The flow rate of it reaches up to 6 GPM in warm places while it reduces to 3gpm in cold weathers. It supports two shower use simultaneously, therefore is suitable for small or tiny home use. It is capable of providing endless hot water in using.
Self-modulating technology
With such technology, the tankless heater only heats water when you are using, thus there is no standby heat loss and saves much energy for you. EcoSmart boasts that it is able to save about 50% in water heating cost, and it proves to be right according to customers' feedback. The most brilliant thing on EcoSmart tankless water heater is its 99.8% energy efficient, which is really a high environmental friendly product and saves a large number of heating bills for you.
The water heater temperature is set by the clear operation digital control panel, water temperature and error codes show on for convenience and safe using. You can easily adjust increment 1 degree F time, and thus perfectly find the most suitable one for your home use.
This unit is designed simple and suits different decorations of your home. It is so small that can be used for point of use tankless water heater. It is 90% smaller than tank water heaters and also far smaller than other brands of tankless water heaters on the market. You can install it anywhere you want or just near the using spot, so you do not need to waste much time and water for hot water flowing. It is also capable of saving 12 feet cubic after installation.
EcoSmart tankless water heaters are said to last 20 years, it adopts either copper and stainless steel as heat exchanger materials. While the normal service life of other tankless water heaters is 10-12 years, 20 years long using time is really a great attraction. And because no water is stored as tank water heaters do, there is no risk of corrosion for heaters.
Pros:
Energy saving
Space-saving and money saver
Self-modulating high technology adopted
1 degree F increment of water temperature
Digital control system
Well made heating elements
Cons:
The temperature of the water can not be set right as EcoSmart promises
Disappointed service

---
This tankless water heater is also powered by electric. And it is regarded as the most powerful model in the line of EcoSmart tankless water heaters.
Features:
It is able to provide 3-8 gallons of hot water per minute, heat up 3.5 gallons of water in cold weather or cold areas, and offer 6-8 gallons per minute in warm areas. It supports one bathroom and one sink easily, perfect for large scale single family. But if you intend to use three or four bathrooms simultaneously, you'd better get another brand.
This unit is super easy to install, and you can install it totally by yourself. As you know, the cost of professional installation can really be a large budget burden, this is able to help save much money for you. Because of its small shape, it is able to reduce 12 feet cubic after installation. You can perfectly install it wherever you want.
Digital temperature control
The temperature of the water is shown on the panel, you can increase 1 degree a time, thus is able to find the most suitable one for your home. The maximum temperature is up to 150 degrees F. But most people complain that it is unable to set as right as it promises.
Pros:
Relatively large flow rate for a single family
Able to choose the exact water temperature you want
Self-modulating control
Energy efficient
The most powerful one among other EcoSmart tankless water heaters
150 degree F hot water supply
Cons:
You need to get a 150A dedicated system

---
This unit is not so powerful as the above two, and temperature range is also small, but it is more portable and suitable for tiny home use.
Features:
2 gallons hot water supply
It only provides 2 gallons of hot water per minute, thus if you intend to get one water heater for large family use, you may get another type. The temperature it bears reaches only 67 degrees F.
Though designed as small gallons and low flow rate tankless water heater, this is also equipped with self-modulating technology, it heats water up only when you need it. So it helps to save about 60% of the electric bill. When something wrong happened on the heating exchanger, the lifetime warranty of the manufacturer helps change and fix for you.
The digital temperature control console is designed simple and convenient to use, it also enables you to reset it and forget it, again and again, thus you can choose the most suitable one for your home.
It weighs so light that you can even use it for traveling or for RV. The small shape of it saves much space whether you install in the bathroom or just install near the sink.
Pros:
2 gallons per minute hot water supply
Automated resettable thermostat
Compact
60% energy saving
Perfect for tiny home use
Cons:
The temperature of the water is not so stable, turns from hot to cold several times in using

---
Technology of EcoSmart
1. Patent self-modulating technology
All the EcoSmart tankless water heaters are designed to activate at 25 GPM, and Flow Sensor Technology is also adopted with POU models, the Flow Sensor Technology is used to modulate the consumption to meet the demand of hot water.
As is known to us, most tankless water heaters on the market are operated through a flow switch, it is pushed to activate the unit when enough hot water is demanded. But when demanded hot water is too low to reach the activated limit, it may not be activated, or the hot water is not enough especially in cold weather, and that is the main problem of other tankless water heaters on the market nowadays.
With self-modulating technology, EcoSmart is able to save up to 50% of electric heating bills compared with another storage tank.
2. Digital temperature control
EcoSmart tankless hot water heaters are equipped with digital temperature control, which shows the accurate temperature on. The digital control enables you to reset, you can adjust increment of 1 degree F a time, the average temperature ranges from 80 degrees F to 140 degrees F.
3. Copper & stainless steel heat exchangers
All tankless hot water heaters from EcoSmart are made either by copper and stainless steel materials. The brass top on those elements prevents electrolysis. And thanks to high corrosion resistance performance of copper and stainless steel, they have a longer service life and last longer than other materials. One thing worth mentioning is that EcoSmart tankless water heaters are able to provide 99.8% energy efficiency, which is the highest among the whole water heaters market.
EcoSmart Electric Tankless Water Heater
As EcoSmart is especially famous for its electric tankless water heaters, it put much their energy on producing high efficiency and energy-saving electric heaters. If you want to get powerful and cost-effective EcoSmart tankless water heater for residential use, we would like to recommend Eco-27 electric tankless water heater for you.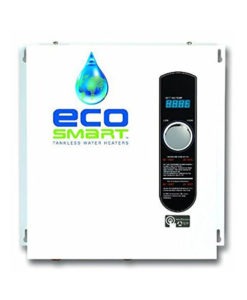 This is the best selling and hotly demanded tankless water heaters among the whole market in 2020. The flow rate of the unit is 6 gallons per minute, though not so large, but is perfect for middle size home use. Temperature range is among 80 to 140 degrees F. Patented modulating technology is perfectly performed on the machine, it saves up to 50% for heating bills and 99.8 high energy efficient definitely makes it the best choice for you.
EcoSmart Gas And Propane Tankless Water Heaters
As we have introduced before, Ecosmart is a leading brand on producing electric tankless water heaters, so we do not introduce gas and propane tankless water heaters of EcoSmart for you. If you have an interest, you can check more on the official website of EcoSmart.
Besides, there are many other leading brands on producing high-performance natural gas or propane tankless water heaters such as Noritz and Rinnai, etc. We have made clear reviews on each of the brands, and also there are detailed natural gas tankless water heaters reviews and also propane tankless water heaters we made for you, please feel free to take time on finding the most suitable one for you.
Last Words on EcoSmart Tankless Water Heaters…
EcoSmart tankless water heaters mainly focus on energy-efficient, the manufacturer successfully reach the energy rating of its products to 99.8%, which is the highest among the tankless water heaters market. But flow rate and power are relatively low, therefore, it is not a perfect choice for large family use.
If you intend to get one for travel or of compact size, then you get the best brand. Because all the hot-selling and wide praised tankless water heaters of EcoSmart is electric power, it reduces the necessity of installing venting kit and has less pollution compared with gas and propane tankless water heaters. When you are short of a gas line at home, then you can get an electric type.
EcoSmart provides limited lifelong warranty for its heating exchangers, and service life of its products are relatively long.
To Sum Up

If you still have trouble in finding the most suitable one or want to know more about the price and detailed information, you can contact us or just check on Amazon, there are also large deals on Amazon from the time you time, so you can save much money on it.
---
Reviews of Ecosmart Tankless Water Heaters of Different Power: