Are you looking forward to inhibiting the build-up of scale in your water heater? Or is corrosion becoming a significant problem for you? It is at this point that the 3M scale inhibition comes in. its enhanced effectiveness in stopping corrosion and cushioning the water system against scale accumulation is unmatched.
Unfortunately, not many people understand what this product has to offer. For this reason, it becomes hard for them to make credible decisions in the long run. How about we take an incisive look into what this product brings on the table? Here are a few insights into this.
3m Aqua-Pure Whole House Scale Inhibition Inline Water System Reviews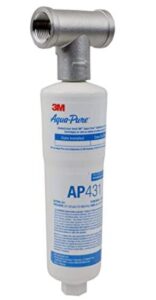 Product Features
Various features come with this product. That these traits are topnotch is no longer a secret. A look into them will spell elegance, reliability, and sturdiness. Here are the critical features you will get.
• Multiple filter cartridges
This product boasts of up to three different filter cartridges, which means there is enhanced effectiveness. While each of these cartridges serves different functions, they can only filter particles of up to 5 microns. What is more, these filters will last for up to 12 months or filter up to 100000 gallons of water.
The AP910R filter removes various small particles from the water, including sand, rust, and dirt. You will rely on the AP917HD for reducing chlorine and any odor in the water. This filter prides in more carbon filter blocks. We also have the AP917HD-S, which breaks down minerals like magnesium and calcium. It is through this that the water then becomes much softer.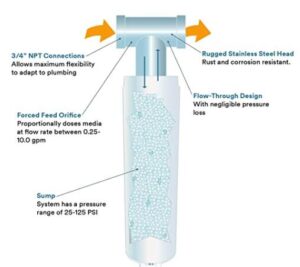 • Reliable flow rate
Often, you will need enough flow rate to meet the needs of your household. Whether it is filling a coffee maker or taking a shower, this rate needs to offer you the experience you so deserve. Fortunately, the 3M aqua-pure gives you a flow rate of between 10 and 20 gallons per minute, which will comfortably take care of a mid-sized household. It also comes with a 10 GPM rating, that is capable of handling enough water pressure. With this rate, it will be much easier to handle different applications in the house, and at the same time.
• Medium micron rating
How big are the pores of these filters? These pores often determine the efficiency of the filtration process. As mentioned earlier, these filters come with a 5-micron filter rating, which stands out as a medium level. However, it would suffice to say that this rating assures you of protection against various harmful microorganisms.
• Credible scale inhibition system
Indeed, this system comes in handy in not only stopping water from backing up but also from ruining your appliances. This system ensures that there is no mineral sticking on the pipes, which then ensure that you do not worry about limescale. On top of that, it would be right to mention that this system does not feature salt-based filtration tendencies. That implies that it will not affect the ecology. Besides, it will not remove any vital minerals from the water.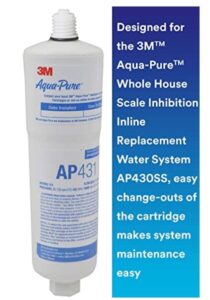 • Sturdy steel construction
Nothing could come in handier in defining the longevity of a product than its housing. Interestingly, you get to enjoy the benefits of steel construction with this product. This sturdy housing means that your product will last for a relatively long time. While at it, you will witness that the filters take time to get replaced. You can only consider replacing them after a year of use. Also, they will be fit for removal if you hit the 100000-gallon mark, whichever comes first.
• Resistant to corrosion
Did you know that this product boasts of copper pipes and a head made from stainless steel? These metals are less susceptible to rust, and resisting corrosion will hardly be an issue for you in the long run. As long as they can resist corrosion, your filter will remain steadfast for such a long time. Did you know that these materials come with NSF certification? That means that they do not only meet the set standards but also are as reliable as you would wish.
Specifications
Measures 25.0625*4.5 inches
Weighs about 1.9 pounds
Ideal temperature range is between 40 and 100 degrees F
Suitable pressure is between 25 and 125 Psi
White color choices
Compatible with dishwashers, boilers, and plumbing fixtures
304 stainless steel construction
Brand 3M Aqua-Pure
SQC design
Pros
With this product, you will enjoy multiple benefits, which will often include the following.
• Robust flow rate
This product ensures that you enjoy an enhanced water flow rate. As mentioned, you will have access to between 10 and 20 gallons per minute, which will comfortably meet the needs of your household.
• Enhanced lifespan
The value of your money will often depend on how long the product lasts. Interestingly, you will be sure of relying on this filter for a relatively long time. With the stainless steel construction, you can hardly overstate its robustness.
• High-efficiency levels
This system will inhibit the build-up of any minerals or salts on the pipes. That implies that the flow rate will be worth appreciating. It will also help in enhancing the lifespan of your appliances in the long run.
• Ease of installation
The process of fitting this system is relatively straightforward. That implies that you will not have a hard time, whether you are a professional or not. Besides, you will need no tool when doing filter changes. Further, the product is relatively lightweight.
• Low maintenance costs
Not many things go into the maintenance of your system. As long as you can change your filters on time, you will be good to go. Expect to spend between 130 and 170 USD yearly on these replacements.
Cons
• Not suitable for well water
Water from a well could feature lots of mineral salts. This system will take time in eliminating such minerals, which could end up compromising your flow rate.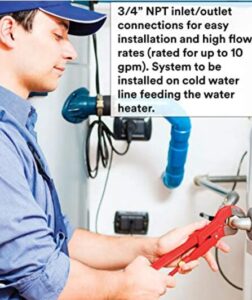 Final Verdict
In conclusion, you will hardly ignore how crucial this system will be to you. From assuring you of healthier water to improved efficiency levels, it should be your dream. While it is not reliable when dealing with unusually hard water, it is still worth buying. Try it today, and you will hardly regret it.