Who wants to touch cold water, especially during the winter seasons, when you can heat it instantly from the tap? Bosch Tronic 3000t es4 is a compact-sized water tank heater that fits in small areas under the sink or next to the sink. This type of tank water heater comes in varying sizes ideal for small sink areas.
The color and finish of this tank water heater are designed to blend well with modern and old homes. It seamlessly matches well with the decor in the room such that no one will find it odd installing at the visible parts of the house. So, if you need a quick and affordable heating technique for your water around the sink areas, this is the perfect tank water heater to buy.
Bosch Tronic 3000t es4 Reviews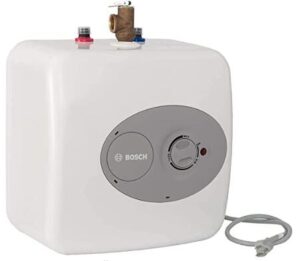 Pros:
This is easy to install a tank water heater since the power cord comes pre-installed for you
The unit comes with a warranty
The unit has various installation modes
It has quality materials construction for durability and convenient in terms of maintenance
The heater can supply hot water to two sinks at ones
It has a compact size to fit in small homes
The heater unit is compatible with most homes as it connects to the standard power adaptor
It is super light in weight for convenience and comfort to hold it when installing it to the wall.
Cons:
This tank water heater only supplies around 4 gallons of water, which means that it may not work in areas that require a high level of water may be at a hotel.
Some customers have complained about their heater leaking after a few months of using it. Again it is not ideal for areas with multiple people or areas where the water is used continuously.
Compact size for a small home
This electric water tank is designed with the people living in small homes, such as apartments or condos in mind. You don't need extra-large space to fit the electric water tank thanks to its compact size. The reservoir can hold around 4 gallons of water, which means that it can comfortably fit even under the kitchen or bathroom sink. The entire tank unit measures 13.75 x 13.75 x 13.5.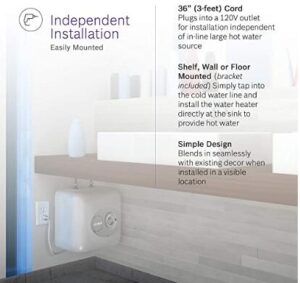 Quality construction
Considering this electric water tank will be continuously used to heat water in your home, it features heavy-duty and durable material constructions to withstand the constant usage. It features the quality glass-lined materials that are resistant to corrosion and damage from substantial impacts.
These materials are also easy to maintain since you can easily clean up the heater for cleanliness purposes. Make sure to follow the manual guide regarding how to manage the tank and clean it for safety purposes. The outer part of the tank features CFC free foam insulation material to ensure maximum heat insulation for better heating results.
Multiple installation modes
Do you want to mount, place on the floor, or place this heated water tank on the shelf? It is quite convenient when it comes to the installation process. First off, the electric tank is light in weight, making it smooth and comfortable to hold it when installing. It is also small in size, making it easy to mount on various parts of the room.
You can easily mount the tank on the wall since it comes with brackets for mounting and fitting it to the wall. It also has a stable base that stands firmly if you want to place the tank on a shelf or the floor. The unit does not take much space under the sink, so set it to your preferred area.
Convenient with instant hot water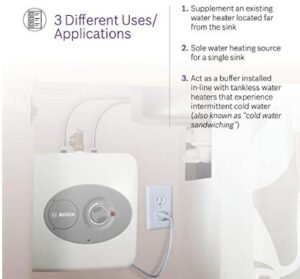 This is another feature or design that makes this electric tank water heater stand out and fit most homes. You don't have to wait for the tank to heat your water in the sink since it features the fast recovery rate. This means that the tank water heater heats the water instantly. You open the tap.
The best part is that this device can provide heated water for two different sinks, maybe around the bathroom areas. This unit also comes with the temperature and pressure water relief valve already installed.
Independent installation
This electric tank water heater is compatible with most homes since it connects to the standard power adaptor source of 120V. It also comes with a reasonably long power cord of 36 to 37 for easy plugging on the water source. The power cord comes pre-installed for you to save your appropriate time since you need to find a power source and plug the heater to begin heating.
The device is suitable to install in different areas due to the independent installation method, and you can do it on your own.
Warranty
Although this electric tank water heater has quality material construction and great functioning features, it also comes with a warranty for quality assurance. Check with the dealer regarding the warranty cover and what you should expect from the manufacturer in case of a factory defect.
Is bosch Tronic 3000t es4 heating water faster
Yes! This mini-tank water heater unit features the fast recovery rate mechanism, eliminating the long wait of the waters to heat up. Thus, it immediately heats water on opening the tap. You can also set this heated water tank unit to supply hot water in two sinks consecutively.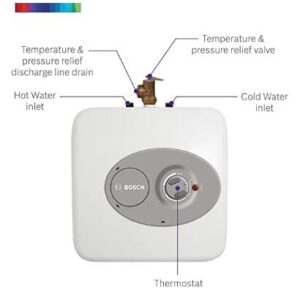 Usages
Bosch Tronic 3000t es4 is a quality and reliable heating unit that warms up the tap waters. This is a great unit to install during the winter season since it provides warm water throughout the cold seasons and it also suits people who have a cold allergy too since you can still wash your hands and do other jobs like cleaning dishes by supplying hot water with the aid of this heater.
The other category of people who may find this heater unit valuable is those living in small homes. It does not take up considerable space for installation, and it is also easy to install.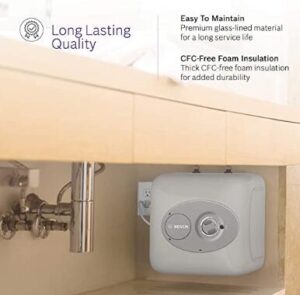 Conclusion
If you need a compact and lightweight water heating unit to install in your bathroom kitchen or home to heat the tap waters, Bosch Tronic 3000t es4 is the best choice.
This tank water heater has three installation modes where you can mount on the wall, place it on a built shelf, or place it on the floor. The unit has a sleek style that blends well with the decor in the room for those who may need to install it on the wall.