You don't have to ever think of how much electricity your instant water heater consumes, how long it takes for a conventional water heater to heat your water thanks to the Eccotemp FVI12-LP tankless water heater. Eccotemp FVI12-LP comes as a tankless water heater built to use liquid propane gas. It's here to warm your water, lower your electric bills, and improve your water heating efficiency.
As a whole-home indoor tankless heater, it does have certain features such as a safe, automatic electronic ignition system that lights the gas when cold water when it senses cold water flowing. Operating the unit is made easy by reducing the controls, using convenient gas-pressure and water-flow control knobs, and using a lighted LED display.
Eccotemp fvi12 Tankless Water Heater Reviews
Specifications:
Flow Rate: 4.0 GPM
Installation Type: Indoor
Fuel Type: Liquid Propane (LP)
Heat output: 25,000-74,500 BTU
Operating Water Pressure: 30-80 psi
Applications: Cabins, Apartment/Townhome
Electric Usage: 2 watts and 1.07 amps during operation

Pros:
☑ Runs quietly
☑ Comes ready to use
☑ Powerful and dependable
☑ Easy to read digital display
☑ Excellent value for the price
☑ Compact and small; convenient installation
☑ Allows manual temperature and water flow control
Cons:
☹ Non-lifetime warranty
☹ Not suitable for large homes
☹ Requires venting system for fumes
Features
Eccotemp FVI12-LP is a uniquely designed tankless water heater you'll love having in your home. It has different construction, improved performance, and convenient usability. All these are made possible by coupling various features which will be discussed below.
Reliable Performance
As a highly-praised model with incredible efficiency, Eccotemp FVI12-LP uses a real intense propane flame for heating the water instantly. The water is heated the moment it passes the unit's heat exchanger. If you feed Eccotemp FVI12-LP cold water, you get hot water on the other end.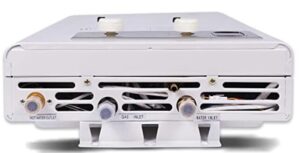 How does it work? It comes fitted with internal sensors designed to detect cold water that's rushing through the pipes automatically. Its live burners are lighted automatically to warm up the heat exchangers. Next, the cold water is circled on the heat exchangers, heated until it reaches the right degree.
And since this Eccotemp FVI12-LP heater uses a live gas flame, it does require a dedicated venting system for the fumes produces. However, there is some good news; the Eccotemp offers stainless steel vents with the product order.
When it comes to water-flow rate and the heater heating effectiveness, the model is ideal for use with two flow-restricted showerheads at a go. It does raise the water temperature with a 77-degree F rise when the flow rate is 2.3GPM (gallons per minute). The systems flow capacity is around 4.0 GPM and with 30-80 psi water pressure.
Usability
Eccotemp FVI12-LP is quite easy to use, thanks to reduced instructions with the user. According to its customer, the unit is direct and requires little to no maintenance. And since it's a manual water heater, it means any water temperature adjustments needed should be made at the unit's face.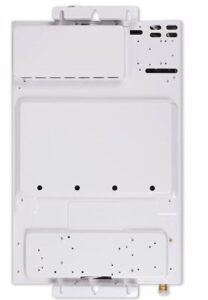 All you need to do is turn the knobs to control the water flow and the control panel's gas pressure. It's recommended you avoid mixing cold water at the output source. And to achieve your preferred water temperature, all you need is play with this two-knob until you get it right.
The Eccotemp FVI12-LP temperature factory setting gives you an operating temperature or between 90°F and 140°F. It's said to offer a 35°F temperature rise when the water flows at 3.0 GPM. If you want the heater water to rise at 100°F, you need to keep the ground-water temperature around 65°F.
As you can see already, this is a model that can be used by anyone. And as if that's not all, it also has an easy-to-read digital display that displays the water temperature. That allows you to have more clarity and better control over the appropriate adjustments needed.
The use of a safe automatic electronic ignition system allows a straightforward handless operation. It does require a standard 120-volt electrical outlet, and you must use a UL-listed cord. It's set in a way that it uses your gas when hot water is activated only.
Efficiency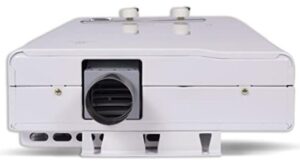 What most buyers love about the Eccotemp FVI12-LP is the energy and heating efficiency. It does help in saving energy. Unlike with storage water heaters, the tankless type eliminates the standby losses. What's more, it's an ideal solution for off-the-grid life. You can use the small 20lb propane tank for a while. What's more, when it comes to power usage, it does draw 2-watts while on ideal and 110-volts when it's running.
That is quite impressive considering what the convectional instant electric water heaters use. When it comes to space efficiency, the model requires little of your space thanks to its compact, space-saving design. Noise production is also low; the only noise you will hear is the gas burning.
Installation

Installation of this FVI-12-LP tankless heater is somehow tricky. You must be careful since you're dealing with liquid propane unit that'll produce fumes when warming your water in use. The best way to install the heater is to get a certified Eccotemp technician to do the installation to be safe. However, if you do want to do it yourself, here is something you need to get the setup right.
It would help if you had an LPG regulator, Copper Wiring for the ignition system, Circuit breakers, ground lines, and the provided standard 1/2″ NPT water fittings. Follow the given instructions in the user manual and do not skip any step. There is a horizontal stainless steel venting system provided for installation convenience. You can also make an order of the add-ons and the extras for a more customized installation.
Usages
Eccotemp FVI12-LP is a perfect water heater for those living in a small house, remote cabin, a small apartment, or a single-shower business. It's also an ideal heater for those living on an RV.
It's a way to prevent you from busting your budget for an expensive, high-maintenance hot shower. Using this heater is quite convenient as you can operate it with a 20 to 100-pound LPG gas.
It's simple controls, budget-friendly price and easy maintenance make it a perfect model for those searching for the best tankless water heater while under budget.
Conclusion
Tankless water heaters have revolutionized how we heat our shower water. Thanks to this type of shower, you do not need to waste time waiting for the water to get hot. All you need is to turn on the shower and enjoy a warm bath. It becomes even more intriguing with this Eccotemp FVI12-LP. It makes everything seem seamless. The design, usability, and reliability make it one of the best models you can buy.