Before buying a water heater, one of the essential factors to consider is its capacity and efficiency. More than often, commercial water heaters are designed to provide enough water for residential use. Another significant factor to consider is the durability and ease of use. It is for this reason that Rheem ProG50-RH67, which is regarded as the best 50 gal Rheem water heater.
For this article, we will make a detailed review of the product. Now, let's start!
50 Gal Rheem Water Heater Review – ProG50-RH67
Rheem is one of the most recognized water heater manufacturers in the world. Their expertise and professionalism can be attested by their positive reputation from clients worldwide. Therefore, this article looks in detail the functionality, efficiency, and performance of the Rheem ProG50-RH67 water heater, which replaced the old model Rheem 43VP50E2.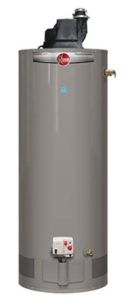 Energy efficiency (EF)
The Rheem ProG50-RH67 comes with numerous great features than you can imagine. Amongst the features that stand out is its energy efficiency. Rheem company put a lot of focus and though when developing this innovative product not only to improve its performance but efficiency as well. According to the manufacturers, the Rheem ProG50-RH67 has a heating efficiency of 0.67 EF.
Performance
If you are looking for a water heater to serve a family of three to five, then the Rheem ProG50-RH67 will best suit you. It heats water much faster to a required temperature. Besides, it has a guardian system which provides additional protection in case of accidents. The guardian system, which is fitted in the combustion system, works by shutting off the air or gas supply the moment it detects any spills.
What's more, the water heater also contains a flame arrestor plate that works for hand in hand to prevent ignition accidents. As such, the new Rheem ProG50-RH67 has all the safety measures to ensure users aren't harmed in any way. Remember, personal safety comes before any other thing.
Environmental friendly
Unlike most commercial water heaters, the Rheem ProG50-RH67 is regarded as eco-friendly due to several factors. First, it is built with low NOx designs, which reduces the emission of nitrous oxide. Nitrous Oxide is one of the greenhouse gases that are responsible for causing ozone depletion and global warming. Secondly, the heater's burner is made of stainless steel, which improves its thermal stress. Therefore, you can use this water heater in regions with strict gas emission rules freely without any worries.

High attitude compliance
The Rheem ProG50-RH67 is made to work nearly in all sorts of environments or seasons. For instance, it can be used even in high altitudes of up to 10,000 feet above sea level. This is a significant achievement of the company. Also, the water heater comes with a brass drain valve to help the user control the temperature and pressure.
Durability
The Rheem ProG50-RH67 is one of the models made with durability in mind. For instance, the heater tank is designed with a patented magnesium anode alongside a special resistor that helps it resist corrosion and rust. Also, the shut-off valves, relief valves, fuel pipe, and outlet pipes are made with sturdy metal materials to improve its durability. Last but not least, the heater features a durable silicon nitride ignitor.
Maintenance
One thing you shouldn't worry about this water heater is its maintenance. It comes with a self-cleaning technology that is designed with patented system fittings. This functionality is automated and helps in preventing sediment deposition within the tank. What's more, the function also facilitates faster water heat up while preserving energy consumption.
Self-diagnosis system
This is another important feature of the Rheem ProG50-RH67 than can never go unnoticed. The self-diagnosis functions allow for easy troubleshooting at the right time. Besides, it has a long venting system of about 100 feet. This helps in the removal of combustion gases outside while forcing fresh air inside the heater. Due to this, the risk of negative pressure building in your heater is also reduced significantly. At the same time, the presence of power venting with a two-pipe system makes the installation easy and flexible.

Final Verdict
Despite Rheem ProG50-RH67 being new in the market, it's already growing in terms of popularity. One of the things that makes it more popular is its top functionality and efficiency. The water heater comes with automated features such as self-cleaning, self-diagnosis, and other auto-controls. Besides, it is environmental friendly as well as durable features. As such, the next time you think of buying a water heater, think of Rheem ProG50-RH67. You'll never get disappointed.
Other Hot Reviews:
---