Atmor is a famous brand on producing the best tankless and tank water heaters for large or small family use. Among their products line, the AT-910-24TP is what we love most, not only for its premium quality levels but more on its wonderful performance, especially when you can buy it in a reasonable price. Here in this article, we would make Atmor tankless water heater reviews and discuss the product in detail.
Atmor Tankless Water Heaters Reviews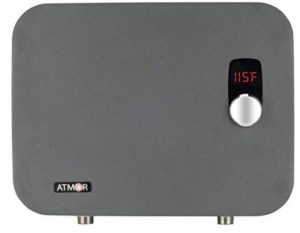 This is one of the best digital thermostatic tankless electric water heaters that you can get in the market today. Every family needs some hot water supply for daily operations. Instant water heaters happen to be some of the best water heaters that one can go for. They have a way of saving the cost of power running them. Atmor AT-910-24TP AT-D24TP-AZ ThermoPro is just one of them. Due to its prowess, it is considered as one of the best instant water heaters. Before getting persuaded to go for it, it is relevant that you first get to know about its product details so that you can make an informed decision.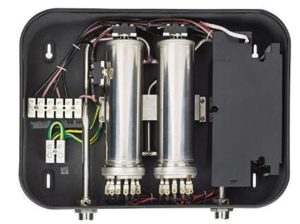 Atmor AT-910-24TP AT-D24TP-AZ ThermoPro gives you a chance to control the temperature of the water that you want to use. It is not like most of the instant heaters which provide a given heat intensity for your water. This means that nearly every individual can use it in the house for dishwashing or shower. The digital temperature control gives you a 1-degree heat control. You can, therefore, have it adjusted depending on the water that you need. It is straightforward to control.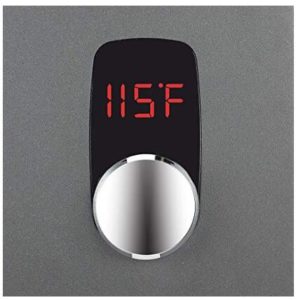 It is also made of high quality stainless steel in the interior components. This means that it does not rust and so very durable. With this, there will be no repeated need to have it replaced. It can serve you for several years before you start repairing it. Also, the stainless steel inner components ensure that you don't have to mind about how clean it should be. If anything, it can appear as new as you buy it for several years. No fear even when you have visitors around.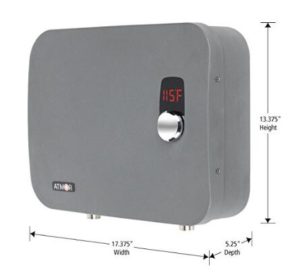 Atmor AT-910-24TP AT-D24TP-AZ ThermoPro requires three 40amp double pole breakers. This is basically to give you the safety that you deserve when you but it. In case of any power complications, the breakers cut the electricity supply so that no danger can be witnessed. You will attest with me that whenever you are buying such electric equipment, what comes to your mind fast is your safety. This instant heater guarantees you the best level of safety.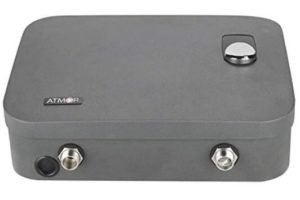 This instant heater is as well equipped to incoming heat water as low as 37 degrees Celsius. This is closer to body temperature. If you live in relatively hot places, such a temperature would be ideal for a shower. It is just to save you from the fear of cold water. Your children are safe to have such a low temperature without complaining. The good thing is that it is adjustable.
Having this given heater gives you some peace of mind. With the seven years warranty against leakage and a two-year parts warranty, you got the peace to use it without additional maintenance cost. Every individual will want such a peace of mind. Even if it is continuously used, the provider will always have you covered. If you need the value of your money, this happens to be the best heater that you should purchase for your shower and kitchen needs.

---
That the Atmor brand of water heaters is outstanding is certainly not in doubt. It is for this reason that getting to know more the brand is a worthwhile investment. We have prepared this buying guide for the selfsame end.
Features of Atmor Tankless Electric Instant Water Heater
Below are the common features of the Atmor tankless electric instant water heater:
Smart Flow Technology
They bear smart flow technology. This one smoothens out the flow of water to minimize the clogging of the pipe drains. Moreover, it ensures a timely supply of hot water when the same is needed.
Self-modulating System
Unlike your standard water heater, you won't really have to constantly operationalize this one. It does possess a self-modulating system that does that. Thus, it spares you of having to put in too much of your effort.
Digital Temperature Controls
A set of digital temperature controls exist to aid with controls and regulations. Owing to their digital nature, these controls prevent the emergence of any issues that might compromise the final outcomes.
Splash-proof IP54 Certification
For a large part, many of its products also contain the splash-proof IP54 certification. This makes them awesome for installations near the sinks and showers as they are unlikely to dirty your attire or gears.
Energy-saving
Quite a number of its line of products are also energy-saving. They have been noted to reduce energy consumption by a whopping 50%! No other brand is suited for prolonged use than them.
About Atmor Brand
The Atmor brand is owned and operated by Atmor Industries Limited. This company is a leading manufacturer of instant electric water heaters worldwide. It has engaged in this business for the last 30 years now and produced well over 2 million heater units the world over.
Its line of products is mainly geared to the supply of endless amounts of hot water promptly. Thus, they come in handy when you are squeezed in time and have not much storage space in your facility. Its products have found wider acceptance and applicability across several regions world over.
Atmor Tankless Water Heater Prices
Like any other brand, the products that are manufactured and disbursed by Atmor come at varying prices. The exact price of any product is dependent on several factors and issues such as:
Water Heating Capacity
This refers to the amount of water that the heater can impact or handle at any given time. Heaters that have a higher capacity tend to be more expensive than those that have more limited capacity.
Maximum Temperature
Other than the water capacity, the tanks also differ with regard to the maximum temperature they can handle. Those that handle higher levels of temperature have the tendency to cost more than those of lower levels.
Flow Rates
The rate at which they discharge the heated water output also comes in handy. Those heaters that have a higher flow rate are confidentially more expensive than those that have a limited flow rate and vice versa.
When all factors are taken to account though, expect to part with $100-$250 for a standard tank. The rate may, however, increase for those products that contain more sophisticated features.
How to Install Atmor Tankless Water Heater
Follow these steps to install your Atmor tankless water heater:
Step I: Prepare the installation space
Start off by preparing the space you have already set aside for installation. Remove any old water heater, if it exists, and clean the area. Mark out the dimensions and compare them appropriately.
Step II: Fix the new water heater
Slot the new water heater in the space you have already prepared. Take great care that you do not bruise the gadget as that might inflict permanent damages on it.
Step III: Install the power and water lines
At this stage, you should install the power and the water lines. Fix the plumbing system firmly in place and then proceed with fastening the same to prevent any looseness that may hamper its performance and stature.
Step IV: Install the Vent
Now that your water heater is firmly intact, you should install the vent. This one is especially necessary if the heater derives its power from natural gas rather than electricity. The vent releases the exhausts out safely.
Step V: Test the system
As a last measure, you want to test the system to see to it that it indeed operates optimally. Needless to say, you have to make any necessary adjustments if you sense any issues in the system.
Atmor Tankless Water Heater Problems
The Atmor brand, like many of its peers, is not without its fair share of potential downsides. Below are some of the common issues that this brand suffers overall:
Air Supply or Exhaust Blockage
For those heaters that derive their power from gas, they have the tendency to suffer exhaust or air supply blockage. This arises mainly if there is a constriction in the pipes that channel the gas to the system.
Ignition Failure
Sometimes the ignition mechanism may fail to operate as needed. This mainly arises due to extreme metal fatigue or errors in the entire system. It may be fatal if the gas is used to power the system.
Mineral Buildups
With continued use comes the danger of mineral buildup in the pipes. Water contains sufficient amounts of Calcium and other minerals. The buildup of these minerals does clog the system unnecessarily.
System Overload
Like any other system, the water heaters also can only stretch that far. Any further stretching does cause the system to tumble and fall. The system is mainly overloaded when excessively higher levels of water are pushed in it.
Flame Failure
Yet again, the gas-powered water heaters suffer more from this menace of flame failures. The flames in this sense are not too hot to sustain a comprehensive heating task. In this way, it does not yield the required impacts well.
Types of Atmor Water Heaters
The Atmor brand engages in the manufacture of many types of water heaters. Below are the most outstanding of them all:
Thermo Pro Series
This line of product is more powerful than many of its predecessors. There are three models in this series that provide a power output that varies from 18kW to around 27kW.
Thermo Boost Series
The Thermo Boost Series is designed to avail the hot water output to you as needed in a single appliance. It is cheaper and way very affordable compared to the many series out there for your use.
Enjoy Series
As their names imply, this series is meant for enjoyment. It is particularly designed for the showers. The products contained in this series come with all the trappings needed to make the most of your showering experience.
100V Series
Like the Enjoy Series above, the 100V Series is also meant for showering. Other than showering, this series also adds some attraction and elegance to your bathroom owing to its breathtaking appearance.
900 Series
Finally, the 900 Series is intended for those small scale installations and use. You will find this series appropriately suited for the sinks, bathtubs, and basins. They discharge low quantities of water at a time.
Conclusion
At least you now know a little bit deeper about the Atmor range of products. The information we have furnished, we believe, is sufficient to make you appreciate the brand better and derive the most from it.
Brief Review of Atmor Tankless Water Heaters
Read Also:
---