From the enhancing of energy efficiency to eliminating the need to have recircuiting lines, you will find mini-tank water heaters worth your time and money. With your focus on the best brands and products, you will often appreciate the convenience that they offer. But is your choice the right one? If it is not Bosch 2.5 Gal Electric Water Heater, you will have to reconsider your stand.
Bosch electric water heater has proven to be not only reliable but also capable of providing you with value for your money. A few insights into this product will come in handy in your decision-making process. They will include the following.
Bosch 2.5 Gal Electric Water Heater Reviews
This product prides itself on some of the best features ever. Right from its exterior to the interior elements, you will find it irresistible. Here are some of its top features.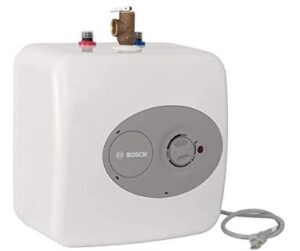 • Compact Design
While this heater is relatively small, you cannot ignore how well-thought-out is it. It comes with a glass-lined tank, which is vital in enhancing its longevity. That it has CFC-free foam insulation is no news. With this, you are sure of enhanced energy efficiency and improved thermal efficiency.
• Faster recovery rate
Do you know how disappointing it is to have wide gaps between drawing hot water? Fortunately, this will hardly be the case with this electric water heater. Its enhanced recovery rate plays a significant role in enhancing its versatility. You could easily rely on it to supply two sinks at the same time. Remember, you will be free to use it as a buffer of your tankless water heater or independently at the sink. You could also use it to support another water heater.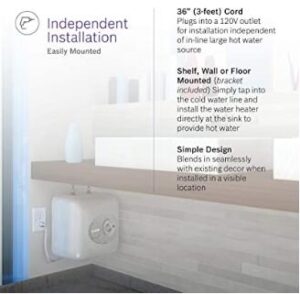 • Reliable temperature range
In most cases, the ideal temperature provided by this mini-tank water heater will lie between 65 and 145 degrees F. What is more, you will be free to adjust it accordingly using the available external dial. With this dial, you will readily change the temperature and even the desired heat intensity. Nothing could assure you of more comfort and safety than this.
• Power source and requirements
This product uses 120V/12A, which provides up to a max of 1440W. With this, you will be confident of the ultimate energy efficiency. Did you know that you will comfortably plugin this mini-tank water heater whenever necessary? What is more, you will readily rely on the conventional type of power source. While at it, it will be valuable to use an amp breaker and a wire gauge whenever necessary.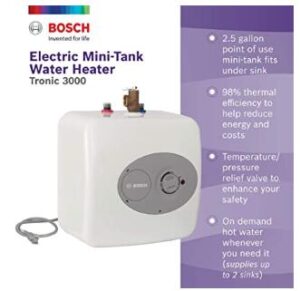 • Unparalleled water pressure
For you to get the best experience when doing your stuff, you will always need enhanced pressure. That is what you get by embracing this mini-tank water heater. This water heater will assure you of up to 150 Psi when it comes to pressure range. However, it will be necessary to install a pressure regulator in advance, as this will eliminate the possibility of water leakages. It will also help in reducing wear and tear in the long run.
• Leak prevention
The leak prevention technology used in this product is matchless. It comes with sturdy construction, which helps in resisting different levels of impact after prolonged use. Regardless of how long you will use it, you will hardly have to worry about any water leaking. That implies that there will be no significant impact on the eventual water pressure.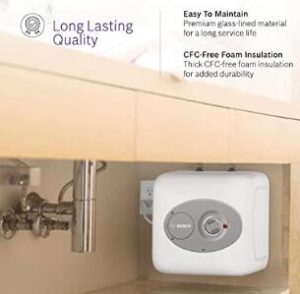 • Point of use water heater
That this product gives you instant hot water should be one of its highlights. Usually, it features a simple connection to a reliable electric outlet. That implies that the water will not take long before getting enough heat. Besides, you will appreciate its pre-installed valves for temperature and pressure control.
• Premium materials
We can all agree on how much topnotch material means in the longevity of any product. Bosch is no exception, as it prides itself on some of the best materials at hand. The stainless steel construction is not only robust but also durable. Thanks to this sturdiness, the performance of the product is way more enhanced.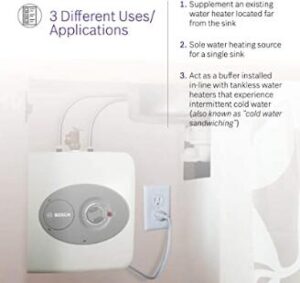 Specifications
Pressure range of 150 Psi
2.5-gallon water tank capacity
A recovery rate of 6.8 GPH at 90 degrees F
65-145 degrees F temperature range
120V/12A
0.5-inch male NPT valve fittings
Measures 13.75*13.75*10.75
Color white
1440W
Weighs approximately 15.5 pounds
Is Bosch Electric Mini-Tank worth it?
The simple answer to this would be yes. Ideally, this product assures you of multiple benefits and reasons to get it. While it might have a few drawbacks, it will still be worth considering. Here are the pros and cons that it will offer.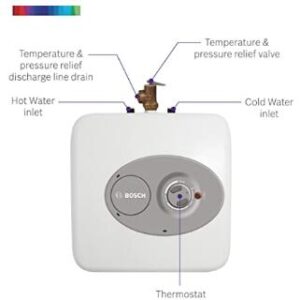 Pros
• Straightforward installation
Installing this product will often be relatively simple, and you can comfortably do it yourself. It will take the least time and effort at all times. Usually, you will be free to plug it anywhere you choose. Such convenience will ensure that you have the peace of mind you so deserve.
• Enhanced longevity
As mentioned, this product comes with sturdy construction. With this, you will hardly need to worry about any leakage of even wear and tear. On top of that, this construction relies on premium materials, which help in boosting its durability. Did you know that it comes with a 6-year warranty?
• Instant water
Nothing could be as valuable as getting hot water whenever you need it. You will be sure of getting the heated element as soon as possible. Further, this water heater supplies its water much faster than its counterparts.
• Ease of use
Did you know that this product features an easily accessible temperature control knob? Using it will be vital in adjusting the water temperature to likable levels.
Cons
• Mineral deposits
This product is more susceptible to mineral deposits. Excessive accumulation of calcium in this product will compromise its efficiency in the long run. It could also affect the durability of the product if not taken care of properly.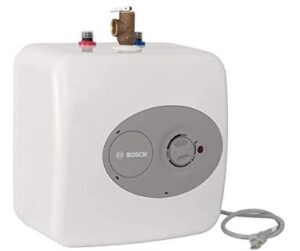 Conclusion
In conclusion, the Bosch Electric Mini-Tank water heater is all that you might ever need. With its matchless performance and energy efficiency levels, you will never want to let it go. While there are few drawbacks, you will still be sure of value for your money.