Are you interested in a tankless water heater? Are you living in a cold climatic region? Then I present to you the Eco 36 electric water heater. Presumably, this is the best tankless water heater you will ever come across. Eco 36 will endlessly supply you with hot water to cover your needs at a little cost. If you do not take my words for it, then consider Eco 36 tankless water heater reviews below:
Eco 36 Tankless Water Heater Reviews
Ecosmart Eco 36 Electric Tankless Water Heater
1. Simultaneous saving
Eco 36 tankless water heaters will save you a desirable space. Of course, it is not the lightest in the market, but this product is far from the heaviest. You can install the unit anywhere in your property, and it will still function.
The unit is designed in such a way that it will consume energy only when it senses water flowing through it, this means it will not operate when idle and therefore reduces your electricity bills. This will save you up to 50% of water heating costs.
2. Powerful
Eco 36 tankless water heater is the most powerful model of eco-smart tankless water heaters. This heater can run two sink and four showers at the same time without running short of hot water, how about that? Eco 36 has a high flow rate since it can offer between 3-8 gallons of hot water per minute, which is determined by external water temperature.
Check different gallons of tankless water heater:
>>Top 5 Best 4 GPM Tankless Water Heater Reviews & Buying Guides for Your Money
>>6 Best 5 GPM Tankless Water Heater Reviews For Small & Large Home Shower Use in 2020
>>Best 6 GPM Tankless Water Heater & Electric and Natural Gas Compare
>>Best 8 GPM Electric Tankless Water Heater Reviews
3. Ideal for cold weathers
Are you living in southern or Northern United States? This is an ideal tankless water heater for a person living in a region with low temperatures. The unit will serve your high demand for hot water extremely well since it can operate in various applications. This is the best choice for Jacuzzis, washing machines and dishwasher.
4. Self-modulating technology
Eco 36 tankless water heater has a sensor installed in it, which will automatically regulate the temperature of the water coming through it. The user does not need to keep testing the temperature of the water using their palm, after around 10 seconds delay, water will come out with the required temperature. The water heater is also designed in a way that the temperature controls adjust the water temperatures at one degree at a time. This makes it easy to configure the water temperatures at your preference.
5. Durability and Build Quality
Eco 36 tankless water heater is nicely made from copper and stainless steel materials, which are durable and easy to replace. The manufactures have faith in their product that they give a limited lifetime warranty to customers, therefore an assurance of quality.
6. Easy Installation
Eco 36 tankless water heater is one of the most straightforward water heaters to install. Delivery comes with specific parts that are needed for installation and a manual for directions. The components required are electric box, 40A lines, and size eight copper wiring.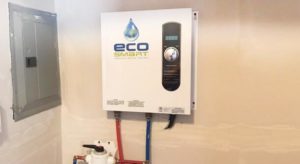 Wonderful Features:
Self-modulating technology to avoid overdrawing power.
Saves space due to its small size, which offers valuable storage space.
Saves half the energy consumed by old school water heaters.
Manufacturers ensure a lifetime warranty for limited residential usage
Extremely useful for a large family living in a cold region.
designed in a stylish and advanced technology that appeals to the eye.
Durability is ensured since it is made of stainless components and copper
Has the highest power compared to other tankless water heaters
Has its screen to give the user a clear view of the temperature readings.
Watch Out For:
Installation is expensive since there are a lot of requirements.
Does not provide instant hot water since it has a delay of around ten seconds before hot water comes out.
The warranty does not cover the installation cost.
Conclusion
Eco 36 tankless water heater is probably the best tankless water heater you will find in the market. The unit is cheaper compared to the services it offers the user, and you will have no regrets when you purchase one. This is your opportunity to take home a tankless water heater that will satisfy all your hot water needs at a go and a lower cost, saving you money, space, and energy.


---