In today's modern world, many people enjoy spending most of their leisure time doing outdoor actives such as hiking, biking and traveling. After all these leisure activities, people enjoy showering to keep fresh and jovial. Therefore, to put a glitch to the shower enjoyment, a standard tankless hot shower heater could be the best choice in a home. In such situations, installing a tankless water heater is the best since you will be sure of having plenty of water for not only you but for everyone. This article will offer tips on hooking a whole house tankless water heater to an RV.
What Is the Best Suitable Tankless Water Heater For RV Use?
Regulates the burner to maintain the set hot water temperature
42,000 BTUs which provides the optimum performance for an RV's plumbing
No special LP gas lines or special plumbing required
Quiet brush-less motor
12 V power that operates at less than 3 A; Freeze protection - designed for winter use
How to Hook a Whole House Tankless Water Heater to an RV
To get started with hooking a whole house tankless water heater to an RV, ensure you have turned off the electricity, water pressure pump, and propane. You will require to drain the hot water tank by opening both the pressure relief and drain valve. Disconnecting the water lines, gas lines, and electric connections must be done. Unscrewing and removing the old unit followed by scraping off, removing the old caulking, and cleaning off residues.
Having completed the above, one can place butyl tape around the exterior compartment's opening and then sliding the new tankless heater. Reconnect the water and gas lines, followed by installing the new heater control panel on the RV's interior at a position within reach. With that done, one can now reconnect the existing electrical connections. Testing the water and gas lines for leaks and functionality of the water heater is worth doing after all.
Why Not Use Point of Use for a Whole House Tankless Water Heater?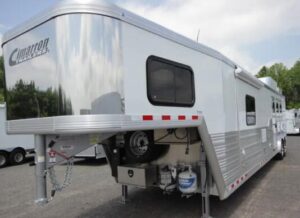 Point of use is one of the basic layouts of tankless water heating systems in a home setup. However, it is not suitable for when it comes to a whole house tankless water heater. This is because; the point of use is only put to supply only one specific location. For example, it can provide water to the kitchen, shower, or sink.
Also, it takes many heaters to supply water to the entire house. Therefore, it increases the initial cost of operation. Notably, it is more expensive and difficult when providing utilities to multiple points of use. Generally, point of use only operates with electric tankless water hence requires a higher operating cost than a gas tankless centralize heater.
Recommended Point of Use Tankless Water Heater
CONVENIENT HOT WATER HEATER: 2.5 gallon point-of-use mini-tank fits under your sink to provide hot water right where you need it. Thermal efficiency is 98%. Dimensions : 13.75 W x 13.75 H x 10.75 D Inches
LONG LASTING QUALITY: This electric water heater is easy to maintain and has premium glass-lined material for a long service life. (Amps 12A, Volts (VAC) 120)
INDEPENDENT INSTALLATION: 36-37" cord plugs into a 120 volt outlet for independent installation or in-line with a large hot water source
FAST RECOVERY RATE: Eliminates long waits for hot water at your sink, get on demand hot water at your every need (supplies up to 2 sinks at a time)
EASILY MOUNTED: Can be shelf, wall or floor mounted (bracket included); simply tap into the cold water line and install the water heater directly at the sink to provide hot water
How Long Should a Whole House Gas Tankless Water Heater Last?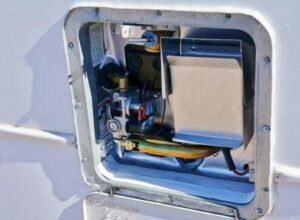 The lifespan of a whole house tankless water heater depends on an individual. However, the actual lifespan of the heater is about 15 years. Some factors contribute to this life expectancy of a tankless water heater. They include; the equipment's quality, how well the furnace of the heater is maintained. The useful life of any mechanical equipment is prolonged by regular maintenance of the machine. Notably, how frequent the tool is used also depends on the longevity of the device.
Installation of a Liquid Propane Hole House Tankless Water Heater
Installation of a liquid propane gas heater involves steps which include;
Preparation and safety precaution
You will need to have material that is needed to install the tankless heater. Such materials include; a screwdriver, gas line connector, a hanger bracket for the water lines, CSST supplies line, and a bucket.
Removal of the older heater unit
The old heater unit should be removed by turning off the water supply and disconnecting the old unit from the water supply line. Afterward, before moving forward, shut off the gas supply valve.
Mounting to the wall and connecting utilities
You should carefully follow the manufacturer's instructions while mounting the new heater to the wall. The water line should be connected to the attached wire and hold the pipe in the right position using the hanger brackets. This prevents it from touching other surfaces such as the walls. You should run the CSST supply line through the other end of the heater after installing a gas line connector to the existing line. Ensure the gas line is shut off. All the nuts and gas connections should be tightened, thus preventing any gas leakages. Notably, turn on the gas if there are no leaks to test your units.
Recommended Propane Tankless Water Heater
V65iP HE High Efficiency Tankless Hot Water Heater - Propane: Indoor Installation Only
Up to 6.5 GPM hot water flow rate (varies by groundwater temp)
Control-R 2.0 mobile app features timers and schedules throughout the day and allows you to remotely put the system into vacation mode.
Endless hot water for your entire home.10,300 BTU (Minimum) / 150,000 BTU (Maximum)
Residential Factory Warranty - 120 months (heat exchanger), 12 months (labor), 60 months (parts)
What Amperage Does a Whole House Tankless Natural Gas Water Heater Need?
Natural gas-fired tankless water heaters only require a minimal electrical connection, which is at least 120 amps. The household's average total capacity requirement is 200 amps. Therefore, to accommodate more massive load demand, an upgrade of the electric system is crucial.
Recommended Natural Gas Tankless Water Heater
Max BTU's 120,000
Max Energy Factor 0.82
Outdoor Installations
Meets California and Texas NOx Emissions Standards
Lightweight and Compact
Conclusion
To sum up, tankless water heaters use less fuel and less water since they give hot water when needed. Therefore, on everyday water and energy consumption, a tankless water heater can help to save fuel. Besides, proper installation of the tankless water heater is best done with a qualified plumbing and heating contractor.