The best propane tankless water heater is quite the same as the natural gas tankless water heater, some of them are both propane and natural gas available design. It saves more energy per BTU and can be more eco-friendly than electric tankless types (depending on the power-plants on your power grid). If you have trouble choosing the best propane-powered tankless water heater, just look at our reviews below that we made for you.
Top 5 Best Propane Tankless Water Heaters
What Is Propane Tankless Water Heater?
The propane-powered heater, as the name suggests, is a kind of heating unit powered by propane. It is also known as liquid propane, or LP gas. A tankless water heater and propane gas tankless water heater due require venting, so you should make sure that the heater is installed correctly.
Features of Propane Tankless Water Heater
1. Clean water offered
For tank water heaters, a specific amount of water is stored in the tank for heating and using, after a long time using, the tank inside easily gets corroded and thus the water offered could have tiny debris and scale, basically not as clean as it should be. With a propane heater, you can get clean hot water for taking a baths showers, and clothes or hand washing.
2. Instant hot water offer
One excellent performance of propane tankless water heater is its constant hot water. You don't need to worry about running out of hot water while bathing. It is able to provide constant flow of hot water in as little as a few seconds.
3. Long service life
Most of the high-quality water heaters lasts about twenty years, while the average tank water heater lasts no more than 15 years. The longevity is dependent on your waters acidity or alkalinity. City water is usually controlled at a good Ph balance where the years stated are based on. Thus, it performs on average 30% longer than a average tank type water heater. So, there is where some of the possible savings comes into play.
4. Less pollution
Liquid propane is adopted as a major power source for tankless water heater systems, it is one of the clean fuels the packs BTUs per gallon. This means less pollution to the environment.
5. Space saver
The propane water tankless system is smaller and occupies less volume of area as compared with a tank style water heater. For a tiny home, you can install it anywhere you want.
6. Save money
Propane tankless heaters heat the water that is being used only and when you need it. The waiting time is short, typically seconds (depending on how far away your heater is).
The advantage here is, you are not heating water as it slowly cools off as with a tank style heater and you can not runout of hot water.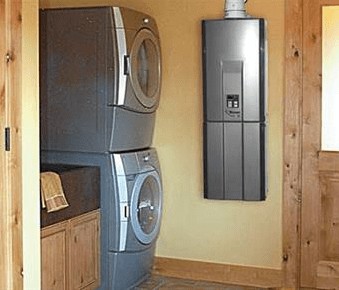 Electric vs Propane Tankless Water Heater
Electric tankless water heater:
Pros:
Flexibility on installation spots
No worry of pipelines or ventilation
Easy installation
Do not directly emit carbon dioxide
Cons:
Need constant maintenance
Using costs can be high
Less powerful
Propane Tankless Water Heater
Pros:
Low using costs
Energy efficient
Eco-friendly
More powerful
Cons:
Need ventilation
Expensive on upfront costs
Difficult on installation
Top 3 Best Propane Tankless Water Heaters
Different Types You Should Know Before Buying
Propane tankless water heaters can be divided into these categories; portable type, whole home type, indoor type, outdoor type, and condensing type, etc.
1. Portable tankless water heater
The portable tankless water heater is designed for small tiny home and travel use. The weight light and can be carried anywhere conveniently. The flow rate of portable tankless water heaters is normally small, supporting bathroom and kitchen faucet at the same time.
You can also use it on RV or use it on camping. Because of its special using applications, the installation of it is normally simple. If you have any other inquiries or interest in the item, we have made a detailed portable tankless water heater reviews for you. You can get more information there.
2. Whole-house tankless water heater
The whole-house tankless water heater is designed to support enough large water for whole-home use, so the flow rate of it should be large enough for the family's needs to provide constant hot water.
There are many other factors to consider in choosing whole house tankless water heaters. If you are thinking about a whole house tankless water heater, please check out our best whole house propane tankless water heater reviews and get the information that you need for whole house use.
3. Indoor & outdoor propane tankless water heater
Indoor and outdoor tankless water heater refers to two installation spots, for the indoor propane heater, you need to have venting to let out exhaust gas. While outdoor tankless water heater needs freeze protection to protect the machine in cold or unusual severe weather.
Installation due to the vent pipes can be a difficult thing for most people. If you have trouble with it, please find an experienced professional to help you. Installation is largely related to the indoor or outdoor plumbing and finding the right location for good working performance of the heater. For more information, you can click over to our best outdoor water heater reviews.
4. Small propane tankless water heater
The small propane tankless water heater is normally used for a tiny home, it is designed to compact and occupies an only a small space on your wall. Also, the flow rate of a smaller propane tankless water heater is accordingly low, reaching up to 3 gallons per minute. This translates to about 1 maybe 2 uses at a time.
If your home is occupied with many family members or demand needs, something small to support one bathroom or one faucet only, we suggest typically a small point of use electric heater. Here are our picks and you can choose the most suitable one for your needs from the best small water heater reviews we have for you.
5. Condensing propane tankless water heater
The same as natural gas tankless water heaters, the wasted or unused gas needed to be emitted through exhaust venting pipes. Condensing tankless water heater will help save energy and recovers gas that is missed to reduce greenhouse gas emissions.
Some of the heaters are designed with Low NOx, so less carbon dioxide is produced and emitted, which is a good thing.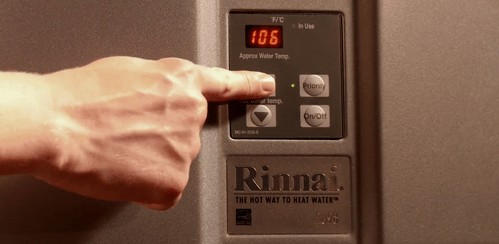 Best Propane Tankless Water Heater Reviews
T-KJr2 series of Takagi tankless water heater is always a hot selling heater no matter for the propane fueled or for the natural gas fueled.
Features:
The flow rate of this unit is the middle standard, able to provide hot water for two bathrooms and one kitchen faucets the same time in warm areas. But in the cooler region, the flow rate may drop to 3-5 gallons per minute.
This tankless heater is the lightest and smallest among all the Takagi line of products, it is easy to install.
Above 150 degrees F temperature
The water temperature of the machine reaches over 150 degrees F (65C), this perfectly meets the demand for the average home use. It can also be controlled remotely, but you need to buy the remote controller as extra.
Pros:
Digital remote control
Demands minimal maintenance
Lightweight
Demands a power input of 140000 BTU per hour, 81% energy efficiency
Easy installation
10+ years warranty guaranteed
Cons:
Light working noise

---
Rinnai propane tankless water heater is highly praised for its elegant design and large flow rate. It is said that the heater can last up to and used for 30 years.
Features:
The flow rate of this unit is extremely large, able to meet the demand of three or four bathrooms used in warm areas and two bathrooms in cold weather. And it is powerful enough to constantly provide hot water for you, no matter if you are bathing, or doing laundry at the same time.
Direct powered venting is used on the unit, a coaxial pipe is used to prevent using air from getting inside and to cool down the exhaust gas. And because of the closed system of the design, no cold or warm air from outside is able to get inside even after the machine is off.
The smart technology of this Rinnai enables the heater heating water only and when you need it, thus no standby heat loss occurs, making it an more energy-efficient and a money saver.
Pros:
High efficient
No smell from direct vent
No standby heat loss
Long service life
Modulated burning allows less fuel consumption
Powerful
Cons:
Coldwater sandwich

---
This propane tankless water heater is perfectly used for middle-sized to large-sized family use, outdoor installation gets rid of the trouble of installing ventilation and exhausting.
Features:
It is also a large flow propane tankless water heater, reaching up to 9.5 gallons per minute. It is able to support multiple bathrooms and kitchen faucets hot water use the same time in warmer areas. About 2 baths in cold areas
The power consumption ranges from 11,000 to 199,900 BTU per hour, the thermal efficiency is 82%. Freeze protection devices are designed to protect the heater in colder areas. But the manufacturer suggests it be used in warm areas only. Then the protection is there for the unusual cold weather and not needed all winter.
120 degrees F temperature
The maximum temperature of it is 120 degrees F (49C), it is said that it can also be raised up to 140 degrees F (60C) with a small change on the remote control. However, you need to buythe remote control separately.
Pros:
More powerful than other types
Freeze protection equipped
Work perfectly for whole-house situations
Two gas options, one for propane and the other for natural gas
Electronic ignition
Cons:
Needs to be installed by professional

---
This is a portable propane tankless water heater, and the price of it is quite low compared with other whole-house types.
Features:
The flow rate of the unit reaches only 1.32 gallons per minute, thus it suits tiny home or travel use perfectly, but not able to meet the demand of whole house use. The water pressure required is only 2.5 PSI. Which does make it great for camping hot water! One use at a timethough.
There are two buttons for the machine, one is for gas control, the other is for the water flow control. You can turn it on and off quickly for controlling water flow starts and stops.
The heat exchanger is made by stainless steel, together with a copper water tank/ chamber, it is highly heat resistance and corrosion resistance. The maximum flow temperature rise is 14.6 degrees F while the minimum flow rise is 46.4 degrees F.
Pros:
Low water pressure required
Compact size for outdoor use perfectly
Easy control buttons
The anti frozen device equipped
Heat resistance
Cons:
Can not be used for middle-sized home or whole house

---
Eccotemp propane tankless water heater of this type is perfect to be used in a small home and for its low flow rate.
Features:
3.6 gallons per minute of water flow
The maximum flow rate of the unit reaches only 3.6 gallons per minute, so it is not suitable for whole-house use but only for small home use only. It supports hot water for one bathroom and one kitchen faucet at the same time.
Electronic ignition system
It adopts a safe electronic ignition system but this requires the need to be plugged into a standard 120v electrical outlet with a UL-list cord.
Easily read digital temperature display
The temperature and error codes show on the screen, two knobs are set to control temperature, one is for the gas usage, while the other is for water temperature. Thus, you need to adjust both of them for your suitable temperatures.
Pros:
Compact shape and space-saving design
Energy efficient
Light working noise
Easy to install
Perfect for small home and cabin
Cons:
Not easy to adjust suitable water temperatures for multiple uses.

---
Best Portable Propane Tankless Water Heater
A portable tankless water heater is perfect for outdoor use and travel camping use. It weights light and can be carried anywhere you want. Followings are the best portable propane tankless water heaters: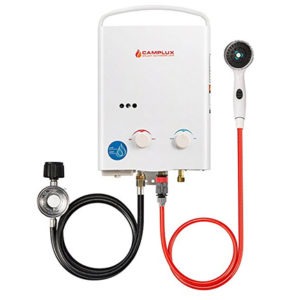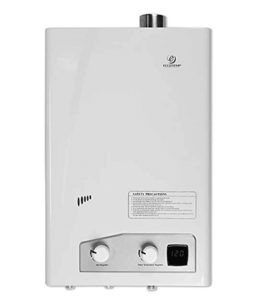 ---
How Much Hot Water Do You Need On a Water Heater?
You need 30 to 40 gallons for one or two people, 40 to 50 gallons for two to three people, 50 to 60 gallons for 3 to 4 people, and 60 to 80 gallons for five or more people. This is not the exact number but just an estimate that can help you out; you might find it different for example, large homes with a family of 5 or more can be comfortable with a 30 gallon and not 60 to 80 as estimated.
A family of two might find that a 30 gallon can not provide enough hot water for their needs. The type you need depends on how you use warm water, and before you buy a water heater to ensure that the tank size is accurate for you.
The way you use hot water will determine the number of gallons you need in the propane water heater.
What Is the Water Pressure Where You'll Be Installing the Propane Heater?
When installing a propane water heater, the water pressure should be low. In this case, 50-60 Psi is good. The pressure of water is measured by Psi (pounds per square inch). If your home's water pressure is more than 80 psi, you need to lower it to 50 or 60. If you do need to lower it, here are our recommended water pressure reducing valves we recommend by Zurk.
To lower it you need to use the pressure reducing valve that is located at the main water shut off, if there is no pressure-reducing valve, this can be a big task. It can be done as a DIY project, however if you are overwhelmed, don't attempt doing the job yourself instead call a professional to install it for you.
Will You Install It Yourself?
You can install it yourself if you are 100 % sure of what you are doing, remember that you can cause damage to your water heater if you are not sure of how to do it. The best thing is you need to contact a professional to help you in doing the job because he or she is perfect in that job.
Keep in mind that installing a water heater requires particular skills such as plumbing, electrical, heating, ventilating, and even carpentry skills. If you are not good at this, don't even try doing it because you might end up harming yourself or your home badly.
Propane Vs. Natural Gas Tankless Water Heater
Propane and natural gas are fuels that are similar. They are both gaseous, readily available, and both clean-burning fuels for tankless water heaters. Natural gas tankless water heaters are mostly used in areas where natural gas is plumbed in the ground. Basically. where it is available.
On the other hand, propane is also known as LP or rather LPG, whereby the L stands for liquefied, and it shows that propane can easily be liquefied and stored just by placing it under moderate pressure. Liquefying the gas causes it to need quite smaller storage containers, while for the case of natural gas, it requires higher pressures for it to liquefy unlike the propane; that is the reason why it is always stored and transported as a compressed gas.
The natural gas tankless water heater is piped into several homes, and it's much cheaper than propane, it is readily available in the market for a lot of homes and business tankless water heaters. On the other hand, propane gas tankless water heater is easily available, and in fact, it can be delivered at your home. To add on that, it has more energy per gallon when compared to natural gas, that's why there prices differ, it does not require large storage containers because it is stored and transported as a liquid.
Who Needs Propane Tankless Water Heater?
This would be someone that does not have natural gas at there house and electric is overly expensive per kW. A propane water heater is a good option for your home because it's efficient and when sized properly, it provides hot water all time, and it is quite easy. The propane tankless water heater is known to last much longer than a conventional water heater, but since the tankless water heater lasts longer, it does not mean it should not be taken good care of.
A family of 3 or 4 will need 25 gallons of propane every month while one with more than five members will need 40 gallons of propane since that is the right amount that can do all their household chores.
Why Propane Tankless Water Heater
Most families prefer propane water heater because of its various unique reasons. It is simply the best heater that can be used at home; the reasons are as follows.
Offers instant water
With a propane water heater, you should never worry about running short of hot water. You don't need to wait for long before the water is heated since it provides hot water immediately. That is very wonderful, and everyone would like to have this kind of heater, can you imagine you are in the middle of a shower and all of a sudden you run short of hot water? The propane water heater ensures that there are no such things happening.
Offers clean water
Some water heaters might produce dirty water. Sometimes simply the tank is corroded and can not produce clean water, but for the case of propane tankless water heater, you will always get clean hot water for taking a bath and for hand washing as well.
Long-lasting
This water heater is of high quality and can last for up to 20 years, while other tanks can only last for 15 years. This saves you money because you don't need to replace it any time soon.
Pollution is less
There is less pollution in the environment when using this kind of water heater because the liquid propane is one of the clean fuels that is adopted as a great source for propane tankless water system.
Saves space
The water system is small, and therefore, it occupies a smaller space as compared to a water heater.
Saves money
The propane heater only heats water that is needed at that time, having quite a short waiting time, thus saving a lot of money on heating bills per month.
How to Choose the Best Type For Your Needs?
Choosing the best propane heater can help you save much money for you, but there are a few tips you need to consider before selecting:
1. Temperature
You need to know and estimate the average temperature in urban areas and judge the maximum temperature you need. Most of the propane heater reaches up to 140 degrees F but it may drop a bit in cold areas.
2. Size
Before selecting, you should think about whether you need a large or a small water heater. If you do not have enough budget or a large space for a whole house heater, then you can get a small type. If you intend to get one for traveling or for camping, a portable heater will be a great help.
3. Flow rate
Different size of the home requires a different flow rate, for a small tiny home with one bathroom, 3 GPM tankless water heater is enough. But if you are a large family with three or even four bathrooms, you may need a 9 gallons per minute heater to support multiple uses. Besides, you can estimate the average water you will use per day, and decide which level of flow rate heater you need.
4. Energy efficiency
The high energy-efficient heater is sure to save much money for you, and because of less wasted gas, it is more eco-friendly and environmentally friendly.
5. Safety
The safety of the propane tankless water heater is the most important thing. Many water heaters are designed with self-protection systems, such as self-diagnosed device and freeze protection. These systems are able to protect the machine in dangerous situations and automatically stop it.
6. Price & Warranty
Price is, of course, the major concerns of yours, always buy something within your budget. Warranty of tankless water heaters are normally 10-12 years for the heating parts, some reach even 15 years. Long and satisfying after-sale service will help you a lot in later use.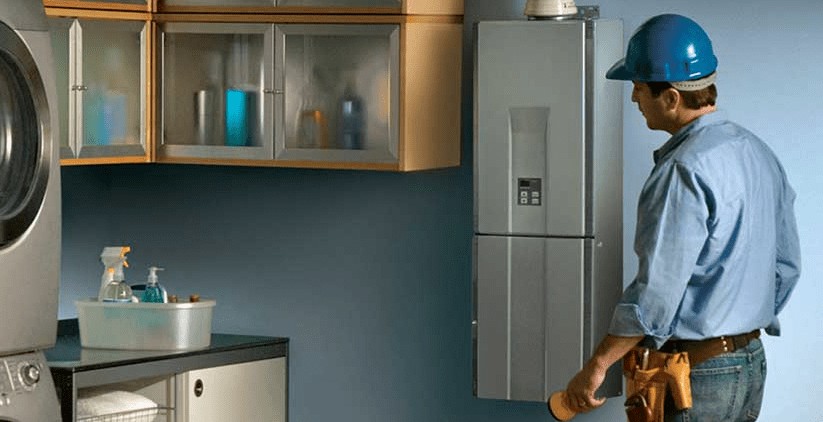 Summary
Propane tankless water heater is more energy-efficient and saves more money for you, some of them are both propane and natural gas available. If you do not have a gas pipe or want a cheaper type, you may choose the best propane types.
Here we picked out three best propane gas tankless water heaters for you to choose:

If you want to know more information on other types of propane-powered heaters or want to get a detailed price, please feel free to check it out on Amazon.
---
Look Further On: