You might be wondering what a small tankless water heater is? Well, this refers to a device that has compact and small shapes. Furthermore, it is appropriate for use at camping tents, RVs, cabins, and small homes. Due to its lightweight, you can easily maneuver with it around and install it where you feel it is appropriate.
Note that this tankless water heater generates on-demand hot water through heating the water as it makes its way through the unit. This differs from the traditional tank water heater, which stores heated water until you need it.
Therefore, this article will make you informed about the best small tankless water heater.
What Is the Best Small Tankless Hot Water Heater?
How Much Does A Small Tankless Water Heater Cost?
The cost of the tankless water heater has three primary components. These are:
Small tankless water heater cost
The installation cost of the tankless water heater
Operational cost
Small tankless water heater cost
There are two types of water heater, primarily; gas tankless water heater as well as the electric tankless water heater. The electric tankless water heater cost commences at approximately $125 while the who-house tankless electric water heater costs about $1,000. On the other hand, the tankless gas water heater starts at $125, but if you need a maximum quality, durable gas tankless type, note that the cost ranges around $500 to beyond $2,000.
Installation cost
Installing an electric tankless water heater will cost you around $150 to beyond $700. Moreover, if you need to install the tankless gas water heater, it will cost you approximately $600-$1,500.
Operational cost
The operational cost stands for the cost of power needed to run the water heater effectively. The functional value for your electric water heaters is averagely around $75, and that is a minimal capacity to beyond $300 annually if you have a whole house tankless electric water heater. On the other hand, a gas tankless water heater costs approximately $200-$600 annually to operate depending on its efficiency and size.
What is the Right Size Tankless Water Heater for a Small Family?
A small family can continuously run many hot water faucets for laundry and dishwashing. In a nutshell, a small family requires 10 GPM tankless gas heater. On the other hand, if you have a small family, you can opt for a 27 kW tankless electric heater. However, it is ideal if you live in the USA northern part, where you will get a minimum temperature when it comes to water input. This means the tankless water heater has to work smart raise the temperature to 110 degrees or 120 degrees.
Recommended 27 kw Tankless Water Heater
Furthermore, if you reside in the southern region, your tankless water heater capacity can be minimized by 30%. This means a small family in the south part of the USA requires 7 GPM tankless gas heater; it can also opt for 18 KW tankless electric water heater. Note that this is the right size tankless water heater to sufficiently satisfy a small family.
Recommended 18 kw Tankless Water Heater
What Is the Small Tank That You Can Install with a Tankless Hot Water Heater?
It is called the expansion water tank. This tank has a design with the potential to hold the water thermal expansion, it also heats up in your water heater, avoiding excessive water pressure. When there is maximum water pressure, it is likely to harm the valves, the water heater, and supply pipe joints. Therefore, the expanding water from your water heater, usually channels to your expansion tank, calming water pressure in the entire system.
What Size Tankless Water Heater Do I Need for a Small House
In case you are wondering what size of a tankless water heater you require to install in your small house. You should worry less because there are several factors you should consider to find the appropriate heater for your house. These factors include:
Your household size
This is a primary factor to consider before running a water heater installation at your home. Your heater should have the potential to handle occasional usages, especially hot water channeling from personal faucets. Almost every household needs a lot of hot water, especially when you are planning for an occasion or have guests. In case this happens, ensure that you pick the best tankless water heater that meets your demands.
Power source
Most homeowners use natural gas. Note that natural gas is more efficient and cheaper. Therefore, if you are looking for a heater for your small house to generate hot water in your home, opt for a water heater that uses natural gas to cut down your bills. If it does not suit you, go for an electric water heater. However, you will need to purchase numerous units.
Temperature rise
It is a vital factor determining what size of tankless water hot water heater you require for a small house. Note that if your water is too cold, you will need a bigger water heater. Furthermore, it offers you a rough idea of your external water temperature. On the other hand, it enables you to know the amount of heat you need to during winter.
Which Small Tankless Water Heater Brand is Best
Ecosmart
The Ecosmart small tankless water heater brand is a perfect overall brand for both office and home use. Furthermore, it has maximum power in the industry; it is a leading electric brand that is not costly and ideal for on-demand hot water between several applications. This brand is not expensive, but it is worth an investment. Note that it has a limited warranty of a lifetime, and it is an energy-efficient brand.
Furthermore, it has a design that is ideal for easy replacement, durability as well as efficiency. Therefore, if you need the best small tankless water heater brand, opt for the Ecosmart brand.
What Happens if Your Tankless Water Heater is Too Small for Your Home?
When your tankless water heater is too small for you home, you should find some perfect solutions to help your entire home avoid running out of water. These solutions entail: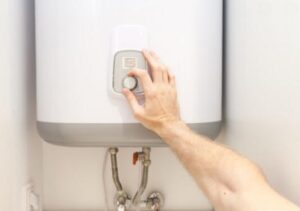 Contacting your plumber
Upgrade to a larger unit
Use cold water to wash your clothes
Use eco-mode
Ensure that you schedule your showers.
Make the showers too short
Use minimal water
Make a point of upgrading to a unit that is effective and efficient enough.
How Much a Small Tankless Water Heater Cost
The small tankless water heater for one shower or sink is approximately $120 to $350. This is for a unit that can potentially fit under your cabinet or sink and can generate 2p-2.5 gallons of water per minute.
A Small Tankless Water Heater Utilizes How Many BTUs?
Note that for you to get the appropriate water temperature, your unit is likely to use the maximum volume of gas, which is approximately 150,000 to 200,000 BTUs. This means you might require a gas line upsizing at your home.
How to Install a Small Tankless Water Heater?
Most homeowners do not know how to go about installing a small tankless water heater. To successfully install your tankless water heater, you need to follow several steps to achieve your installation correctly. These are: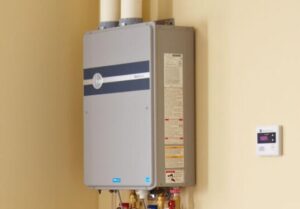 Step 1 – Do away with the original unit
Sometimes you need to assume that you are replacing your small tankless water heater. To achieve this perfectly well, you have to do away with the old unit. However, suppose you are installing it for the first time. In that case, it is ideal to consult your local generator or even the nearest store about the model of a heater you are looking forward to installing. This will help you to get approval and commence the entire process of installing the original unit. Ensure that you switch off power, gas, water connection to the previous water heater connection to avoid unnecessary accidents. Drain all water from your previous tank system as you discard your old tank.
Step 2 – Power supply installation
After deciding on what type of tankless water heater system you want to install, ensure that you energize it with electricity or gas. In case you have found a new location of installing your heater, ensure that you fit a new gas line. Examine if the gas line is flexible enough to supply your gas from the gas source to the new heater. Moreover, suppose you are installing a new electrical system. In that case, it is perfect that you at least have an electrician to conduct the survey and install the electrical lines that are new to generate the necessary energy to the entire unit.
Step 3 – Install new water lines
When your gas or power is ready, use the copper piping to link hot water and cold lines into your new unit. Using a unique bell hanger, mount your piping beside your line in a relaxed place for the addition of insulation late. It is also vital that you eliminate the danger of oxidation by cleaning the pipes appropriately before you proceed to solder them together. Moreover, at the ends and points of connection, ensure that you apply flux; after that, connect the pipes before you heat your copper and fuse these pipes. Make sure that you refer to your manual script not to miss out on anything.
Step 4 – Mount your heater
You have to install a brand new mount to give the heater on your wall sufficient support. Using a plank of 2 x 4, mount your plank safely, and leave approximately 4-inch from your wall. When you are through mount your heater appropriately to your wooden rig and ensure it is sturdy enough. You must situate your heater at a perfect location and ensure you can access it easily from the outside. This will help you to make vents easily and safely.
Step 5 – Connect the heater
Once you are through mounting your tankless heater, install a shutoff valve and a sediment filter depending on your system. After that, make sure you apply your powerline or even gas. Once you ensure that the power connection is appropriate, connect the water supply through the provided instructions on the manual script. After the entire connection, examine your gas source and water for any leaks in your system. In case there are no leaks, turn off until you finish the whole process of installation.
Step 6 – Install a vent
On your wall, cut a hole to enable the release of heat and make a connection of specific metals appropriate for your heater. Link the vent to your vent hood, situated outside your house. Examine if all the connections are secure on the outside as well as inside your home.
Step 7 – Switch on and set up your heater
Once you approve your installation, you can go ahead to test your heater. Open the hot faucet to allow the air in the pipes of your entire house to get flushed out and switch the faucets back after ensuring that all the air is out. Switch on your heater and set up your heater. In case you are not sure if it is working, consult with a professional.
How to Hook Up Small Tankless Electric Water Heater
You can hook up a small tankless electric water heater against the plaster or drywall between the studs or even mount it on the wall. Use a stud finder to install your unit on the wall. Allow the manual script to guide you through the entire process of hooking up, Connect pipes for water supply to your water heater.
The pipe from the water utility channel to the inlet. On the other hand, the pipe channeling to your house links to the outlet. On both lines ensure that you install the shutoff valves close to your unit.
or the final connection, use fittings union on the outlet as well as the inlet. After that, open your water valves. Moreover, ensure that you also open the faucets in your entire house to at least run some water through the whole unit for approximately a minute, then switch it off.
Eliminate the inline filter, situated close to the inlet, and clean it out any dirt. Replace your filter, ensure the water valves are open and restore your electrical energy. After hooking up, test your small tankless electric water heater is functioning appropriately.
How to Install a Small Tankless Water Heater to Avoid Long Hot Water Time in One Area of the Home?
Proper installation of a small tankless water heater can help you prevent long hot water time in one specific area. Furthermore, how good you install your water heater depends on several factors, such as:
Hire a company with the local perfect Business Bureau
Inquire for references
Find the cost estimate on paper
Familiarize yourself with local building codes.
Numerous tankless water heaters come with 20 years' life expectancy. Moreover, they also have parts that are replaceable to extend their life span by several more years. However, the water heater's storage only can last for approximately 10 to 15 years. Ensure that you make a point of consulting you're the literature or website of the manufacturer for sufficient information. On the other hand, water heater periodic maintenance can prolong your water heater life span and reduce efficiency loss
How Big of a Titan Tankless Water Heater Do I Need for My Small House
Your Titan tankless water heater should be approximately smaller 80 times compared to the old-fashioned model of tank. This means you will have sufficient space for the storage of water.
Conclusion
From the above information, you now have a clear understanding of the best small tankless hot water heater. Therefore, choose the best that is likely to meet your demands efficiently. I hope this article will benefit you to better know what is the best small tankless hot water heater.