Venting serves as the most important factor in using tankless water heaters, improper venting methods result in leakage of gas or even cause a fire. Direct vent tankless water heater, power vent tankless water heater and also atmospheric venting types are three common types on the market.
What is the difference between the three types?
Which exactly one should you choose?
Which is much safer in using?
Through this article, we will give you all the basic knowledge of venting a hot tankless water heater. Also, we selected the best direct vent types and made best direct vent tankless water heater reviews for you if you are fond of direct venting types.
2 Best Direct Vent Tankless Water Heaters of 2020
Basics on Water Heater Venting
Any water heaters that burn natural gas or propane require a venting system. It uses pipes and ducts, or in other words, chimney, to remove all the exhaust gas, moisture, and heat from home, creating a safe environment for outdoor natural gas or propane use.
In terms of venting, the most common word we will hear is the combustion, it refers to the process of burning the gas. The main purpose of the vent duct is to remove the exhaust gas or heat, it can be made by metal or plastic, depending on the venting system you use.
For some ducts, they lead directly outdoors. Or they may tie to larger vent systems, known as common vent configuration.
Best Direct Vent Tankless Water Heater Reviews
1. Rheem RTGH-95DVLN Indoor Direct Vent Tankless Water Heater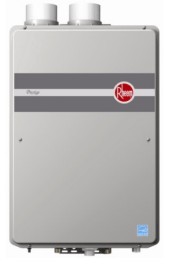 It is a large flow natural gas tankless water heater, reaching up to 9.5 gallons per minutes in using. Inherited best performance of Rheem products, this one is capable of providing consistently hot water for you.
With a remote control panel, you are able to adjust the water temperature easily. Fault code shows on the temperature display screen. It has two pipes direct vent system, one for intake while the other for exhausting gas or heat.
If used for commercial tankless water heater, it can be manifolded up to 6 units with an optional. The self-diagnostic system is quite helpful in installation.
Pros:
Pretty quiet and quick in delivering hot water
Simple to use
Easy to adjust water temperature
Constant hot water supply
Cons:
Coldwater sandwich
Maximum temperature raises up to 120℃ only
2. Rheem RTGH-84DVLN Indoor Direct Vent Tankless Water Heater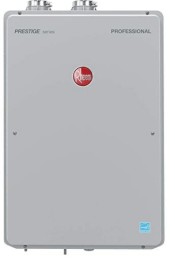 This tankless water heater is also a powerful machine, with a maximum flow rate reaches up to 8.4 gallons per minute. What if I need a larger flow rate type? Its EZ-lint cable has made it pretty easy, you can simply connect two heaters as one with the system.
Thanks to its safe self-diagnostic system, all the fault code shows both in installation and in use. Freeze protection has made available in all severe weather conditions for installation and use.
According to the customers, it is capable of providing you with constant hot water for 3 bathrooms. The flow of water needed for firing up unit is also low enough, which means you do not need to open up your tap long time for hot water.
Pros:
Constant hot water
3 bathrooms available
Fast hot water
Low using costs
Cons:
A bit noise occurs in using

---
Proper Venting Reduces Backdrafting
What is backdrafting?
Backdrafting is a common problem in gas or propane tankless water heater using, it refers to a situation that exhausted gas or heat fail to exit the home through pipe or vent.
When oxygen is re-introduced, it becomes a potential threat to firefighters. Of course, the causes of backdraft vary in different using places and applications, but one common cause is the improper way of venting.
Venting Types
Based on a different heating system, there are three common venting types on the market that are normally adopted, which includes atmospheric venting, direct venting, and power venting.
– Atmospheric Vent
The atmospheric vent is the most common and standard venting method, a vertical or upward-sloping vent ties into a common vent, because of the temperature difference between cold air and hot air, upper hot air flows out through the pipe. It is regarded as the cheapest type on purchasing and also the simplest on installation. It works perfectly when under proper installation, or it has the potential danger of backdraft.
– Power Vent
Power vent system uses blower or fan to exhaust gas, it is installed on top of the machine and can have either horizontal or vertical duct. It requires an electric outlet near the water heater to supply power for the fan. The main advantage is for its free installation for it requires no chimney, by running inexpensive pipe, exhaust gas can be vented out directly.
What comes with it is high cost on a portion on blower or fan and electric power. Besides, there will always be slight noise in operating the blower or fan, through correct installation, the noise can be minimized to a large extent. Of course, to most of the family, the noise can be neglected, but it is a factor that you should aware of before buying.
– Direct Vent
Direct vent tankless water heaters require no extra power, the exhaust gas is drawn out vertically through separate vent duct. Thus the using costs and venting costs are quite low. For most direct vent systems, two pipes are used. One is for intake while the other for exhaust. But many manufacturers now adopt concentric vents only. Since it gets in touch with outdoor air directly, risk on accidental fires is reduced largely.
Direct Vent vs. Non-direct Vent
Direct Vent:
Can be vented either vertically or horizontally;
Requires no fan system;
Directly "breathe" with outdoor air
Non-direct Vent:
Uses an electric fan to drive exhaust gas outside;
Make much noise in operating
Higher cost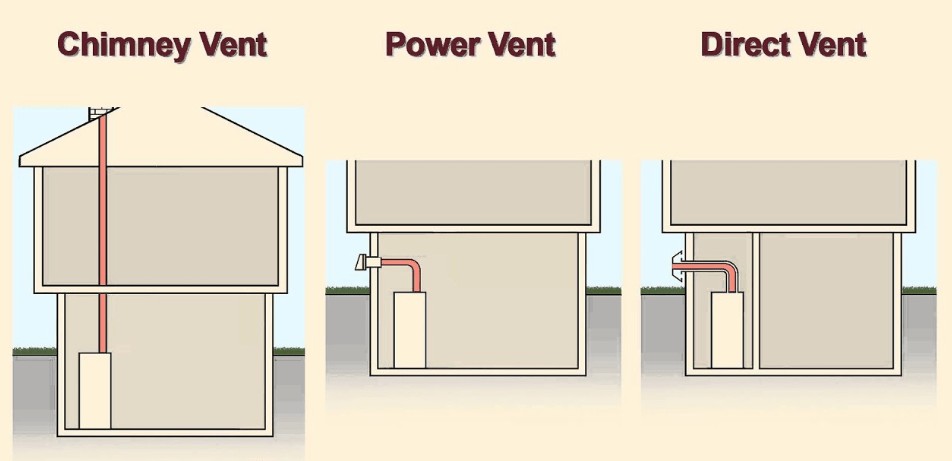 Advantages On Direct Vent Tankless Water Heater
Free of chimney
Unlike non-direct vent or power vent tankless water heaters, direct vent types require no chimney, and it needs no electricity in pushing out exhaust gas or heat. Therefore, you can use it even when you do not have a chimney system at home.
Safe
Direct vent system utilizes a sealed combustion chamber, it prevents oxygen from re-introducing into the system and thus leads to less risk on accidental fires in using.
Low cost
No chimney or blower is required on exhausting gas, and no electricity ordered for powering venting system.
Wide application
For some of the best direct vent tankless water heaters, they can be installed near the outside wall. They are commonly found in both tank types and tankless types.
Summary
When installed correctly, both best direct energy tankless water heaters and best power vent tankless water heaters can offer you with best and most satisfying user experience. As for which exactly one is the best way to vent tankless water heater, it depends, either on your applications or on your using places.
In a word, direct vent tankless water is quite recommendable to those without chimney at home. It requires less electricity especially in venting and is safer compared with non-direct tankless water heaters. If you intend to get more information on best direct vent tankless water heaters on the market, please feel free to contact us or get detailed products specifications on Amazon.