Commercial tankless water heater is a bit different from residential tankless water heater in flow rate, water pressure requirement and power etc. Some of commercial types can be cascaded up together to meet the large demand of hot water.
Commercial tankless hot water heaters can be widely used for hotel and other public places for providing constantly hot water. Here we offer you the best commercial tankless water heater reviews for you to choose the most suitable one.
Best Commercial Tankless Water Heaters Reviews
Features:
For commercial use, the temperature is able to go up to 185 degrees F, perfectly meets the demand of constantly large flow hot water supply. But you need to get an extra commercial remote controller. Even for residential use, the maximum temperature reaches 140 degrees F.
Flow rate of this unit reaches 9.8 gallons per minute, the large flow rate enables providing endless hot water for you. Power requirement ranges from 15200 to 199000 BTU per hour. But it needs only two watt to keep machine up and working.
It takes about 20 seconds for water to heat up, and once it warms up, you will have unlimited hot water. The working noise of it can hardly be heard. It offers two venting options, concentric PVC and twin pipe for durable choice.
Pros:
Two venting options
0.95 high energy rating
High temperature range with commercial remote
5 year warranty on heating parts
No noticeable noise can be heard
Needs only 2 watt to keep machine up and running
Cons:
Need to be installed by professional
---
Features:
160 degrees F temperature
Maximum temperature for commercial use reaches up to 160 degrees F, of course you need also buy commercial controller separately. Residential temperature range is between 98 to 140 degrees F.
The maximum water output for this unit is 7.5 gallons per minute at 120 degrees F, power consumption is between 10300 and 180000 BTU per hour. One machine is able to support two or three fixtures a time. If you intend to use it for commercial, you need to cascade several of them together.
Easy operated control panel
Temperature and error codes on the screen, you can adjust the exact water temperature you want with easy operated buttons. Electronic solenoid valves are equipped to control water flow and gas.
Pros:
82% thermal efficiency
Outdoor air for safe combustion
Quiet working performance
Perform flawlessly
Self modulate technology to heat water only when you use it
Energy efficient
Cons:
It fluctuates a bit
Venting kits can be hard to install
---
Features:
Like the RL75iN series, commercial temperature range of this unit is between 98 and 160 degrees F, and commercial controller needs to be bought separately. There is also a control unit that comes with machine, but you need to hook it up if you want to adjust the temperature with it.
Maximum flow rate of this type is 7.5 gallons per minute, water temperature always stays constant even multiple bathrooms or faucets are using the same time. But the waiting time is quite long.
The machine is equipped with freeze protection devices, once outdoor temperature reaches low, the smart unit senses the cold weather and automatically take measures to protect itself. It is also Wi-Fi capable, anywhere you connect the internet, you can control the machine up remotely.
Pros:
Easy to install
Stable water flow and temperature
82% thermal efficiency
Wi-Fi enabled remote control
Easy operated control panel
Constantly hot water supply
Cons:
Working noise is a bit loud
---
Features:
When you use it as commercial tankless water heater, you can connect several of it together, and connection process is quite easy. Besides, it is both high and low altitude capable.
Heat exchangers are made by copper, 82% thermal efficiency gives you more energy. The power range of it is from 11000 to 150000 BTU per hour. It is said that the unit is able to save 1100 gallons of water each year for you. The low NOx design makes it more environmental friendly.
Digital console displays the temperature and error codes, and also maintenance code shows on for reminding. There is no cold sandwich effect with hot starting program, the machine goes on working for a few minute after it shuts off.
Pros:
Easy to use
High and low altitude available both
Energy efficient and heating cost saver
Exclusive water saving settings
No cold water sandwich
Suit good range of power input
Cons:
Need to be installed by professionals
---
Features:
Advanced flow control system is used to control constant water temperature in different flow level, when used for commercial, you will need it to keep stable and flawlessly hot water flow by regulating water pressure automatically.
This tankless water heater is equipped with full power modulation system, capable of meeting the demand of large power use for commercial. It has power to provide about 5 gallons of water per minute. And it shows best performance where supplied water is under 45 degrees F.
Thermal efficiency of this unit reaches as high as 99%, thus seldom energy is wasted in using. It is frequently used for commercial because of its high level electronic parts and a reliable cover. The working noise is low, barely be heard in working.
Pros:
No mechanical switches
High quality
Compact design
Self modulating technology to save heating costs
Supports full power modulation
The most technological advanced electric water heater
Cons:
Difficult to install, needs 240v power and heavy duty wiring
---
Features:
It is equipped with self diagnostic system and led light shows off on the console, error codes also shows when something wrong happens. Besides, freeze protection system is installed for preventing the machine from getting frozen.
The heating machine can be both installed for indoor and outdoor, but it needs to get venting facilities for indoor installation. You are free to install it either vertically or horizontally. If you lack of basic knowledge on it, just find someone professional to help you on installing.
Water temperature is not affected by the climate and can always keep stable. Temperature ranges from 99 degrees F to 167 degrees F with remote control for commercial use. Power required ranges from 11000 to 190000 BTU per hour.
Pros:
Both indoor and outdoor installation
Digital remote control
Maximum flow rate reaches up to 8gpm
Internal freeze protection system
Hot water output is not affected by climate
Large power
Cons:
Installing remote control is an extra cost
---
Features:
Ready-Link cascading technology
The ready-link cascading technology enables you to cascade up to 16 units, and it supports common vent up to 8 units. Maximum flow rate of this unit is around 9 gallons per minute, thus when you cascade them up, you will be able to use it for commercial use easily.
Recirculation pump built in
This machine is regarded as the most technological advanced tankless water heater, it has built in hot buffer tank and recirculation pump, in order to eliminate cold water sandwich and save water bills by shortening the waiting time for hot water, it also reduces the money on buying an extra pump.
The machine will always keep the water temperature stable, it quickly corrects temperature if it draws stop suddenly. The external interface shows temperature and error codes so you can easily adjust the temperature you want.
Pros:
Satisfying customer service
Powerful enough for commercial use
Clear installation and using instructions
Condensing types to save energy
Fast heating time and short waiting time
Intelligent preheating system
Cons:
Slightly working noise can be heard
Do not come with a remote, you need to buy separately
---
Features:
This unit is designed as commercial tankless water heater used in hotel maximum flow rate reaches as high as 13 gallons per minute, perfectly meet the demand of large volume of water.
The heat exchanger is made by commercial grade copper, it is highly corrosion resistance and heat resistance. It is compatible with circulation units, you can also install a circulation pump inside to shorten the waiting time for hot water.
This unit is both natural gas and propane available, for propane, thermal efficiency reaches 84%, while natural gas efficiency is 80%. Temperature range of the unit is between 100 and 140 degrees F.
Pros:
Designed for hotel
High temperature
Highly energy efficiency
Compatible with circulation units
Excellent material on heat exchanger
Both natural gas and propane available
Cons:
Need to be installed by professional
---
How To Choose Commercial Tankless Water Heater?
Commercial tankless water heater is normally used for hotel, large volume of hot water is demanded and you need to get several of cascaded up together. On choosing commercial tankless hot water heater, there are some tips:
1. Quality
Quality level of commercial tankless hot water heater determines its service life and using safety. There are specific standard on heating exchanger and other internal materials. Choosing a high quality one is able to save large amount of money in maintenance and repairing.
2. Flow rate
Flow rate of commercial tankless water heater needs to be large enough, or it is unable to provide satisfying showering experience. Average flow rate of each is around 9 gallons per minute, of course you can also cascade several small flow rate one based on your actual needs.
3. Power
Power of heating machine determines water flow, if not powerful enough, hot water can not flow flawlessly. Therefore, choosing a powerful one can do you great help.
4. Energy efficient
As power rate of commercial tankless water heaters are quite large, they are actually pretty costly in using period, if they are designed high energy efficient, they will help save much money for you each month.
5. Temperature
Because of its special applications, commercial tankless water heater temperature range is normally higher than residential type. It ranges from 98 degrees F to 185 degrees F, while maximum temperature reaches up to 140 degrees F.
Features Of Commercial Tankless Water Heater
Tankless water heater types saves much time for you, no waiting time for hot water, and you can always use hot water instantly.
There is no need to wait for preheating and warming of water, no heating loss in whole using process.
Unlike tank water heater, it is designed compact and small, suitable to be installed anywhere you want. Even for small studio, you can also install a large flow commercial type.
Most of the commercial tankless water heaters are designed with overheating protection and over pressure protection system to protect machine in danger.
It is installed directly in the bathroom, there is no need to break the wall, multiple buttons are set to adjust the water temperature.
Attention:
Because of the large demand of hot water and power, one commercial tankless water heater is normally not powerful enough to meet the need in large hotel or hospitals. Therefore, you need to cascade several of them together. If you lack of enough knowledge on it, please ask the manufacturer first and then get a professional to help you.
What We Pick Is…
We would like to suggest Rinnai RUC98iN Ultra Series Tankless Water Heater for you, the maximum temperature for commercial use is up to 185 degrees F, thus is able to provide flawlessly hot water for you.
It has large flow rate and 0.95 high thermal efficiency, powerful performance makes it the perfect one for commercial use. Heating time is quite fast and helps save much water and heating costs.
If you have interest in the item, please feel free to get more information and price details on Amazon, there will always be large discount on Amazon to save large sum of money for you.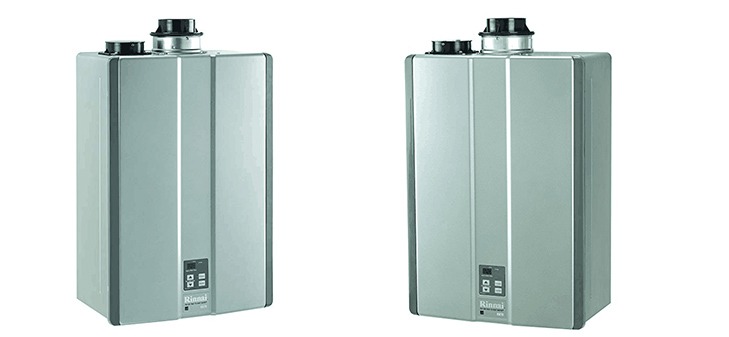 ---