Extend the swimming season and enjoy more fun and recreation while getting the most out of your pool. With the help of  the best propane pool heaters for in-ground pools, you can start swimming earlier in the season and close your pool later in the fall.
Swimming pool heaters raise and maintain the temperature of pool water, providing excellent swimmer comfort. While there are many different pool heaters in the market, they all fall into three main categories: gas pool heaters, electric pool heat pumps, and solar pool heaters.
Although all these heaters have the same purpose, they differ significantly in how they perform. This article mainly focuses on the gas pool heaters, particularly propane pool heaters.
What Is the Best Propane Pool Heaters For In-ground pools on the Market?
Selecting the Best Propane Pool Heaters For Your In-ground Pools
How to Pick the Best Propane Pool Heaters for In-ground Pools?
Propane pool heaters for in-ground pools or spas come in a wide range of varieties. Finding the ideal one for your needs may be a daunting task. And to ensure you get top quality and a trouble-free heater, there are several factors that you may need to consider. We have listed them below for you.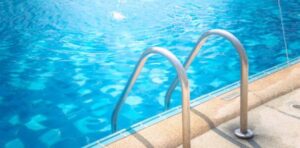 Durability
You want a heater that will provide a longer service life. To get one such heater, you are advised to go for the cupro-nickel heat exchanger and tubing, unlike the standard copper units. These are designed to hold up better in fluctuating salt systems and pH levels. Manufacturers are now opting for polymer/ resin headers to allow for superior flow performance and erosion resistance from high flow conditions. ASME models require cast iron headers to suit commercial applications.
Size
Size is a vital factor when purchasing a propane pool heater. The heater's correct size depends solely on your in-ground pool or spa and how fast you want to heat your pool. If located in the northern states, you will most likely want the larger heaters to compensate for the colder temperatures. In-ground pools and spas generally run from 100K to 400K BTU. Pools in very windy or colder areas or those that do not use a pool cover should consider installing larger heaters.
Millivolt vs. electronic ignition
Millivolt is simply the term used to describe the standing pilot light, which stays light all the time. The electronic ignition option works to light the burners with an intermittent spark similar to today's gas grills. They are a more efficient way to control the gas usage of your heater. It also avoids gas leaks if the pilot goes out.
Dual vs. single thermostat
Some of the smaller models of heaters have only a single thermostat to control the pool's temperature. However, most heaters have dual thermostats for both a spa and a pool running off the same heater.
Thermal efficiency
Most of the heaters have their efficiency rating at 79 to 83%. The rating is related to the heat transfer from the burners and through the heat exchangers to the water. Choose a heater with high thermal efficiency.
Pool location
The location of your pool is also critical. Some places with low temperatures should consider buying the larger models of heaters with a higher BTU rating.
Forced air
Some heater models are designed with a forced draft system that serves to move air continuously through the combustion chamber at a precise flow rate. This action eliminates all outside weather variables that may adversely affect the heating performance like high wind conditions. Some have an inbuilt wind-resistant design to eliminate these conditions.
Controls
Different sizes of heaters have different controls. The smallest heaters may feature a single knob that is connected to the thermostat to control the heater. The larger models, on the other hand, may feature a smart microprocessor with LCDs as well as diagnostic read-outs that allow you to set and monitor their operating status continuously.
Altitude
Different heaters are manufactured to operate at different altitudes. Most of the models are set to 0 to 2000 inches. But there are those available for operating at higher altitudes. Ranges of 2000 and 6000 inches and 6000 to 9000 inches are the most common options.
Low NOx emission standards
Parts of California and Texas have set emission standards for heaters. The Low Nox heaters are specifically designed to meet the Nox emission standards. This requirement is for commercial use only, not residential.
Solar blankets
This is a bonus factor. Regardless of the heater, you ultimately choose your in-ground pool; you must invest in a solar blanket. When you cover your pool with one when not in use, they serve to keep your added heat in the pool. That will, in the long run, save you up to 50% of operating costs.
Budget
Cost is one of the main determinants when it comes to purchasing practically anything. In this case, you should choose the propane heater that fits in your budget. However, in as much as you may want a budget-friendly heater, be keen on its functionality. Propane heaters are the best choice as they work faster, and they cost half as much as a comparable heat pump.
Best Propane Pool Heaters for Inground Pools Reviews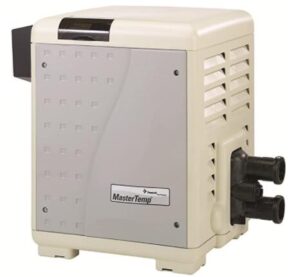 Features:
Tough and rustproof exterior
Uses 400K BTU propane gas
Rotating digital display
Manual gas shut off

You can never go wrong with the Pentair 460737 MasterTemp heater. It is eco-friendly as it makes use of propane gas for operation. Moreover, this propane gas heater is rated 400K BTU to assure high performance. It heats up fast to let you enjoy your spa or pool without any long waits. And when it comes to energy efficiency, this heater is the best in its class. It is also fitted with a manual gas shut down for use whenever the service is needed.
What's more is, this top-performing heater is certified for low NOx emission and outperforms all set industry standards. So you have nothing to worry about. It is also designed with a digital rotating display that allows for easy viewing. The exterior is not only sturdy but also rustproof to handle all the weather and heat. This heater will exceed all your expectations. It weighs 128 pounds and is 36 by 30 by 25 inches in measurement. This heater is also easy to install. It is a great product and will last you for years.
Pros:
The exterior is built to withstand extreme weather and heat.
Delivers best in class energy efficiency
It outperforms industry standards.
The display is easy to view
It is eco-friendly
It heats up fast
Cons: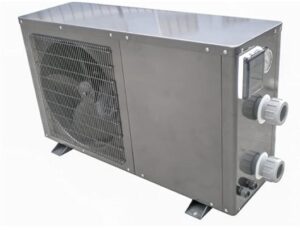 Features:
Sleek design
Optional extension
Easy-set digital panel
Convenient controls
Enamel-coated steel chassis
100% titanium heat exchanger

The FibroPool FH055 in-ground swimming pool heater will meet all your needs. It features a digital display and controller for easy viewing as well as quick adjustments from the unit. It can also be extended with the optional extension cable to provide optimal convenience. This heater has a small footprint and a slim fit design to accommodate a variety of placement options. This large capacity heater is sure to extend your swimming season every year. It has an output rating of 55000 BTUs- it is, therefore, capable of heating a 21-inch round or 15 by 30-inch oval in-ground pool up to 10,000 gallons.
On top of that, this heater employs a titanium heat exchanger and a Copeland high-pressure differential compressor to maximize energy efficiency. It runs exclusively on a 12 gauge, 220-volt circuit, drawing the same power as a standard table saw. This heater is easy to install- the process takes less than 30 minutes. The smooth side access to the standard fittings serves to minimize install time and the hassle. Moreover, the casing is all-metal and enamel-coated to withstand all elements and provides continued service use.
Pros:
Slim profile for a wide range of mounting options
Rugged design to withstand all the elements
It is the most energy-efficient heat pump.
Produces clean, efficient electricity
Quick access to all unit controls
Cons: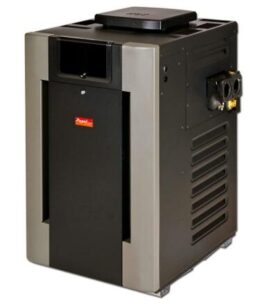 Features:
Non-corrosive and rust-resistant cabinet and internals
Microprocessor-controlled thermostat
All-copper-fin-tube heat exchanger
PolyTuf textured powder coating.
Informative digital display
Wind resistant design

The Raypak digital electronic pool heater is the best you can buy; it is excellent for your money. It is rated 266,000 BTU propane digital heater for pools and spas. The thermostat is controlled using a microprocessor so you can set it easily to your liking. All the cabinets and internal are designed with non-corrosive and rust-resistant materials. Its unique features include PolyTuf powder coating, polymer headers, and an all-copper fin tube heat exchanger for maximum heat transfer. Moreover, it features self-diagnostic controls that allow you to troubleshoot and determine any faults quickly.
Besides that, this high performing heater also features CPVC water connections, fire tile, burner trays, and a stainless steel tube sheet. Its simple controls provide ease of use. The cabinet is built to last and endure the elements. This heater also prides in fuel efficiency and wind resistance. Wind-resistant design protects the entire unit from falling debris, snow, hail, and wind. The intuitive digital display indicates when the water is being heated and when the desired temperature is attained. This heater makes use of the robust spark-to-pilot and most reliable ignition system. It also monitors a low voltage electrical supply to ensure correct wiring during installation.
Pros:
It is designed with protection against wind, sleet, snow, and falling debris.
Maximum heat transfers with the copper finned tubes
Self-diagnostic controls for easy troubleshooting
The thermostat can be set to your liking.
Uses the most reliable ignition system
High fuel efficiency
Cons:
How Much Does It Cost to Heat a Pool with Propane?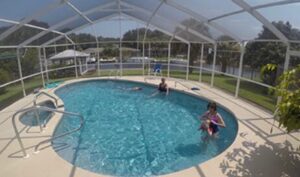 Installing a pool heater serves to extend the swimming season, particularly during the colder months, and this requires an upfront cost. But what is the actual cost of running a propane water heater? As this is a common question, we have decided to break it down for you below.
Propane pool heaters are similar in functionality as the natural gas heaters. The heat your pools very quickly so you do not have to wait for long. Propane gas uses about 1 gallon for every 100,000 BTUs per hour. For a typical size 400,000 BTU heater, that equals four gallons of propane in an hour. The cost of propane is about $2.00 per gallon.
The prices fluctuate so you can check for the updated price when you intend to install one. That translates to an average pool heater between 300,000 and 400,000 BTUs costing from $6.00 to $8.00 per hour to heat your in-ground pool.
To heat, an average pool of 10-12K gallons with no solar cover will typically take 8 to 14 hours. Adding a solar blanket to your in-ground pool during heating will significantly increase the heating process efficiency and minimize the evaporative heat loss.
What Size of Propane Heater Do I Need for My In-ground Pool?
When it comes to purchasing propane pool heaters for in-ground pools, you must buy the right size for your pool. When you determine the correct size, you will also save on money as a pool heater with the correct BTUs limits the overall runtime and reduces your electricity bill in the long run. Even more important is that during the colder season, when a heater is essential, the whole heat time will be shortened to limit the electricity required to run the unit. The right size of a pool heater is all about how powerful it is and whether it can heat your pool per specs. That is done by calculating BTUs and overall needed capacity.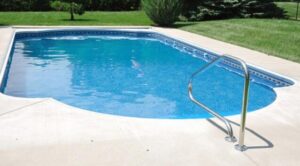 Electric heat pumps or natural gas heaters?
It is noteworthy that you know the difference between the electric heat pumps and propane or natural gas heaters. Propane or natural gas heaters will require more BTUs when comparing to the same size pools. There are also some calculations you may need to make when it comes to determining the heater's ideal size. These include temperature rise, the surface area of your pool, and the heater efficiency.
You can, therefore, determine the size of the heater that will meet your needs. You can also refer to the Heat Pump Sizing Chart to find the exact amount of BTUs for your in-ground pool. Sizing a propane heater for in-ground pools is first done by matching the pool heater BTU output to pool size in gallons.
Rules on sizing your pool heater
Besides that, there a several rules you could apply for sizing your heat pump pool heater. For example, size at 4 BTUs per gallon/ 1 BTU per liter of water- to heat during a typical summer condition when the ambient air temperature is 70 degrees Fahrenheit in 24 hours.
Size at 5 BTUs per gallon/ 1.3- 1.5 BTU per liter- to heat in regular fall and spring conditions when the temperatures average 60 degrees Fahrenheit 24 hours. And lastly, size at 6 BTUs per gallon and 1.5 BTUs per liter- to heat in regular fall and spring conditions when the ambient temperatures are at less than 60 degrees Fahrenheit on average.
Remember, more BTUs means more power, more heat transfer, quicker results, and less operation time. With this in mind, you can purchase the pool heater's correct size for your in-ground pool.
Conclusion
Gas heaters are the only type unaffected by weather or the outside temperature. These make them the ideal ones for pools or spas heated for short periods, and pools heated only for weekends, or occasional use. As mentioned earlier for in-ground pumps, the pool heaters will ensure comfortable swimming conditions down to an outdoor temperature of 40 degrees Fahrenheit, extending your swimming season by months.
Top 3 Best Propane Pool Heaters For In Ground Pools
---