Under sink tankless water heater refers to the heating machine installed mainly under the water sink no matter in the bathroom or in the kitchen. Of course, they can also be hooked on the wall, but the flow rate of it is quite small, some of which can support one single bathroom use, while others can use only for the faucet.
Under-sink tankless water heater is also known as under counter tankless water heater, it is widely used for kitchen faucet and washing machine. The flow rate is hardly influenced by weather or climate.
Most of the tankless water heaters for the kitchen are electric types, they are easier to be installed and need no venting facilities. Battery operated design makes it convenient in use.
In order to better help you get the best under sink tankless water heater, we made a detailed review for you.
What Is the Best Under Sink Tankless Water Heater on the Market?
How Does It Work?
Undersink water heaters are the most viable option that allows you to increase the availability of hot water. Therefore, instead of waiting for water to be heated in a tank. These heaters work by heating the water that is traveling to the faucet. It takes the shortest time to ensure the water is effectively heated. Its compact size makes it easy to install beneath the sinks because it requires little space.
Advantages
It saves on energy
It heats up instantly and you can turn it off when not in use.
It has a small and compact design
This makes it convenient to use in spaces with limited spaces.
Easy to use
This makes it convenient for everybody. All you need is to customize your settings.
Disadvantages
Some heaters might not perform well in colder regions especially when there are multiple users. The water will not be effectively warmed.
If you lack some plumping skills you might require hiring a professional to help you with the installation which makes it more costly because of her additional costs.
Top 4 Best Under Sink Tankless Water Heaters
Why Buy an Under Sink Water Heater?
Undersink heater is meant to provide adequate hot water for your kitchen faucet. It is a great option if you want to save money. They are fast and efficient because they instantly warm water. They help in eco-friendly options unlike other conventional products because they reduce the environmental impacts. They come in a compact size which allows it to be placed anywhere. Additionally, it is also easy to install which allows you to install by yourself.
Types of Under Sink Water Heaters
Undersink tankless heater
This is one of the smallest heaters which heats water as it passes through to the faucet. It can fit beneath the sink because there is no tank included. It is equipped with a remote control which makes it easy to set the right temperatures. The good thing is that it requires less maintenance. It is easy to install and small in size. It is very economical and it delivers instant hot water.
Tank-type heater.
This is an affordable choice that usually comes with a mini tank that helps you to store water. It is usually used in households that have larger spaces. Additionally, the installation is pretty much easy you should identify where the tank will be mounted. You can mount it in strategic places like the floor, under the sink or on the wall.
Features Of Under Sink Tankless Water Heater
1. Compact and small size
The under sink tankless water heater is normally designed small and compact, you can install it anywhere that is convenient, but of course the most commonplace is to install it underwater sink. Thus it saves much space in your home especially for tiny or small studios.
2. Easy installation
The under sink tankless water heaters are normally electric types, no complicated machinery is added, thus the installation process is quite simple and straight forward. You can totally install it by yourself and it takes only a few minutes.
3. Faucet use only
Being a small flow rate tankless water heater, the power of it is quite small and is not capable of supporting bathroom use. If you intend to use it for bathing, you need to get a tankless water heater for a shower or just order a whole-house model. The maximum flow rate of under sink tankless water heater is only 2.5 GPM, which means you can use it for faucet use only.
4. Fast heating time
As it is installed right near the application fixture, the distance between heater and tap is short, thus hot water flows rapidly to destination spots.
5. Constant hot water supply
For under sink tankless water heater for kitchen use, you need to turn on and off the tap frequently in washing dishes or doing laundry, therefore, it is capable enough to provide constant hot water and heats water instantly to meet urgent needs.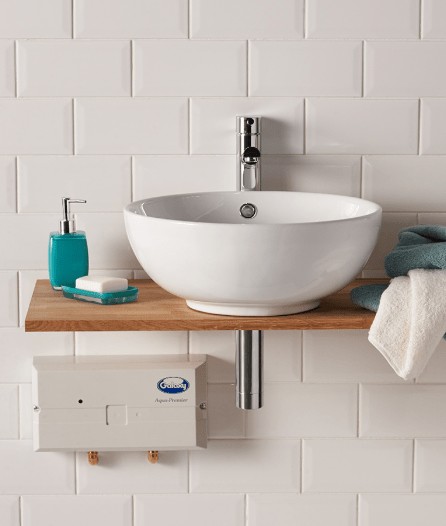 Best Under Sink Tankless Water Heaters Reviews
This is a tank water heater, a small amount of water is stored in its mini tank. The compact and small shape enables you to install it anywhere that is convenient. But for fast heating time, you had better install it under the water sink.
The flow rate of it is 2.5 gallons per minute, and it supports for sink only, not suitable for bathing. You can hang it on the wall or on the floor, the installation of it is quite simple and straight forward.
The operation of it is also quite simple, you need only plug it into the outlet and it starts to work, no complicated machinery is needed in the whole process. Hot water can be recovered soon to eliminate the long waiting time for hot water.
However, the only shortcoming is that it lacks consistency on water temperature, each time when you turn the tap off, you need to wait another few seconds to heat it up.
Pros:
Compact design
Easy to be installed
Short waiting time for hot water
2.5 gallons water flow
Cheap price
Cons:
Lack of consistency on water temperature
Not suitable for large home use
---
This tankless water heater can be installed either under the sink or on the wall of the bathroom or kitchen. The temperature range is between 90 and 135 degrees F. Its small footprint saves much space for you.
It has digital temperature control to set temperature in an increment of 1 degree, so you can adjust the most suitable temperature in bathing or handwashing. The ThermoPro self-modulating system will automatically regulate the energy required to heat water, and it heats water only when hot water is needed.
It can also detect water flow automatically, it turns on and off all by itself, thus greatly eliminating wasted water flow and lowering water consumption. However, you need to install a pressure relief device and it has to be bought from the manufacturer only.
As for internal material, durable stainless steel with its perfect corrosion resistance performance prolongs the life expectancy of the unit.
Pros:
Light weighted, only 17 pounds
Digital temperature control
Energy efficient
Self adjusting system equipped
Automatically detect water flow
Small footprint
Cons:
Need to install a pressure relief

---
This tankless water is another type of under sink tankless water heater, apart from small tiny home use, it can also be used for trailers, mobile washing services, and RVs. Being a propane tankless water heater, it uses less propane, only 20 pounds of propane and you can get 940-gallon hot water.
It needs approximately 1.5 amp for the normal condition or warm regions, but in winter, you may need 3 amps to activate it up. It weighs about 32 pounds, it takes up the half size of space and weighs 1/3 as much as a 10-gallon tank.
The hot water output is 55000 BTU per hour. The free protection system allows the burner to fire and all the electric elements are activated once it senses the cold weather, so as to take action on protecting the machine.
Pros:
Wide range of applications
Free protection system
Space saver
Automatic gas modulation
Energy efficient
Cons:
The waiting time for hot water is a bit long, takes about 1 minute

---
This is a point of use tankless water heater, and is specifically installed under water sink for faucet use. The maximum flow rate is 0.5 gallons per minute, which is quite low but able to meet the demand of faucets use.
Though in small shape, it is also equipped with the advanced flow control system, according to the change of flow rate, the water temperature will adjust automatically. It proves to save up 60% on water heating costs for long term use.
It is the smallest EcoSmart tankless water heater and can support only one sink a time. And the lowest inlet water temperature is 57 degrees F, which means it activates only when the inlet water temperature is above 57 degrees F.
Because of its small shape and lightweight design, it can be perfectly used for recreational vehicles (RVs), boats and offices.
Pros:
Save up 60% on water heating costs
High energy efficient
Suitable for under-sink use
Flow control system
Compact shape
Cons:
The waiting time for hot water is long

---
Undersink water heaters are one of the best water heaters that are easy to use and convenient for people with smaller spaces. Therefore, if you want to have an in-depth about its functionality and performance then this article is meant for you.
Factors to Consider when Choosing the Best Undersink Water Heater
There are various factors that you need to consider before choosing an underwater sink that will serve you better as per your needs.
Hot water demand
You need to consider your demands before you settle on an under sink tank heaters. This requires you to calculate the water that you need per minute to help you make a better decision for most under sink water tanks heaters have a fixed flow rate. Therefore, you should consider your needs for picking ideal types that will meet your needs. Consider the frequency on which you require hot water to help you make an elaborate decision.
Location
Water temperatures vary depending on the height above sea level and the climatic conditions of the region. Therefore, if you are living in colder regions you will require a more powerful water heater that will deliver appropriate water temperature that will meet your needs. On the other hand, if you are living in a warmer region there is no need of choosing a powerful water heater because you could be wasting money on huge electricity bills yet you can use a cheaper and less powerful option which can also meet your needs.
Voltage
This determines the amount of electricity that it consumes. Therefore, you should consider the amount of energy that your device will require and if it is within your electricity bill budget. Some heaters take 120v-240 V. The voltage of the tank that you will purchase will determine the energy that it requires which consequently translates to the amount of electricity bill that you will have to settle.
Size
This is also an important factor that you can't afford to ignore. The kind of under sink heater that you will purchase will be determined by the space available. Most people opt for those heaters that will take up less space. The good thing with tankless under sink heaters is that they can take small spaces. Therefore, before you place an order for a device that you require you need to take measurements of the area that you want to install to help you make a better decision.
Cost
This is yet another important factor that depends on your budget. Some models are cheaper than others depending on their effectiveness and the factors that they offer. Therefore, you should budget to ensure that you don't break your banks which will make it hard for you to pay electricity bills. Purchase an affordable under sink tankless heater that will meet your needs.
Energy efficiency
Under sink water heaters are more energy-efficient than other conventional heaters because they don't use alit of energy. Therefore, it is important to check the energy ratings for each brand before you purchase it. Most brands offer between 96-98% which helps in cutting down electricity costs. It is important to settle for an expensive but energy-efficient product that will reduce energy consumption so that you don't waste your money paying bills.
Safety measures
Safety is also an important factor that you need to consider because it determines the effectiveness of a water heater. Therefore, some models have thermostats to prevent overheating. It allows the heater to automatically shut off when a certain temperature is attained. Additionally, another safety consideration is the modulation which allows the Water heater to change the heat output depending on the flow rate. These safety measures are vital to prevent the occurrence of accidents which can be fatal because it will tamper with the whole electric circuit.
Tips on Using Undersink Water Heater
The most important thing when it comes to these heaters is to ensure you purchase the right product that will meet your needs Afterwards you are expected to install it properly to ensure it functions optimally. Therefore, prepare adequately for the installation process and adhere to the given procedure or you might hire a plumber to help you out.
The following are some of the tips that will be helpful when using the under sink water heaters.
Insulate the water pipe
When the water has been heated there might be energy loss if the pipes are not insulated. Therefore, by insulating the after pipes you are allowing heat retention as the water flows through
Customize your settings
Most of these heaters are digitalized and you can set the water temperatures as per your preference. Therefore, you can select the temperatures based on the season. If it is summer you might have to moderate the temperatures to a lower index and vice versa for the winters.
Consult a plumber for any Installation
The reason why some people are complaining about breakdowns or inefficiency is that they installed the unit on their own and they must have missed doing it properly. Therefore, irrespective of whether Installation is easy it is important to consult a professional for proper guidance.
Do regular maintenance
Maintenance is what will ensure your water heater functions optimally. Ensure you hire a professional to do it so that you can enhance the life span and efficiency of your heater.
FAQ:
1. Can the under sink tankless water heater used for bathing?
Some of the large power and large flow rate under sink tankless water heaters can be used as a bathing heater, but some of which are relatively low in power. If you intend to use it for a bath, it can not offer enough hot water for you.
Therefore, if you want a tankless water heater for shower, you can get a large flow rate one.
2. Are tankless water heaters good for restaurants?
Restaurants need a large sum of hot water and must heat water in a second to meet the busy and urgent needs, you can get several under sink tankless water heaters for restaurants use, but the costs are of course not a small deal.
3. Can a small under sink water heater be used with a larger one?
It is possible to use a small under sink water heater with a large one depending on your need. If you have a large household you might consider using them interchangeably based on your needs. While doing this you should also consider the energy consumption so that you can only use them when there is a crucial need for hot water. This is to prevent incurring heavy costs on electricity bills.
4. Can I install an Undersink water heater in my RV?
Tankless under sink water heaters can be a great addition to your RV because they help in connecting your onboard water tank to help in supplying hot water when the demand rises.
5. Is the installation complicated? Can I install it myself?
Installation of the tankless under sink water heater is not complicated. Most people who have some elementary technical skills can install it easily by following the installation manual. However, if you are not sure of how to install one it is important to consult your plumber for proper guidance. Alternatively, you can also hire one if you feel that you are not in a position to install the unit.
6. Do I need a licensed plumber to install an Undersink water heater?
Well, it is important to be very vigilant when hiring a plumber to do the installation. Therefore, you have to cross-check if the plumber is licensed to do the installation. You should also ascertain if the plumber is experienced on the field so that he delivers proper Installation. Sometimes it is good to ask for references from. People who have hired plumbers to do the installation to save you the effort that you might require in doing research.
7. How reliable are these Undersink water heaters
Under sink water heaters are the most viable option especially for people who have little spaces. They take up less space thus making it convenient. Additionally, the installation is easy all you need to do is to follow the installation manual and you are set to install one. It also saves on energy costs because they have thermostats that ensure once the water is heated it shuts off automatically and to save on energy in case you forgot to shut it down.
8. How do I adjust water volume under the sink?
The sink is serviced by two valves that deliver hot and cold water. These valves can be adjusted depending on the control knobs. All you need to do is to turn off the water entering the faucet from the sink. Afterward, open the cabinet doors to locate the water control valves. The knob on the right is for adjusting hot water while that on the left is for cold water. So you can twist the knob anticlockwise go reduce the water that is entering the sink faucet.
9. How long does a kitchen sink water heater warranty last?
The warranty period of the kitchen sink water heater varies from one model to another depending on the manufacturer. Most models have a between 1-6 years warranty while some other few models may offer a lifetime warranty. Therefore, it will depend on the model that you will purchase.
How Do I Install a Tankless Water Heater Under a Sink?
One of the most important steps is to prepare for installation. This makes the task easier. You need to gather important components that will be used during the process.
Therefore, you should start by measuring the height of the water heater. Cut the equal height of CPVC to that of the water heater. Use a deburring tool to cut the end of the pipe to ensure any edges are effectively removed.
Use a CPVC primer coat and paint the outside. Allow it to dry before you push its elbow to the end of the pipe. Afterward place the water heater catch pan beneath the sink and set the heater in the pan. Ensure the hot water supply connected to the kitchen faucet is turned off as you loosen the connectors that are holding the faucet and the valve.
Connect the stainless to the inlet nipple of water and the other to the water valve. Ensure you use an adjustable wrench to tighten the supply line. Turn on the hot water valve to establish if there is a steady flow at the faucet.
Summary
All the above-recommended products can be regarded as the best tankless water heater for the kitchen, for washing machines and also for the sink. They are designed pretty compact and small, suitable for tiny studio use.
To sum up, we picked out three best types according to different needs for you:

There are also many types of under sink tankless water heaters on the market, to get one in the most reliable way, Amazon can be your best choice. Constant discounts will save a lot of money for you. If you have intention on the item, please feel free to check on Amazon.
---