Do you still complain about wasting too much energy and gas bills each month because of your tankless water heater? Do you want a smart one that helps save many heating bills for you? Well, just have a look at the condensing tankless water heaters.
Compared with conventional natural gas or propane tankless water heaters, this kind of heater adopts two heating exchangers to reduce energy consumption and greenhouse gas effectively. Some of them reach as high as 0.97UEF or 0.99EF, which is super efficient in energy consumption.
Because of the rising gas price and lower operating costs, condensing tankless water heaters are becoming more and more popular around the world. In this article, we would like to offer detailed introductions on condensing technology and provides the best reviews for you.
The 5 Best Condensing Tankless Water Heaters Chart
How Does Condensing Tankless Water Heater Work?
Condensing tankless water adopts two heating exchangers, one gets heat directly from the gas burner while the secondary elements are added, normally stainless steel materials, to recover the wasted gas from flue gases, through such smart design, the efficiency of energy reaches as high as 90%, which solves the problems of gas-wasting to large extent.
The condensing design recovers the heat that would be lost in non-condensing tankless water heaters, leads to less energy consumption and carbon dioxide emissions. Besides, it keeps the exhausted temperature so low that cheaper venting can be used, such as economical Schedule 40 PVC pipe, in nearly all the applications.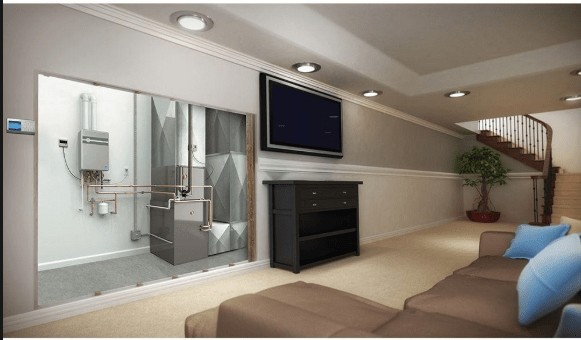 Why Choose Condensing Type?
Condensing tankless water heater is also known as a condensing boiler in North Europe. The water working process is totally the same as the conventional tankless water heaters. However, as the most popular models in America and Canada, what troubles most on conventional tankless water heaters are the less energy efficiency, a large amount of gas and heat energy are wasted as the combustion of flue gases are vented out.
To solve the problem, best tankless water heaters brands such as Rheem, Takagi, and Navien, etc, adopt the condensing technology onto their heaters. Exchangers are the primary elements in the condensing process, both contribute a lot in capturing wasted gas and cooling products of combustion, that is why the heat exchangers of condensing types need to be a lot larger and more efficient than conventional models.
Getting the best heater means you are able to save as high as 98% heating energy per month, which helps save large money in heating bills. Also, it protects the global environment by emitting less carbon dioxide gas.
For starters, condensing models are frequently used in America as commercial tankless water heaters, but because of their low heating costs and operating costs, they are getting more and more popular use as residential tankless water heaters nowadays.
Benefits Or Features of Condensing Tankless Water Heaters
A best condensing saves as high as 90% energy efficient
They have less operating costs and heating costs
Ideal for high demanding homes or commercial use
They are highly environmentally friendly equipment with less CO2 and NOx emission.
They utilize cheap PVC venting because of the low temperature of combustion
The price can be a bit higher than normal tankless water heaters.
The installation of it is quite complicated, which is suitable for professional installation.
They need more maintenance
No need to buy the extra larger tank water heater

Comparison Of Condensing And Non-Condensing Tankless Water Heater
| | | |
| --- | --- | --- |
| | Condensing tankless water heaters | Non-condensing tankless water heaters |
| Input | 199000 BTU/H | 180000 BTU/H |
| Energy Factor(EF) | 0.82EF | 0.99EF/0.97UEF |
| Output | ~163000 | ~178000 |
| Max GPM | 98 | 10.1 |
| Installation Time | 4-8 hours | 4 hours |
| Venting | Other Type(not PVC) | 2" PVC |
| Gas pipe | Typically 3/4" pipe | Can use existing 1/2" pipe |
Condensing tankless water heater is more expensive than conventional tankless water heater models, but it is highly energy-efficient, for a long period of using, the using costs can be a lot less than non-condensing tankless water heaters.
In order to help you choose the most suitable models for you, we made best condensing tankless water heater reviews for you as follow:
Top 5 Best Condensing Tankless Water Heaters Reviews
The first one we would like to recommend is the Takagi natural gas tankless water heater, it is actually a commercial tankless water heater, the flow rate reaches as high as 10 gallons per minute.
The heating exchangers for condensing are made of stainless steel, which is highly corrosion resistant and has a long service life. Much energy and wasted gas are saved because of the design.
The released hot water temperature reaches as high as 185 degrees F, and it demands 199000 BTU per hour for ideal performance. As the flow rate and required power range are pretty high, it is best to be used for a commercial tankless water heater or for the family in large demand for hot water. If you intend to get a residential type, you may consider the following recommendations.
Don't be frightened by its large flow rate, it is actually pretty light, and occupies only small piece of land. The setting up of it is also easy, just add some gas line on it.
Pros:
Large flow rate
Weight light
Set up simple
Can be controlled remotely
High-temperature water offered
The most ideal one for commercial use
Cons:
The flow rate may be lowered in cold regions
The waiting time for hot water is a bit long

---
This is always the hot-selling and most praised natural gas tankless water heater. Because of its condensing design, there are dual venting options you can choose, both with cheap materials, include concentric PVC and twin pipe.
We all know that natural gas tankless water heater is normally a large power type, of course, this is not an exception. The flow rate of it is 9.8 gallons per minute, with power requirements range from 15200 to 199000 BTU.
Rinnai is a kind of brand with an innovative spirit, it made many trials and successfully reached the energy rating of its products around 0.95. Though in large power and large flow rate, it is easy started, needs only 2 watts to keep the machine up and running.
The price of it is quite high among other natural gas tankless water heaters on the market, but when used for a long time, you will know how wisely you are in getting this heater. All the designs, including condensing technology and internal heating structures, give you the best operating experience and save a large sum of heating costs for you.
Pros:
High-temperature range
Offers 2 venting options
Supply hot water for multiple applications
Available for commercial use with commercial remote
Fast heating time
Quiet working condition
Cons:
Difficult to install, you need to get a professional to help you

---
In order to better save energy, this Noritz tankless water heater is also equipped with two heat exchangers, one is made from the copper while the other is stainless steel. They are used for getting direct heat and recovering wasted gas. Because of its condensing design, the thermal efficiency of the machine reaches as high as 93%.
The gas consumption of it runs between 15000 and 120000BTU per hour. Compared with other recommended water heaters, this one is suitable for residential use, the flow rate between 0.5 and 6.5gpm suits home hot water demands perfectly. It is able to supply water for two bathrooms in southern areas and one and a half bathrooms in northern parts.
If you live somewhere cold, the freeze protection device senses under zero temperature smartly and takes action to protect itself.
Pros:
Endless hot water supply
Quiet working condition
Can be vented with Schedule 40 PVC pipe
Protects part in cold climates
12 years warranty for heating parts
Low NOx design
Cons:
Cold water sandwich

---
Navien tankless water heaters are famous for its smart design and satisfying user experience, especially for NPE-A series, many high technologies are added to save energy and reduce heating costs.
Of course, this machine is also equipped with condensing technology, but what worth mentions most is the built-in insulated buffer tank and recirculation pump, it is said the series of heaters are the first and only system that incorporates such devices.
With a buffer tank, you save a lot of money on buying an extra water tank and eliminate cold water sandwiches effectively. While the recirculation pump shortens the waiting time for getting hot water, thus heating and water bills are both saved.
The water flow rate is quite large, enabling supporting multiple bathrooms and kitchen faucets at the same time. When in bathing, you do not need to worry about running out of hot water.
Pros:
Satisfying customer service
Clear installation and using instructions
Needs only 1 second for hot water
Pretty powerful
Good at keeping water temperature and hot water flows pretty fast after turning on
External interface, water temp and error codes, turn the unit off easily with a button
Cons:
A bit difficult in installation

---
This tankless water heater is also a highly energy-efficient one, with the stainless steel condensing heat exchanger, energy-efficient of it reaches as high as 94 percent.
When used for a residential heater, the 8.4gpm flow rate is able to supply flawlessly hot water both for bathing and kitchen use. If you intend to use it as a commercial tankless water heater, you can manifold up to 6 units by using an optional MIC-6 manifold control board. In addition, it is capable enough for industry use, the best 0.26 GPM minimum flow rate and 40 GPM minimum activation flow rate suits large water demand.
You can use it with remote control and there are 10 feet of thermostat wire included. However, the purchasing price can be a bit high, but if you have enough budget on buying this, you will find it highly cost-effective.
Pros:
94% energy efficient
Intelligent electronic control
Self-diagnostic system
Digital temperature display
Built-in electric blower
Environmental friendly low NOx design
Cons:
Needs to be installed by professionals

---
Summary

Best condensing tankless water heater price is normally much higher than non-condensing types because of its special design, however, it helps save much energy, which means the heating costs and hot water costs will be reduced to a large extent. Therefore, though having high purchasing price, for long time use, you will find that using costs of it will be even cheaper than those non-condensing type.
What we have listed above are the best condensing tankless water heaters we have tested, if you want to know more about the products details and price, please feel free to check on Amazon.
---