Compared with a tank water heater, a tankless water heater is lighter and smaller in size. However, some of the large flow rates or large powerful tankless models are still unable to be carried anywhere in traveling or camping. In such conditions, you may need the best portable tankless water heater, it weights lights and satisfies your need on using it on your way traveling.
The Top 5 and Possibly Best Portable Tankless Water Heaters of 2021
| Photo | Title | Price | Buy |
| --- | --- | --- | --- |
| | Camplux Tankless Water Heater, 1.32 GPM Portable Propane Outdoor Camping Water Heater, 5L, AY132, White | $159.99 | Check Latest Price |
| | Tankless Water Heater, Camplux 2.64 GPM Outdoor Propane Gas Water Heater for Camping, BW264, White | $269.99 | Check Latest Price |
| | Eccotemp FVI12-LP Liquid Propane Gas Tankless Water Heaters | $329.00 | Check Latest Price |
| | Tankless Water Heater, GASLAND Outdoors Water Heater | $159.99 | Check Latest Price |
Why Portable Tankless Water Heater?
The most troublesome thing about traveling or camping is lacking hot water for showering or hand washing. Sometimes you need to walk a long way or get help from native families to take a bath.
By getting the best portable tankless water heater, you are able to enjoy convenient hot water service any time and anywhere you want. It weights light and can be carried easily. You can install it on an RV, in a tent, or in the garage.
Even if you are not going for traveling, you can still use it as a residential tankless water heater in a small or tiny studio. It is able to be installed on the wall of the bathroom, kitchen, or underwater sink.
Types Of Portable Tankless Water Heaters
There are three types of portable tankless water heaters you can get according to the power source. It includes portable propane tankless water heater, portable gas tankless water heater, and portable electric tankless water heater.
Propane and natural gas portable tankless water heaters are basically the same in working principle, they need venting facilities to help emit gas to outdoor, and power range as well as flow rate are much higher than the electric type. Because of this, they are frequently used as a whole-house type for large families. For a long period of use, they save more money on heating costs each month.
The portable electric tankless water heater is widely used in traveling or on the recreational vehicles, it needs no ventilation and is thus more convenient in installation and using. The upfront cost of which is quite low and is less powerful than a gas tankless water heater.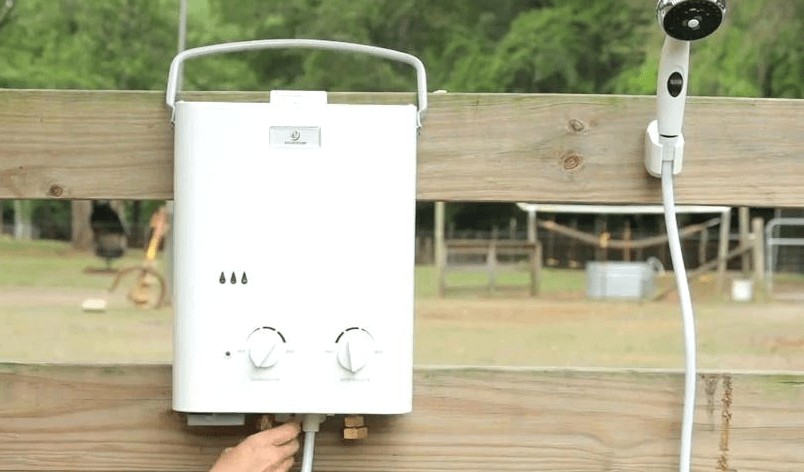 The Best Portable Tankless Water Heaters
Features Of Portable Tankless Water Heaters
1. Low price
Compared with the whole-house tankless water heater, the portable type is cheaper because of its lightweight and less powerful performance. The flow rate of it is quite low and can be a perfect heating machine in travel or outdoor use. But if you own a small tiny home with only one bathroom, and short of budget on getting an expensive one, you can get a portable tankless water heater.
2. Endless hot water
The key feature of all the tankless water heaters is the ability to providing endless hot water, and so does the portable type. No water tank and no cold water stored, it heats water when you need it, even in the wild outside, you can still enjoy flawlessly hot water.
3. Long service life
As no cold water is stored in a tank or somewhere in the machine, no corrosion occurs inside the heater, thus the service life of portable tankless water heater is much longer than other types, reaches as long as 20 years for the high-quality types. The long life expectancy of it enables to save much money for you.
4. Space saver
If you do not have much space in your home, then getting a portable tankless water heater is one brilliant choice. No matter the wall of the bathroom or kitchen, it occupies only a small piece of space.
5. Low using costs
Underestimation, the portable tankless water heater is able to save about 20% on heating costs per month. If natural gas or propane type is used, the heating costs will be even lower.
6. Easy installation
For convenient use for outdoor, nearly all the portable tankless water heaters are designed easy to be installed, you can hook it up on the wall somewhere or just put wherever is suitable. But remember to install it under instructions. For residential use, if you do not know any of installation or uncertainty of the correct way of installation, you should get a professional or a handyman to help you. Only under good installation can the tankless water heater be in the best working performance.
Best Portable Tankless Water Heaters Reviews
Facing so many types of portable tankless water heaters, which one should you choose and which fits your needs most? In order to save your time on viewing and learning products performance by yourself, we have made a detailed comparison and chose several best portable tankless water heaters for you as follow:
Camplux tankless water heaters have always regarded as the top-rated types and are on hot selling in 2020 especially for portable or RV tankless water heaters.
The maximum water temperature it offers is 114.8 degrees F, and the highest flow rate is 1.32 GPM. It requires low water pressure for activation, only needs 2.5 PSI and you can start using it. As the flow rate is quite low, it supports one bathroom use only at home, thus is not able to serve as a whole-house type.
The size of it is really compact, the lightweight also makes it a brilliant model for camping or fishing shower. The water temperature is mainly determined and adjusted by two buttons on the unit, one is for water flow control while the other is for gas control. Of course, if you are using it for the first time, it may take some time on adjusting the suitable temperature you want.
The anti frozen system is set to prevent the machine in under zero situation automatically especially for outdoor installation. Stainless steel burner helps resist corrosion and prolongs service life.
Pros:
Low water pressure required
Large temperature range
Compact shape
Heat resistance and corrosion resistance material
Anti frozen protection
Cons:
Can support one shower only

---
This model is an improvement of 5L portable tankless water heater, the capacity and flow rate is larger than that. Maximum flow rate reaches as high as 2.64 GPM. It is a perfect one for camping, vacations, mountain cabins use, etc.
Being a propane gas tankless water heater, it still needs to be ignited by electricity, or you can get a 2D battery instead. The applicable water pressure in between 2.8 and 110 PSI. The maximum power output is 68000 BTU per hour, which is quite powerful in portable tankless water heater types.
Two modes can be chosen, summer and winter, this helps save more gas and energy in summer. If you want to reduce the waiting time or makes it more powerful, you can connect it with the Camplux water pump.
The multiple functional showerheads are included and several settings can be adjusted. On the smart system, it has dry combustion protection, flame failure device, and freezes protection to keep using safety.
Pros:
Can be also mounted on the indoor wall
2D battery instead of electricity
Compatible with the modified water system
11.5% energy saver
Space-saving
Cons:
Takes a little time to adjust the exact temperature you want

---
This portable tankless hot water is said to be used for the whole house also, for the flow rate is quite large in portable types, reaching 3.6 gallons per minute. But if you have a large family with three or four bathrooms, we strongly suggest the whole house tankless water heater get for satisfying hot water enjoyment.
It needs to be installed indoor, thus venting facilities are needed. 1/2 inch NPT water fittings are used. It uses electronics to ignite and you need to plug it into standard 120v electrical outlet with UL-listed cord.
Error codes and water temperature is shown on the screen, the temperature is mainly set by the adjustment of water flow and gas control. The smart system enables it to heat up only when you need hot water, more energy is saved and much money is also reduced in heating costs and water bills each month.
Pros:
Efficient power ventilation
Perfect for small home and cabin
Weights light, can be carried anywhere you want
Manual water temperature control
Electronic ignition system
Space saver
Cons:
Takes some time to get a suitable temperature

---
The flow rate of this portable tankless water heater is 1.58 gallons per minute, and the maximum power output is 41000 BTU per hour. The power rate of it is quite low, thus it is not suitable to be used for supporting two or more showers at the same time. The required water pressure is quite low, needs only 2.18 PSI to activate.
It is equipped with freeze protection to automatically protect the machine from being frozen in under zero situations. And once the heating level overpasses, it will automatically shut off to protect itself.
No electricity is needed for ignition to buy only 2D batteries. The water heats up fast and is quite stable on water temperature. Compact shape and small size save much space for you. Everything you need is included along with the machine, so you do not need to pay extra costs for buying those.
Pros:
Lower water pressure needed
Flame failure device
Stable water temperature
On and off button settings on the showerhead
Easy temperature adjustment
Cons:
Installation instructions are not so clear

---
This is another best portable tankless water heater we would like to recommend for you, the flow rate of it is 2.6gpm, and the temperature range is between 50 and 140 degrees F.
For outdoor installation, it is equipped with a removable rain cap, in order to resist complicated weather outside. As for the protection system, there is also a 20-minute safety shutoff setting, when the units run longer than 20 minutes, it activates and stops working by itself.
Activation pressure is only 20 PSI, and the water pressure range is among 20 and 80 PSI. With its stylish compact design, it is perfect to be used for camping, outdoor showers, animal bathing, and traveling, etc.
Like the above types, this unit is also ignited by electricity. You need only 2D batteries for power, making it perfect for outdoor use especially when you find it hard to get an outlet.
Pros:
Removable weatherproof rain cap
20 minutes shutoff system
45-degree of safety protection
Easy to store and carry
Operating range is 20-80 PSI
Cons:
It is hard to install the bottom fittings

---
Benefits of Having a Portable Tankless Water Heater
Whether you need to comfortably access hot water while on a trip or access hot water while outdoors, relying on portable tankless water heaters has become essential.
You will be free to carry your portable tankless water heater to any place. Whether you are camping or you are outdoors, you will find it valuable to have these water heaters.
These water heaters assure you of enhanced safety features. With this, you will no longer need to worry about how safe your children are when using them.
Did you know that these portable tankless water heaters tend to be relatively energy-efficient? As long as you are using them, you will not need to worry about the cost of keeping extra water hot. Besides, the energy produced in an RV will be enough to run it.
These portable tankless water heaters are not only compact and small but also lightweight. This factor implies that you will be free to carry them to wherever you want. Besides, there will be no difficulty in carrying them in your bag or vehicle.
They are relatively easier to operate and maintain.
Tips for Maintaining Your Portable Tankless Water Heater?
Indeed, unless you understand how to keep your portable tankless water safe, you will hardly enjoy its longevity. Maintaining these tanks is usually less draining, and the following are some of the tips you should consider in this regard.
Ensure that you pay attention to the screen filter and clean it from time to time.
This move ensures that debris does not accumulate. Usually, you will need to unscrew this filter, remove it, clean it, and reinstall it. Preferably, engage the services of a professional, as this is one of the best ideas for you.
Removing limescale should always be one of the priorities.
Often, the heating chamber ends up with accumulated minerals, whose buildup compromises efficiency. Take the time to flush the unit and regularly so.
Do not shy away from regular professional maintenance services.
They will always ensure that the process is swift and efficient. It will also be vital in cushioning you against the explosion of small problems. These professionals will assure you of comprehensive services, and they understand the issues that the portable heater is vulnerable to.
Problems Associated with Portable Tankless Water Heaters
Despite the wealth of benefits that these water heaters enjoy, they feature various flaws too. Perhaps, by pointing our these problems, it will be much easier for you to take necessary measures on time. Such issues do include the following.
You will need to vent the tankless water heater to the outdoors, which could be either through the conventional exhaust flue or a direct vent.
The upfront cost of accessing an instant hot shower will often be relatively high.
It can hardly heat water to a specific temperature, especially if the water flow rate tends to differ.
Prices of Portable Tankless Water Heaters
The cost of acquiring and even installing these portable tankless water heaters will often cost you between 1500 and 2000 USD. Without the installation, you will spend as little as $430 for these tankless water heaters. The price usually varies with the type and quality of the heater.
While at it, your chosen brand will determine how much you will spend. For instance, you will pay more for a tankless water tank from reputable brands. However, you will be confident of value for money.
As you look forward to having a new experience in your home, it will be vital for you to appreciate the value offered by these portable tankless water heater. With the right option, you will be confident of getting reliable services and value for your money.
Things To Consider On Getting Best Portable Tankless Water Heater
Over the past few years, there has been an increased popularity of portable tankless water heaters. That they eliminate the need for a storage tank only highlights their reliability and convenience. With these tanks, you will no longer worry about the costs that come with having or maintaining tanks. Portability will be the order of the day.
Various types of portable tankless water heaters are at your disposal, including electric and gas types. Your choice will always depend on your preferences and needs. Here are a few other insights into these portable tankless water heaters.
When facing so many types and models of portable tankless hot water heaters on the market, there are some elements you need to consider:
1. Smart devices
The outdoor environment is quite complicated, even if you use it indoor, there are also some potential dangers because of unintentionally wrong operation. Therefore, a portable tankless water heater with smart devices will guarantee safety in use. Most of the smart devices equipped on the machine include overheat protection, auto-cutoff and freeze protection, etc.
2. Energy efficiency
A portable tankless hot water heater with high energy efficiency is able to save a large sum of money on heating costs and of course the water costs per month. For gas types, normal thermal efficiency is around 85%, some high-efficiency models reach as high as 95%.
3. Size
Before buying, you should estimate the amount of water you need and then decides what flow rate and temperature rise fit your needs most. Besides, the size of portable tankless water heaters is different, some are large as to be hooked on the wall, while some are small enough to be installed right under water sink. It is determined by the size of your installation spots totally.
4. Backup option
If you intend to buy a portable tankless water heater for outdoor or travel use, you'd better choose one with a backup option. Even for gas tankless water heater, electricity is still needed for ignition, the one with backup option can still work when the power runs out.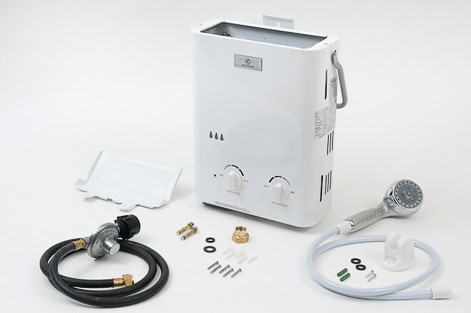 Summary

A good portable tankless water heater is capable of solving all the problems on your way to travel in need of hot water. When you are viewing the beautiful scenery all around the world, you do not need to worry about getting anywhere for showering.
If you have the intention to get more details on those products, please feel free to check on Amazon.
---