People do not always like cold showers, especially if you have to wake up early for a job. The recent property developers and owners have installed the tankless water heaters in most of their properties. This is because they heat water only as on a demand basis.
This makes them efficient compared to the traditional water heaters that continually heated water. This makes the tankless water heaters energy saving in most premises. These heaters can be used in large premises and small apartments. The tankless water heaters can be differentiated using the flow rate. They are available in different types and sizes but would fit any small house.
What Is the Best Apartment Tankless Water Heater on the Market?
What Size of Tankless Water Heater Do I Need for a Small Apartment?
The tankless water heaters usually supply the apartment with heated water for use whenever needed. This will always give you heated water when needed, save a lot of energy, and it is cheap to install and maintain.
When You Are Getting It for Your Apartment, There Are Factors to Consider:
Size of your apartment.
Rate of water flow in your apartment
The number of people in the apartment.
If for example, you are two people in the apartment. The rate at which you use the water in the apartment is high. Then you will need a tankless water heater with 40-50 gallons capacity. If you are the two and your water usage rate is low, then a tankless water heater with 30 gallons capacity is enough.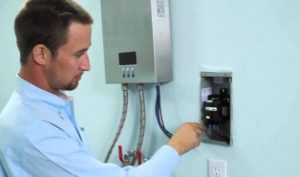 How to Pick the Best Apartment Tankless Water Heater
If you want to choose the best tankless water heater, this is what you need to do.
Know the flow rate of all devices
You will have various devices that use water at home, including the kitchen taps, bathroom taps, and washing machine. You should calculate the total flow rate of these devices. This will give you the demand for the water needed. If the total of the devices is like 3.15 gallons per minute, then the tankless water heater should have a capacity to heat 3.20 gallons per minute water.
Calculate temperature rise required
The water entering the heater is not always zeros degrees Celsius. If the water is like 15 degrees Celsius and you need it to be 60 degrees Celsius, then you subtract 15 from 60. Forty-five degrees Celsius is the amount to be set on the water heater as the demanded temperature rise.
Gas or electric water heater
Most tankless water heaters can be powered by gas or electricity. The ones powered by gas usually give you high gallons per minute. They are, however, very costly to install, but its maintenance cost is relatively low.
The electric heaters are effective for use in specific points. If you need hot water in the bathtub only then, they are the favorite choice for you. They are very cheap to install and will work better in small homes and apartments.
Water
It is important to consider the quality of water used in these heaters. In some regions, the water may be hard, and it is not treated before getting to the heater. With this kind of water, the heater will be damaged easily, especially the electric ones. Salts will cause some parts to rust requiring regular maintenance which can be costly.
Picking the Top 10 Best Apartment Tankless Water Heaters
Electric Heater Vs Natural Gas Heater?
When installing any water heater, you should be the use of the fuel and power to make it work. The common heaters for homes use electricity or gas. They both have their advantages and disadvantages.
The differences between the two are:
Installation
The gas water heater is very difficult to install. It requires a professional and changing some amenities if you do not have to accommodate the gas heater. For the electric heater installation is somehow easy. There are no many components to put together, and you can install it even alone.
Cost
To get a gas heater unit is very expensive. The upfront cost is very high. However, gas is cheap; hence the cost of running a gas heater is low. With the electric heater, the cost of purchasing one is relatively low. Electricity cost is high making operating this heater very costly.
Lifespan
The gas heaters have a short life span of like ten years while the electric heaters can last over 20 years.
Maintenance
It is very simple to clean and maintain the electric water heater. You will only need the hand of a specialist when there is a breakdown. Maintaining the gas heater, on the other hand, is to be done by a specialist regularly. It will ensure all the chambers are functioning as required and avoid any leaks that may cause accidents.
Safety
Both are, however, safety major concerns. In heating, the water carbon monoxide gas is formed, and if it leaks to the house, it can be a major health concern. The electric one can also have malfunctioning issues, and electricity can cause fires.
Top Reviews of Best Small Apartment Tankless Water Heater
We all need that heated water on demand whenever showering or doing some dishes. We shouldn't have a schedule to get heated water. This heater ensures that you have your heated water on demand. The heated water can be used in any space in your home.
The header is compact in design, making it fit the small spaces available in a room. You don't need a large space to install it as it saves a good space. The system circulates water through some pipes to ensure you can get the needed hot water fast.
It is powered by natural gas, making it very cheap to run. The heater can only be installed outside to avoid accidents of gas leakages. The controls can be installed on your mobile device. This will give you control remotely from anywhere you are in the house.
The heater is very affordable and utilizes 40% less energy. With this in your home, you will have an appliance that can last over 100 years always to give you heated water.


When you have installed this device in your home, you will be assured of hot water any time you need it. The appliance is powered by gas that ensures you get the heated water on demand. The device has to be installed outside for safety reasons.
This heater is a simple, compact, and affordable device. It is an energy-saving heater that only uses 40% less energy compared to other heaters. The heater has a water flow rate capacity of 6.5 gallons per minute.
It is a smart device that has incorporated modern advanced technology. Its controls can be installed in a Smartphone that will allow you always to set anything remotely. With this heating appliance, you are assured of heated water for a very long time.


This is a water heater that simple in design, and it is used in spa heating and also used in cooling. It has an external thermostatic control. You can adjust the temperature as you wish and the readings will be shown on a LED display fixed there.
It is fitted with copper rods that are immersed in the water for heating purposes. This is an electric heater and is equipped with controls that will regulate the amount of power used. It is simple to install and maintain this water heater over time. The water heater is an energy-saving heater that you can always install.


This water heater is installed out of your home. It is a modern design water heater that is sleek and very simple. Its controls are shown in a big LED glass that allows you to change the temperatures as you wish easily.
It is powered by gas and will always give you the hot water when you need it. It has a 3 gallon per minute capacity enough to serve a home. The water heater is great with water heating and saving the energy used. Moreover, there is a feature in the control to lock out children, thus ensuring safety in your home.


We all want a heater that will always give us the hot water only when demanded. This heater exactly functions in that manner. With this heater, you can get enough heated water for use in the house. It has a capacity of 3.6 gallons per minute that is a sufficient flow rate for a house.
It is powered by gas and can be installed inside you're your home. The manual controls are fixed on the bottom, and you can read what you are doing on a display screen. The heater is very efficient and has minimal noise whenever it is functioning. It is a simple and compact heater that will not require more space in your home.


When you have this heater in your home, you can get the water heated on demand. It is an energy-saving heater that utilizes 50% energy less compared to other heaters. With a system that will only heat water when needed, then you will be able to save money and energy.
It can be used in the kitchen, bathroom, washing room, or an apartment. The automatic control memory will always give you the temperature rise required without the need to change always. The water heater is fitted with a lot of protection features which will ensure safety in using this product always.


Traditional water heaters usually heat water continuously. This will make them consume a lot of energy, making them expensive to run. This is an alternative to the traditional heaters.
They will only provide the heated water only after it is demanded. It has a manual thermostatic control that you can use to change the temperature as required. A LED display screen is available, and it will always show you even a slight change in temperature rise.
It is simple to install in any household, and the replacement can be done easily in case of a breakdown. The copper rods will be responsible for heating the water using electric power. The maximum gallons per minute of this heater are eight, making it good for a home.


This is a modern design heater equipped with efficient tools that will always provide the heated water on demand. This is an electric water heater that can give you hot water as soon as it is switched on. You will not have to wait for any preheating to happen before getting the hot water.
It is fitted with a smart digital feature. It will automatically adjust the temperature and power supplied for heating if the rate of water flow is reduced. This will ensure that the energy used to heat the water is greatly reduced, making it efficient in energy saving.
The heater is fitted with easy controls that one can use. Additionally, this heater is fitted with safe materials. All the materials used to make it are tested to ensure they meet the safety requirements. You will never experience any leakage problems with this heater. It has some easy touch control panel, and it can blend in any space at your home.


When you step in the shower or doing the dishes, you always want some hot water. The hot water should only be available on demand. That is what this water heater will provide after installation in your home. It is a 6.86 gallon per minute capacity heater that can be used by a family of three or four people.
Safety is important in any device. This device has adopted a lot of safety measures to avoid overheating and freezing whenever it is off. With the ability to only provide hot water when needed, you will be able to save a lot of money and energy. This water heater comes with a remote control that is used to set the desired settings at any time.


With everything that is happening with climate change we need devices that are ecofriendly. This is one of the devices that ensure climate change is considered. It is usually used in the kitchen to providing heated water for washing the dishes. It has a maximum flow rate of 1 gallon per minute but the temperature of the water will change depending on the flow rate.
It is a modern appliance that is compactly designed to fit small spaces under the sink. They are great for use in specific points like the bathroom sinks, recreational vehicles, and doctor's office.


Conclusion
If you can get a good tankless water heater, then it is better to install it in your home. It will always give you hot water on demand. This will ensure that you can save energy and money. The review above can provide insights into some of the best heaters in the market.
---