You can agree with me that having a hot shower is one of the most pleasant things in life. At times cold water feels as if it came from a melting glacier. Have you been looking for a reliable way to ensure that you will never have cold showers? A mini tankless water heater is the best product in that case. Normally, a mini tank-less water heater uses electricity or gas to warm water. To pick the ideal type, please read our mini tankless water heater reviews.
What Is the Best Mini Tankless Water Heater
Mini Instant Electric Hot Water Heaters Comparison Chart
Best Mini Water Heater Reviews
Features:
0.5 GPM for point of use
Can be installed underwater sink
Compact and sleek shape design
On-demand and constant hot water supply
The digital display shows output temperature
Copper and stainless steel components designed for efficiency

Features:
Three-gallon capacities available
Easy to maintain
Premium glass-lined material for a long service life
Perfect for independent installation or in-line with a large hot water source
Eliminate long waiting time for hot water
Supply up to 2 sinks at the same time

Features:
Easy to operate
Perfect for bathroom or kitchen room washing
Multiple sleek colors available
LCD display to show exact water temperature
Constant hot water supply
Small compact shape

Features:
Sleek and compact shape design
99.8% energy efficient
Manufactured in the USA
Multiple models available
Digital output temperature display
Can be inlined with a large hot water source

Features:
Instant heating without long waiting time
Automatically shutoff system
Leakage protection
Waterproof design
Constant temperature control function to adjust the water temperature freely
LCD display for exact water temperature

Features:
Three colors available
Endless hot water supply
A perfect companion for sinks
Smart self-adjustment on flow rate and temperature setting
Easy to operate
Black model comes with remote control

Features:
2.5 gallons water heater fits under sink use
Easy to maintain
Glass-lined tank for long service life
Thermostat control allows adjustment of water temperature
Can be installed independently or in-lined with a large hot water source
Can be shelf, wall or floor mounted

Features:
Three gallons capacity available
Instant and constant hot water supply
6-year limited warranty
Can be wall or floor mounted
Easy to install with a standard 120-volt outlet
TitanShield exclusive technology to protect the tanks from insulation

Features:
Constant and instant hot water supply
Easy to install
Can be used in the bathroom or under kitchen sink
Compact shape to save space
98% energy efficient
Minimal standby loss

Features:
Provide constant hot water
The stainless steel tank and heating element for efficiency
Low standby loss
Advanced Thermostop technology to auto-stop heating
Active protection circuit for safety installation
Fast recovery time

Features:
Easy to install
Compact shape for free installation
Applicable for different water pressure and different areas
1500w large power
Less energy consumption
The power will auto-shutoff when the set temperature is achieved
Stainless steel heating tube for durability

Features:
Constant hot water supply
Advanced self-modulating technology to adjust needed energy
Compact size to save large space
Easy to install and use
Durable and long-lasting
The perfect companion for residential and commercial water heater

---
How Much Does It Cost on Mini Tankless Water Heater
Mini tank-less water heaters are more expensive when compared to traditional tank-less water heaters. What is the main reason behind this? It is all about their high cost of installation. Nowadays, a new tank-less water heater costs $1,500 while a hot water heater costs about $430 without installation.
Buying Guides of Mini Tankless Electric Water Heaters
There are very many tank-less water heater models out in the market. This means that it can be a tedious task when choosing the most reliable product. Over the years, we have witnessed numerous tank-less water heater manufacturers who sell fake and low-quality products to their customers. It can be very hard differentiating high quality and low-quality water heater.
Unlike the traditional water heater that holds water in a storage tank, a tank-less water heater lacks such features. What if the tank-less system fails to heat water as it passes through the unit? In that case, the water delivered at the tap will be lukewarm. Do you really want to purchase a mini tank-less water heater? Here are some of the most crucial things you should consider before purchasing a mini tank-less water heater.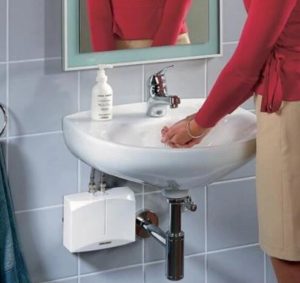 Look for energy savings
You might be aware that energy savings were one of the reasons why mini tank-less water heaters were developed. It is an important factor you should never ignore when purchasing a mini tank-less water heater. Efficiency decrease as the household water needs to increase. Water heaters are some of the very few home appliances that have been designed with energy factor rating. What is the essence of this feature? You can easily measure the unit's efficiency.
Choosing the right warranty
Recently, warranties have been varying from manufacturer to manufacturer. You are required to register your tank-less water heater model when you purchase it. What do you need to have in order to be eligible for warranty coverage? You should have your mini tank-less water heater professionally installed.
The best thing on warranties is that you can compare the most favorable. You should choose the product with a reasonable warranty period. Reasonable warranty times are a clear indication that indeed the manufacturer believes in delivering high-quality products.
Proper size
Mini tank-less water heaters come in numerous sizes. They vary depending on the temperature required to achieve a specific flow rate. You will be in a good position to choose the best water heater that arguably meets all your needs once you pay attention to these factors.
Final Pick: Top 3 Best Mini Tankless Water Heaters
---