If you are in the market looking for a water heater, you may be wondering what brand of water heater is the most reliable brand. With so many options available, it can be difficult to choose. Some of the factors you need to put into consideration include how much energy you will be saving with the brand you buy. With up to 20% of your energy bill going to heating water, it is a crucial consideration. The capacity will depend on how much water you use in your household or commercial property. You also need to determine whether a gas or electric water heater is the best option for you. We will explore some of the best water heater brands available in the market.
Most Reliable Water Heater Brands
• Rheem
Rheem has since 1925 enjoyed a solid market reputation with regards to water heaters. It is an American brand that deals in both residential and commercial heaters. The company has a market presence in over 14 countries, including Canada and the US. You get the option of various sizes, and the tankless type is very popular in the US market. Other models include gas, electric, heat pump, and solar water heaters. The company prides itself on high-quality products and emphasis on innovation. One of their key selling points is energy efficiency and minimal maintenance, making them one of the best brands.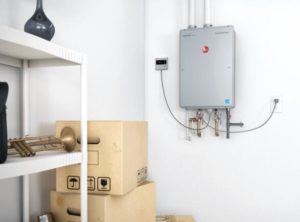 • A.O Smith
A.O Smith is a North American brand that has been in operation since 1874. It has its headquarters in Milwaukee, Wisconsin and has very humble beginnings. Initially, it was a hardware shop, before branching out into making steel car frames, and then water heaters. You get a wide variety, such as a hybrid, tankless, tank, and solar water heaters. Their range of gas water heaters is very reliable and highly efficient. You can buy the water heaters from plumbing contractors and wholesalers, who hold exclusive rights to selling them.
• Kenmore
You may be familiar with the Kenmore range of household appliances. They, however, also have some of the best water heaters available in the market. The company has been operating since 1913, and it is not uncommon to find the brand in most American homes. The water heater section has a hybrid, natural gas, electric, and propane options. You get optimal performance and reliability.
The electric water heaters will give you value for money because they consume less power. They tend to retain heat for longer, which makes the brand an excellent option for the cost-conscious. Their products have warranties that could run up to 6-12 years. If you're looking for energy efficiency, then this is definitely the brand for you. In terms of innovation, you have the option of the Kenmore app that allows you to monitor your water heater via your smart device remotely.
• Bradford White
Bradford white is another American company that deals with residential and commercial water heaters. It stocks electric and gas models, which, though a little bit pricier than what you usually get, will give you durability and hassle-free usage. They sell the heaters to authorized representatives, and you can, therefore, not purchase them directly as a customer. To enjoy the warranty that can last up to 10 years, a professional must install the water heater.
• American Standard
American Standard has been operating for over 100 years. It has a wide range of household products, including faucets, bathroom, and kitchen fittings. It also produces high-quality, very efficient water heaters. You get your pick of heat pump, electric, Tankless condescending, propane, or natural gas or storage tank varieties.
The company deals with very powerful and large models that you will mainly find in commercial applications, although they also have their residential varieties. The water heaters are a bit more costly, but you get what you pay for in terms of superior quality. You can get 4 years warranty for their products.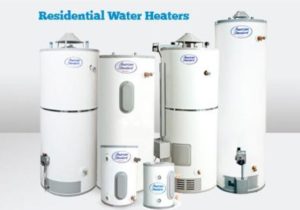 Final Thoughts
Think about buying a water heater like an investment that you want to enjoy for years to come. Look at what you need, and then pick a brand that gives you efficiency, durability, and optimal performance. The brands we have highlighted above as some of the best water heaters due to the number of years they have been in the market. They also focus on high-quality products, thereby making them ideal for residential and commercial use.