The weather these days is very unpredictable, and a sunny day can turn out to be a very chilly evening. That does not necessarily mean you rush to cover yourself with a warm blanket at your living room comfort. With a patio heater, you can enjoy your outdoors no matter the weather and remain comfy and cozy. From a traditional pit to a heater that does not require maintenance like the electric ones, there are many varieties to consider. With this buying guide and review, we believe you can do so with lots of ease.
What Is the Best Garden Patio Heater on the Market?
The 6 Best Garden Patio Heaters Comparison Chart
How to Buy the Best Garden Patio Heaters
In determining the best patio heater to buy, there are different things that you first have to consider, below are some of them:

How are you going to use it?
To know what the best patio heater to buy is, you first must understand how you are going to use it. Consider the size and shape of your patio and how many people are going to use it. If your patio is small and your friends stick together, then a tabletop heater will be best for you. If your space is enclosed, then rule out all options except the electric heaters as they suit best. If looking for a focal point and not a functional background one, then a firepit will serve you best.
Cost
The cost of patio heaters varies depending on the style, size, and shape. You don't have to spend so much so that you can buy the right patio heater; many patio heaters perform very well and don't cost that much. You have to know your needs and preferences, and you can buy one that best suits you in your desired budget. Budgeting is excellent because you identify the range in which you are budgeting.
Power
The other thing to consider when buying a garden patio heater is how much space you want to heat. Heater power is measured in BTUs; the more the BTUs, the more the heat given off. The manufacturer can give you an estimated figure on how far they will reach, but the distance is always affected by different factors like the amount of cold. You can look at client reviews before buying a garden patio heater to know what to expect.
Safety
There are different risks associated with patio heaters; you have to weigh them accurately before buying a garden patio heater. Features like automatic shutoffs help in case the heater tilt that prevents it from causing any accidents. Ensure that your heater has a steady base that will ensure it does not fall during strong winds. Gas and wood heaters should always be outdoors to avoid carbon monoxide. Electric heaters are the safest to use inside. Be careful not to set it near a flammable object.
Weather
Your area climate also influences the type of heater that you will buy; if you live in an area with a lot of rain, a fire pit won't work for you. If there are many winds, then a standing heater may not be best for you as it will be hard for it to remain standing. Before you buy a heater, ensure it is practical for your area weather.
Best Garden Patio Heaters Reviews:
Features:
Carbon infrared heating technology design
Environmental friendly
3 level heating
LED design
Indoor and outdoor usage
Convenient long pull switch
Safety tip-over protection
IP34, CE, and ETL certified

The 1500w outdoor heater is an excellent heater for your patio during those cold seasons that you still want to hang out with your friends or have a romantic dinner with your loved one. It has three levels of adjustments, the 500/1000/1500 watts for various temperatures and spaces.
When you put it on, it is very that in that you get heat within only 3 seconds, which is very convenient. It is designed with a carbon infrared heating technology to give you sun-like warmth at a constant rate.
What makes it even better is that it is environmentally friendly, which helps save up to 40 % of electricity, so it is kind to your pocket.
Pros:
Easy operation and assembly
Waterproof and dust-proof
Stable round base
Continuous sun-like warmth
Cons:
Instructions can be difficult to understand at first.
Features:
Wide warmth area of up to 15 feet radius
Powerful heat of 41000 BTUs
Shutoff safety tilt valve
87 inches height
Stainless steel design

The garden sun GS4400BK is an excellent way to entertain your friends and family during the cold weather. You don't have to waste your outdoor space because it is cold, with this attractive patio heater, your patio will look and feel like summer throughout.
Do you think it is too chilly to go out, worry no more about this heater, push a button, and there is no colder in a matter of minutes? What makes it even better is that it is quite affordable, so you won't have to worry about going way above your budget to get the right patio heater.
Even with the low price, the heater is designed to be durable and looks better than heaters that cost even three times its price.
Pros:
Rust resistant
Easy usage
Wide warmth coverage
Adjustable height
All-season use
Cons:
Challenging to figure out at first
Features:
Broad range warmth of up to 15foot
Tilt-shutoff safety valve
Dial-a-set knob for smooth operation
Stainless steel design
87-inch height
41000 BTUs

The garden sun GS4400SS is an excellent patio heater, especially if you want to entertain during early spring and fall. It is an attractive and high-quality heater that leaves your outdoors warm and looking fabulous with just a push of a button.
With an off/on the button, you can transform your patio into summer-like weather and use it any time. The ignition is easy to push a button, and you don't need batteries for it to operate, push the dial-a set knob, and get the warmth you require.
The heater is safe to use as it has a safety feature preventing it from tipping over; if it does tip over, the heater will automatically shut off. It produces a wide range of heat that can reach up to 15 feet, and with the stainless steel design, you can be sure it won't destroy.
Pros:
Easy to use
Rust resistant
Wide warmth coverage
Safe to use
Cons:
Instructions may be confusing at first.
Features:
High quality and durable design
46000BTUs heat output
Piezo ignition
Auto-shutoff tilt valve for safety
Added Wheel assembly

The AmazonBasics is an exceptional all-season patio heater; it uses gas to deliver soothing warmth to keep you and your guests comfortable when the temperature starts to go down.
From romantic dinners to parties, this patio heater with cater to your needs all year round. It comes with a base reservoir system that you can fill up with sand or water for stability, giving you a dense, low steady base weight.
For it to work, you need a 20 LP cylinder of gas, and with the push of a button, you are good to go. It has a high output of heat of 46000 BTUs that can reach a wide range of areas.
Pros:
Safe to use
Wide heat coverage
All year round usage
The low and large steady base
Cons:
You have to remove it outside when not in use.
Features:
Fast speed heating design
Three heating modes for different occasions
Wall mounting or freestanding design
Adjustable height by rotating handle
Safety tip-over switch
High-temp resistant

The Xbeauty patio heater is great for indoor and outdoor use; this infrared heater can either be used standing or mount it on the wall. That means you have more options to decide how to put it so that you can get the best out of it.
It is a three-model heater which includes 1500w/1000w/500w, double installation, and the height can also be adjusted by rotating the side handle, which makes your options varied.
During winter, use the 1500w and low the height to feel all the warmth near you, during autumn, when parting with friends, raise it higher so that it reaches everyone. With all these features, you cannot go wrong with the Xbeauty patio heater.
Pros:
Guaranteed customer satisfaction
Corrosion-resistant
Both indoor and outdoor use
Easy to install
Cons:
The temperature is not adjustable.
The freestanding option is not very sturdy.
Features:
Unique pyramid design
50-inch glass flame tube
34000 BTUs variable control
Up to 15 feet heating diameter
Stainless steel design
Electronic striker switch design
Anti-tilt safety switch

The Garden radiance patio heater beautifully gives your patio an instant great lovely romantic feeling; the flame columns ensure that every each of your patio gets warmth. That is great because you not only get heat from above, but there is heat all around.
It has a unique pyramid design that makes it look like a piece of art in your yard, making your patio look beautiful, especially with its elegant lines. What makes this patio heater even better is the 4-foot tall glass, with just a knob, you can raise a column of flames that safely dance behind mesh panels.
It is toughly built to withstand all types of weather, so you don't have to worry that the glasses will break, the stainless steel door conceals the temperature controls safeguarding them.
Pros:
Easy to assemble
CSA approved
Rust resistant
All-round warmth
Stylish, unique design
Cons:
Propane tank not included
Which Power of Garden Patio Heater Should I Choose?
Gas and electric heaters allow you to enjoy your outdoor space without having to worry about the cold. Read on to find out which one to choose or the one best for you.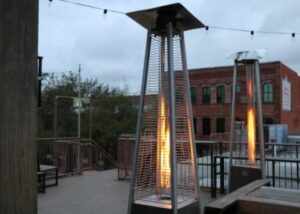 Electric
There are many options for electric heaters; they are made in different sizes and heights so you cannot fail to find a heater that will suit you best. There are also different capacities for various occasions; they range from 1500-6000w; the control types include remotes, dimmers, motion sensors, and even switches. One of the main advantages of patio heaters is that you can use several of them on just one control panel. It all depends on your set up. Ensure you hire a professional to install the heater for you to avoid hazards.
Gas
Gas patio heaters either use liquid propane or natural gas. Both have the same heat outputs, and the choice comes down to the type of fuel available to you. Gas heaters appear sleeker in design than electric heaters. They are not installed in enclosed areas because they emit carbon monoxide, which, when inhaled, can be harmful to you. You also require enough clearance from flammable things, as directed by the seller or manufacturer.
Which to choose
With the above explanation, you can see that the best heater that will raise your outdoor temperature is the gas patio heaters. They are efficient and emit a wide range of heat, which is convenient during the cold nights. But even if it is practical, it has its hazard, and you still need to follow all the instructions and safety protocols.
How Much Does It Cost to Operate a Patio Heater?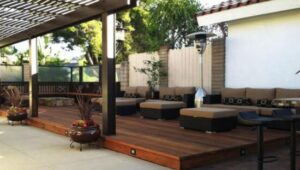 The first cost that will incur is the cost of buying the heater itself; patio heaters are not as expensive as wood decks for fire pits; you can find heaters that will suit your need and within your budget. Remembering that you get what you pay for, ensure that you don't just buy any cheap patio heater that you find. Find one that will give your outdoors a stylish look.
The next thing you have to pay for is the fuel. If you are using a natural gas heater, then use your home gas supply, which means you won't have to purchase any fuel, and you will pay for the amount of gas used. The same applies to electric heaters. When it comes to propane heaters, you have to buy propane tanks, depending on how the heater is used. Propane tanks are very safe as long as you take precautions.
In estimation, a 40000 BTU heater may use around half a dollar in one hour when consuming natural gas. A 40000 BTU propane heater, on the other hand, may cost a dollar and seventy cents in an hour. When it comes to an electric heater, with the same 40000 BTU output, it may take approximately a dollar and forty cents. As you can see, natural gas is the cheapest to use.
What is the Required Clearance Around My Patio Heater?
Suppose your patio heater is strong enough that it produces heat from 35000-50000 BTUs. In that case, the distance you require from flammable objects like fuel, paper, and wood should be 30 inches from both sides (emitter and reflector). If you have a weaker heater, then the clearance should be 24 inches from the combustible materials. You should make sure that the clearance is from all sides; if you decide to sit around the heater for maximum heat, ensure you sit 2 feet apart.
Conclusion
If you have been with us from above, you have all the required information you need to make an informed decision on a great garden patio heater that will best suit your needs and preferences. Ensure you first know what you want the amount of money you are willing to spend. That will give you a range in which to look for without any difficulty.
---