Let's face it, when you take a shower there are a couple things that is a pain…Waiting on the water to get warm enough, and running out of hot water because you were not first to get yours.  Electric tankless water heater market is rapidly growing, because of its affordable price and easy install. There are many brands out there available for a shower or under sink water faucet use.
We have spent countless hours on doing specific research and curating the top-rated heaters for showers.  For the reading on, you will get the best electric tankless water heaters for shower review and buying guide.
Let's get started now!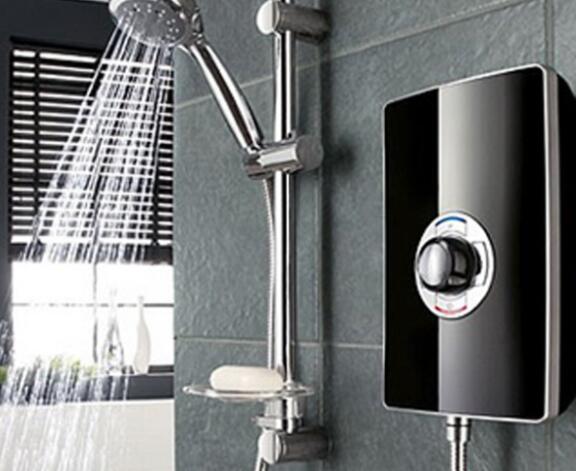 Here is our quick table of Best Tankless Shower Heater pick's
9 Best Electric Tankless Water Heaters for a Shower
---
Benefits of Electric Tankless Water Heater for Shower Use
Costs less to purchase over gas powered
Makes less carbon dioxide emissions (may depend on electric provider)
More compact in design
Simpler installation, indoor and outdoor installation styles available
Uses less energy (meaning efficiency is higher…more heat out per energy in)
Longer lasting components
No venting requirements
Could Improve the resale value of your home?
Buying Guides on Electric Instant Water Heater For Shower Use
1. Incoming Water Temperature
The electric heater works the best when it does not need to raise the temperature more than 30 degrees F, more suitable for the southern area to use. When in the northern part, a gas heater or a hot water point of use tank style can be the best choice.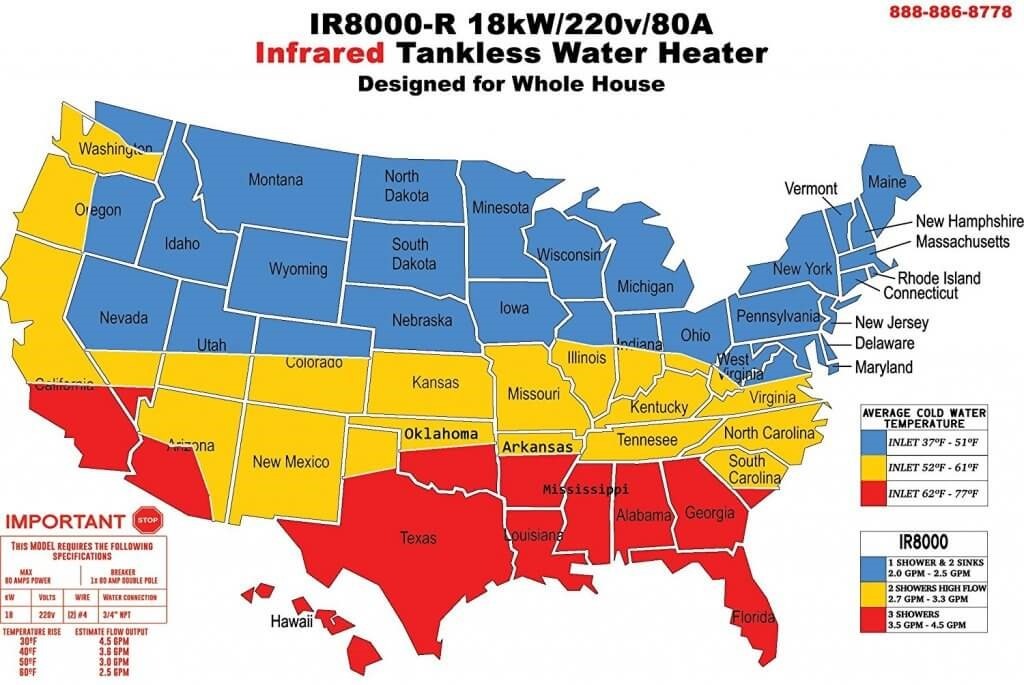 2. Materials
Traditional electric heater uses metal components for major internal parts, the biggest con is it easily can corrode. Many brands tend to substitute steels with stainless steel, which is more corrosion resistant and lasts longer.
3. Flow rate needs
Different flow rate demands for different usages, you need to measure the amount of water you use averagely, and then choose the suitable flow rate according to it.

4. Size and usages
A portable electric tankless water heater is best for camping or outdoor travel use;
For a small home with no more than 2 bathrooms, you could choose a compact electric heater, for each bathroom.
When you use a whole house tankless water heater, a large flow rate is needed and a gas powered heater could be your best bet.
If you want one for dishwasher or washing machine, under the sink or mini-tank water heater is a great choice.  Here are house hold size and there typical water usage per day.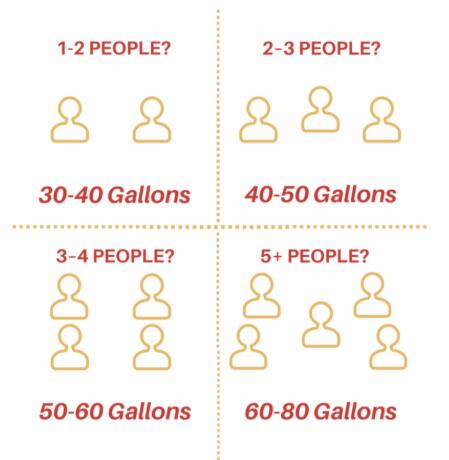 When to Use?
The small house is best suitable for the electric instant water heater.  Or a remote shower that takes a while to receive the warm water, you can use a supplement water heater.
Compared with gas water heaters, the electric water heaters are normally smaller and lighter in shape. It allows for more installation spots mainly because of not needing the vent of exhaust., which means you can either install it indoor or outdoor, based on your home décor.
For a family with 2-3 people living together, an electric type is able to support demanded hot water in the shower.
You may also use it for a cottage or vacation home seasonally.
There are some portable electric heaters on the market, they weigh little and takes a small amount of space in a cabin or RV. It costs less on electricity bills or energy bills for infrequently use, yet still capable of providing constant hot water for outdoor shower use.
When Not to Use?
For whole-home use, you might as well choose gas type heaters.
The electric tankless water heater is not as powerful as gas or propane types, which means supporting multiple family members shower back to back is so difficult.
A solar-powered home is not appropriate. (especially an off-grid home) it does take more energy when heating the water than a traditional tank heater.
The major power source of the electric inline heater is electricity, it does not match with a solar-powered system…typically you want to use solar-powered water heaters instead anyway.
The in ground (or supply) water temperature for northern areas is too cold to raise on demand for electric tankless water heaters.
In cold regions, both power and flow rate of electric heaters drop, the temperature also drops to 3-5 degrees accordingly. That is why we do not recommend you use it in cold climate areas.
How Much Water Pressure Does a Tankless Water Heater Need?
Most of the tankless water heaters have been modified to work with different water pressures.  Depending on the need of the user, you can choose a low-pressure heater or a high-pressure heater. This means that different tankless water heaters need different incoming water pressures. However, a range can be estimated, but then this will not be the exact pressure that you should expect.
For instance, most tankless water heaters range about 1.6 to 3.0 gallons of water per minute. It is, therefore, your responsibility to choose what can favorably serve your needs.  Typically most house water pressure is over 20PSI (138kPA), and therefore most tankless water heaters will work.  The average indoor water pressure for "city water" is about 60PSI (414kPA).  There are, and typically for camping heaters that may have low pressure that turn on the heater around 1PSI (7kPA).
Is An Electric Tankless Water Heater Worth It?
It is worth buying an electric water heater than even the gas water heater. In terms of cost, you will be saving a lot of money since the electric tankless water heater is much cheaper than the gas. In fact, in the present world, electricity is readily available. It is cheaper to buy the heater, install it, and even to operate it per gallon of hot water for a stand alone shower. If you are looking at the cost, Electric tankless water heater becomes the best option.
The real advantage is based on usage.  If you don't use the shower on a regular basis, or use it all at once, meaning 3 people take a shower before bed as an example, a whole house tank water heater has to be big enough for those showers, and keep the water hot all day or until next use.  A on demand tankless water heater will heat the water as you need it. It is convenience along with cost savings.
The advantages are: no need to wait for the warm water, and hot water does not run out.
Disadvantages are (since we are talking about electric here): It takes more electric amperage for on demand.
To clarify, the on demand tankless water heater for a shower may run 15 minutes at 20A.  An electric tank water heater may not even kick on to reheat the water right away, but all three showers like mentioned above, we would have 45 minutes of instant hot water, using about 1800kW.  The tank style water heater would kick on, and maybe start to run out of hot water for the 3rd shower, but it would kick on and reheat the water and on average use about 2376kW to reheat the water.
Can Electric Tankless Water Heater be Installed Outside?
Gone are the days when the shower was only placed in the house. With the kitchen gardening and farming that is becoming popular, having an outdoor shower is becoming a basic need. If you are living in a scorching climate, the outdoor shower can be essential for your visitors who might not be comfortable having a hot shower in the house.
This is a wonderful idea. An electric tankless water heater can be installed outside. As long as the electrical cables are not exposed to rain and direct sunshine, the shower can serve your needs. Most people who opt to install such a water heater choose to do it just next to a wall. For the sake of privacy, the other ends can be covered either by a temporary wall or anything relevant so that anyone using the water heater for shower can feel comfortable.
There is nothing strange about installing the water heater outdoors. It will just use the electricity as for the case of indoor installation.  Outdoor kitchens and bars are nice to have hot water for clean up as well.  Depending on your geographic location I would just make the outdoor electric powered heater capable of removing, or at least blowing out the water in the lines for the winter.  Most outdoor heaters are only capable of withstanding a mild temperature below freezing.
typically gas powered heaters can come in outdoor units and they do not require venting, they are already outside!
Installation of Electric Water Heating System
The installation process of electric heaters is much easier than gas powered types. If you know the basic knowledge of electricity, follow the instructions and you should be able to get it mounted correctly. Here are some tools you may need:
Spade drill bits
A power drill
A hand saw
Caulk
Pressure-treated or other lumber for mounting
Adjustable wrench
A screwdriver set
Pipe insulation
Electric tape
There are also some accessories parts sent along with the heater, you should check whether there are missing parts once received. If you still have trouble in installation, go to YouTube and you should find what you need.
How to Take Care of Electric Water Heater?
The priority and the major tips are for safety, always obey the instructions!
#1. Close the valve. All three valves need to be turned down/ off, including the cold water valve, hot water valve, and main valve.
#2. Purge the pressure. Remember to remove the caps slowly.
#3. Attach the lines.
#4. Open the purge port valves to remove air.
#5. Use a safe cleaner to flush
Bottom Line
Apart from cleaning, taking a shower can also relieve all your burdens and pressure. Do not mess things up by picking up a bad tankless water heater. The following 5 best electric heaters for a shower will be on your bet:
---
So, What Is the Best Electric Tankless Water Heater for Shower?
Here is the detailed list…
#Top Pick
 Editor's Note:
Endless hot water
Easily replaceable elements
Save space
Stable hot water provided
Simple design but with the excellent working performance
Needs to be installed by professionals
In terms of the best electric tankless water heaters for shower use on the market, EcoSmart is always on the top of the list.
Energy Saver
EcoSmart adopts the most advanced technology on water heaters, it saves up to 50% on using costs. The patented modulating technology measures the amount of energy needed to be input, based on how much water you need. It works to control the energy output for optimal water heating.
Compact shape
Tankless water heater, compared with tank type, features most on its compact shape. Placing it on your bathroom, it occupies only a small part of the floor and saves more storage space for you.
Small apartment shower use
This heater is designed to heat up to 2 gallons per minute and works best for the weather of 67° F, perfect for small house shower use. Its digital temperature control button enables you to adjust the suitable temperature for multiple uses.

---
Why Do You Need the Best Electric Water Heater For an Outdoor Shower?
The cost of buying an electric heater is not low. You deserve the value of your hard-earned money. This is why when you go to the market; you should be focused on getting the best. Getting the best water heater means that you will save yourself from too much maintenance cost. It will serve all your needs without feeling a gup as long as your outdoor shower is concerned. You, therefore, need to have a serious product review to end up making the right decision. There is nothing that annoys like buying something which is not competent enough to serve the need as to why you bought it. Therefore, always strive to get the best electric water heater for your outdoor shower.
Best Electric Tankless Water Heater for Shower Reviews
#1.
 Editor's Note:
Simple installation
Constant water flow
Digital LED display
High energy efficient
Easily adjustable temperature
Low using costs
For a large family with two or three showers at the same time, you may consider this Stiebel Eltron electric tankless water heater.
Totally silent operation
Stiebel Eltron has pioneered the industry for over 90 years, and this type of heater is also awarded as the quietest electric tankless water heater. By turning it on, you can enjoy constant water flow with no working noise at all.
Advanced flow control technology
It uses the most advanced technology, known as The Tempra Plus, which refers to its advanced flow control technology. It ensures a constant temperature output while automatically adjusting the flow of water, so as to eliminate temperature fluctuation and cold-water sandwich.
Reduce energy costs
According to the test, it is able to save energy on average of 15% – 20% kWH, compared with conventional water heaters. The small shape and simple appearance design save much wall space for you also.

---
#2.
 Editor's Note:
Low electricity bills
No fluctuation in temperature
Sharp shape design
Easy installation
Fast hot water supply
Better for point of use installation
Rheem is famous for its gas tankless water heaters, but you should know, that its electric tankless water heater is also at the leading level.
LED display
Digital panel is set for showing current water temperature and you can adjust it through the button easily. You can adjust the temperature up and down with 1-degree accuracy. Simple design adds more than convenience, but also a sense of modern.
Energy efficient
High energy efficiency represents less using costs and more contribution to the environment. The highest energy efficiency reaches up to 99.8%, ranks the first among other electric types on the market.
Stable hot water supply
Stable temperature and water flow bring satisfying user experience. It provides constant hot water for two bathrooms at the same time for a long period of use even.

---
#3.
 Editor's Note:
No hot water sandwich
Sleek and attractive exterior design
Great insulation
The super fast recovery rate
Multiple using areas
Not suitable for multiple person shower use
Point of use tank water heater is best designed for water faucet sink or dishwasher use. Small shape yet stable hot water supply offer great convenience in daily life.
Fast water supply
Thanks to its small shape, you can install it nearly anywhere possible. Under the sink, near tankless water heaters as a supplement or serves as a buffer. Because of the short distance between the heater and using places, it minimizes the waiting time for hot water, which leads to fewer costs in using.
Long-lasting quality
Maintenance of it is quite easy, so does the installation. It adopts premium glass-lined material, to ensure durability. There is no need to worry about the electricity bills, thanks to its thick CFC-free foam insulation, which guarantees the maximum energy efficiency.
Perfect for point of use
It features a 4 gallons tank, thus outdoor camping or traveling can be the best usage if you intend to use it for a single person quick shower.
---
#4.
 Editor's Note:
Easy installation
Small but modern shape
Ample water supply in shower
Elite quality level
No clicking relays
LED lights show errors
With the maximum flow rate reaching up to 4.4 GPM, this electric heater is able to provide hot water for two faucets and two showers at the same time, without any fluctuation.
Easily adjustable water temperature
It has an external digital control panel, shows an error, and also the exact temperature, with an LED display. By turning the button left and right, you can adjust water temp with a 1-degree increment.
Rheem advanced technology
Rheem electric hot water systems are all equipped with the advanced self-modulation system, it adjusts the water flow and power, based on the hot water demand. Through this method, the electricity bill is significantly reduced.
No temperature fluctuation
The trouble of the cold-water sandwich goes away because of Rheem's premium quality level. Durable copper immersion ensures less loss of energy.

---
#5.
 Editor's Note:
Multiple applications
Energy efficient
2.6 gallons capacity
Perfect for small space or small water flow demand use
Two modes options, energy-saving mode, and frost protection mode
Thermoflow is a German brand expert in engineer products with the maximum energy-saving operation. It is an ideal choice for a small apartment in daily water demand.
Auto-shutoff system
Once the water temperature reaches over the set temperature, it cuts off automatically to protect the heater from overheat. It reduces the damage of the heater to the maximum level while ensuring a long service life.
Short waiting time for hot water
It adopts EPS foaming technology, which heats water fast and shortens the waiting time. When installed in the bathroom for single person shower use, it takes around 10 seconds before hot water flows out.
Stainless steel tank
Inside the heater is a stainless steel tank, needs little maintenance but is super durable and long-lasting. Plug it in the wall, and you can use it immediately.

---
#6.
 Editor's Note:
Easy adjustments on the LCD panel
Save spaces
Save 60% energy
5 years warranty
100% non-corrosion
This Marey electric hot water boiler is the only one that does not accumulate sediments on the market, which means it has a longer service life and far more durable than others.
Self-modulating technology
With the changes in water demand, it modulates and power and water flow automatically, so as to ensure the minimized loss for power. Water temperature and modes show on the LCD display, allowing to adjust the temperature and electricity consumption freely.
Capable of providing hot water for 2 showers
4.4 GPM water capacity offers ample hot water for 2 showers simultaneously in a hot region and ideal for a shower in cold areas at 2.0 GPM.
Durable materials
Stainless steel water channel, as well as heating chamber, assures long service life. With smart technology, it keeps water flow away from heating elements, which makes it the only electric heater on the market that accumulates no sediments.

---
#7.
 Editor's Note:
Easy installation
Energy efficient
Remote control available
Compact and sleek design
Short waiting time for hot water
Better for point of use
Applied with a 5.5kw heating system, this small electric water heater supports single bathroom use and multiple sinks use. You can use it widely in the hospital, kitchen, bar, and school, etc.
Smart self-adjustment
According to the flow rate and temperature, it adjusts the power automatically, which means there are minimize loss of heat and energy.
Digital touch control panel
It features a digital display with a touch control panel, shows the exact temperature with 1-degree increments. By pressing the up or down button, you can adjust the water temperature easily. For under-sink use, it has a Black model for remote control.
Multiple safety systems equipped
Overheat protection, dry heating protection, and leakage protection are all set for protecting the heater from burning.

---
#8.
 Editor's Note:
Less CO2 emission
Advanced self-modulating temperature technology
Able to adjust the temperature in 1-degree increment
Temperature range: 32°F to 167 °F
No venting required
A bit hard to install
This instant electric hot water system is ideal for whole-house use. With the maximum flow rate of 3 gallons per minute, it meets the need of two or three bathrooms use for shower the same time.
Low using costs
It is a high energy efficient type, more than 85% of energy is saved, which leads to a sharp reduction in electricity costs and energy costs.
Endless hot water supply
The tankless heating system enables you to get endless hot water, especially for whole family use. The waiting time is controlled under 15 seconds, saves much electricity bills, and also water bills.
Stylish compact design
Sleek and compact shape make it perfect for anywhere installation, yet takes up little space and saves the amount of living space for you. The whole noiseless working condition enables to provide an enjoyable bathing time.

---
#9.
 Editor's Note:
Constant hot water
Fewer energy costs
Suitable for shower use
Save space
A simple adjustment on water temperature
Approved by ETL, Marey ECO 150 has an elite quality level. Constant hot water provided thanks to a free-maintenance bare-wire tankless system.
Wide temperature range
The maximum temperature of the water reaches 124 degrees, meet your basic needs in the shower. Accurate water temperature shows on a digital panel, and you can adjust it up and down through touching the button.
Non-corrosion model
Being the only one that adopts a German-designed heating system with a stainless steel water channel, it is highly corrosion-resistant. In other words, it is super durable and lasts long.
5-year warranty
There is never too bad to get a warranty, especially for electric machines. 5-year limited warranty along with thoughtful after-sale service gives the best purchasing experience.

---