The whole-house tankless gas water heater refers to the heater used for the entire home. It saves money on getting an extra point of use or under sink tankless water heater for kitchen use. The flow rate or capacity must be large enough for whole-house use. There are altogether three types of whole house tankless water heaters, including gas model, electric model, and propane models.
Top 4 Best Whole House Tankless Gas Water Heaters
Why Should You Purchase Whole House Gas Tankless Water Heater?
Whole house gas tankless water heater is more preferred since it can supply water continuously at temperature levels for a large family when the units are appropriately sized. It operates when there is a need for hot water, which leads to a decrease in cost to even 35 percent yearly. It is also known for its energy efficiency, some tankless units have energy factors that are as high as 95, according to energy star.
Unlike the storage tanks which are permanently on, tankless water heaters only operate when hot water is needed. This operation makes it to score high safety. It also provides other features that boost their security. For instance, details about water pressure and flow are given by monitoring systems.
Who Needs Whole House Gas Tankless Water Heater?
The whole house gas water heaters are mostly used by people that need to conserve energy. By saving energy, gas water heaters only produce hot water when it is needed. People that have sufficient space that can accommodate gas heaters due to their large size are also in need of gas heaters to provide constant hot waters for both showers and kitchen faucets use.
Cost of Large Home Gas Water Heater
The cost of a whole house gas heater depends on some factors that will sum up the price. The factors include the upfront cost, installation cost, utility cost, and also environmental impact.
Depending on the amount of work required, the installation of the device, and utility cost around 1000 to 2000 dollars. Gas models are more expensive to install since they need a safe ventilation system to be installed. The average cost of the tankless water heater without the installation cost is around 430 dollars.
Best Whole House Tankless Gas Water Heaters Reviews
>Water flow<
This unit is a high flow rate whole house gas tankless water heater, the maximum water flow rate reaches up to 9.8 gallons per minute, and it meets the demand of three bathrooms in warm areas and two bathrooms in cold areas.
>Thermal efficiency<
It offers both concentric PVC and a twin-pipe venting so that you have more choice. The efficient rating reaches as high as 0.95, and power requirement ranges from 15200 to 199000 BTU. 2 watt electric is needed only to power the unit up.
>Commercial use<
The temperature of it reaches 185 degrees F when used it for a commercial heater. But the extra commercial remote is needed.
Pros:
High flow rate
Commercial and residential use both
Flawlessly hot water
Highly energy efficient
Optional venting options offer
Cons:
Need professional to get it installed
Extra commercial remote is needed for commercial use

---
>Flow rate<
Takagi natural gas whole house tankless water heater of this series has a large flow rate, reaching 10 GPM per minute. It is able to support 3 bathroom use easily in warm regions and 2 bathrooms in cold areas. Temperature is not dropped even when you use to shower and the kitchen sink at the same time. Thus it can be regarded as a perfect whole home tankless water heater.
>Condensing design<
It adopts condensing technology, makes sure that seldom natural gas is wasted in using. And it is highly energy efficient. Besides, It demands 199000 BTU per hour to perform in the best condition.
>Water temperature<
The maximum temperature of the water reaches as high as 185 degrees F, so it can also be used as the commercial tankless water heater.
Pros:
Lightweight
Digital control panel
Overheat cutoff fuse
Remote control enabled
Hi-limit switch to control the temperature
Cons:
Waiting time for hot water is a bit long
Temperature falls down in cold regions

---
>Flow rate<
The maximum flow rate of this unit reaches 9.4 gallons per minute, able to support 3-4 bathroom use in warm areas and 2 bathroom use in cold areas. It is able to supply endless hot water for you.
>Water temperature<
It can be used both for commercial and residential water heaters. When used for a residential heater, the temperature range in between 94 degrees F to 140 degrees F. And maximum temperature reaches as high as 160 degrees F when it is used for commercial use.
>Thermal efficiency<
Compared with the above two whole house gas tankless water heaters, this unit is quite low in thermally efficient, only reaching 0.82.
Pros:
High tech outdoor air combustion design
Smart PC board
Quiet working condition
Constantly hot water offer
No fabric
Commercial use available
Cons:
The venting kits can be a little hard to install
Fluctuate a bit

---
>Flow rate<
The flow rate of the unit is between 0.5 to 6.5 gallons per minute. This is quite lower compared with the other three recommended whole house tankless gas water heaters, but it is also able to support two bathrooms and multiple faucets at the same time.
>Thermal efficiency<
The gas consumption is between 15 000 and 120 000 BTU, but the thermal efficient reaches up to 93%, which is really high. Together with its low NOx design, this machine is able to save much energy for you.
>Water temperature<
The maximum water temperature of this unit reaches 140 degrees F, which fits the whole home use perfectly.
Pros:
12 years warranty for heat exchangers
2 heat exchangers offer (stainless steel and copper)
Overall freeze protection
Optional remote control
Compact shape
Cons:
Has the problem of cold water sandwich

---
Things To Consider Before Getting Best Whole House Tankless Gas Water Heater
There are many things and factors you need to consider before buying a whole home tankless gas water heater.
1. Venting
As the tankless hot water heater is powered mainly by gas, natural gas it uses must be vented outside for safety. If it is installed outside, then there is no need to get vent kits, but if it needs to be installed inside, you need to install venting kits along with the machine. Before buying, make sure what inch of pipe the venting requires and how it should be installed.
2. Flow capacity
If you need to get a gas tankless water heater for whole-home use, then the flow rate and capacity must be large enough. Some small flow rate tankless water heaters support one shower and one faucet only, and some are large enough to support endless hot water for multiple bathrooms. So you need to check the flow rate and then decides whether it is suitable for a small tiny home or large 4 or 6 family use.
3. Temperature range
Normal whole house gas tankless water heaters reach up to 140 degrees F, perfectly for residential use of course. But if you need to get it use for commercial, then the temperature range should be much larger than that.
4. Energy efficient
A high energy-efficient tankless water heater can largely reduce the using costs, thus saves much money for your heating bills. But once you get a low energy efficient machine, it means a large amount of natural gas is wasted and more greenhouse gas will be let out to pollute the environment. Thermal efficiency above 0.9 is regarded as the best energy-efficient tankless water heaters.
5. Size
Whole house natural gas tankless water heater offers hot water for the whole home, but it does not mean all the whole house tankless water heaters are of large size. Some are also made compact and portable, while still having a large flow rate. Before buying, you should also seize the size of the place you intend to install the machine on and decide whether you need a large one or a small one.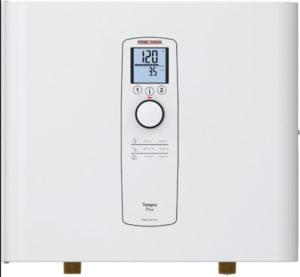 Advantages of Best Whole House Tankless Gas Water Heater
1. Cost-effective
With a whole-house tankless gas water heater, you do not need to buy and install extra point of use or under sink tankless water heaters for kitchen use. The single whole house water heater meets all the demands of you using hot water. Thus it is more cost-effective.
2. Money Saver
The whole house gas tankless water heater can not only save money on buying extra under the sink water heater but also saves much on installation and maintenance. As is known to us, the installation fee is really a large sum of money, if getting a point of use tankless water heater, you need to pay a double installation fee, which is really costly. And so does the maintenance. Thus buying one whole-home tankless gas water heater really helps save much money for you.
3. Convenient
After buying a whole house tankless gas water heater, you install the single one machine at home, and then you can enjoy endless hot water all around your home, no matter you are taking a bath or doing laundry. Because of the fast heating speed of gas water heaters, you need only wait for several seconds and then you get constantly hot water.
Whole House Gas Heater vs. Electric Heater
Whole-home gas heaters require a professional to install.
They are large and sophisticated, making it expensive to be installed. It always needs a chimney for it to let out emissions from the combustion process.
For an electric heater, the cost of installation is cheaper because it is easily plugged without having any skills. It does not also require a venting system making it more affordable.
A gas heater purchase and installation price are higher than an electric heater. However, the cost of natural gas is less expensive than comparable electricity. This cost of a gas model makes it affordable to most people.
Maintenance of a gas heater is expensive than an electric model.
The gas heater requires to be maintained annually with an expert while electric model you can do it yourself.
The electric heater does not require much effort. It will only seek help from a profession occasionally when the equipment has broken down. In terms of heat, the production of heat by gas heaters is more than electric heaters at the same time.
The gas model poses a lot of risk to the users than the electric heaters. If there is no installation of a gas appliance, you are at risk of gas explosion through a gas leak.
The Lifespan of A Whole House Gas Heater
The life span of a gas heater depends on an individual, but the actual life of the heater is about 15 years. Some factors contribute to this life expectancy of a gas heater. They include; the equipment's quality, how well the furnace is maintained. The useful life of any mechanical equipment is prolonged by regular maintenance of the machine. How frequent the tool is used also depends on the longevity of the device.
Maintenance and Cleaning of a Whole House Gas Heater
A gas heater has a lot of tips that are required to be put into practice to maintain the heater. You should always ensure work in a condition that is safe. You should make sure before you start cleaning the heater, the radiator and all the circuits are off. You should also check for the gas leaks because they can cause fatal accidents.
The filter system of the gas heater should be replaced or cleaned continuously to prevent your gad heater from malfunctioning. Since the filter system filters and traps dust, debris, and other contaminants, it should be checked to see if a replacement is needed. You should also clean the blower, which is located right after the air filter. To remove the dirt, you will have to clean the fan by using a damp cloth.
The Best Whole House Tankless Gas Water Heaters

Above all are the best whole house tankless gas water heaters reviews recommended for you. For whole-home use, the flow rate should be large enough. There are also other types of whole house tankless gas water heaters you can choose on Amazon, please feel free to check the price or get more information on it if you have an interest.
---