If you are searching for the best tankless water heater, then Rheem is sure to be on your list. From indoor to outdoor, from commercial to industrial, Rheem tankless water heater has been a well-known machine for most people in the United States. In this post, we will give you the best Rheem tankless water heater reviews for your needs.
About Rheem
The brand of Rheem is founded in 1925, it is a single leading brand on producing cooling, heating, water heating, commercial refrigerators, and spa heating, etc. Among the whole North America, it is the biggest manufacturer of producing tankless water heaters.
Founded by brother Richard and Donald Rheem, the brand Rheem started with producing steel drums and other metal products. It began to produce water heaters, boilers, and tanks in full scale in 1930. In the 1950s, Rheem started its business in HVAC products and from then on, the brand quickly entered into commercial boiler markets. Stepping from industry-leading technology to next-generation energy-efficient, Rheem is on the way to produce the best quality and most energy-efficient tankless water heaters.
In order to help you choose the most suitable product, here we made a detailed best Rheem tankless water heater reviews for you.
Top 6 Rheem Tankless Water Heater of 2020
Different Types of Rheem Tankless Water Heaters
Rheem tankless water heaters are one of the best innovations in water heater technology in the last few decades. These devices save space, reduce the bill, and make the entire water system more efficient. When considering to buy Rheem tankless water heaters, it is imperative to keep in mind that they are available in different types. They include:
Gas Tankless Water Heaters
This type of tankless water heater is an excellent choice if you can have natural or propane gas. Gas has a quick response time and high heat output, which makes the system efficient. A gas tankless water heater is also economical, and it is a great choice for consumers who wish to have the heaters inside their homes.
Electric Tankless Water Heaters
It is less expensive to purchase and install than the gas units, but it requires a lot of energy to operate. Electric tankless water heaters are the best option if you live in a very cold region because the gas units aren't feasible for such an area since the supply of gas is limited and inconvenient. Rheem electric tankless water heaters are more economical than other brands since they are estimated to save 30 percent to 40 percent more on the energy bill.
Mid-Efficiency Tankless Water Heaters
This is a series of ultra-low NOx, and they are designed for continuous hot water. The Rheem tankless water heaters from 2010 to present can connect to EcoNet mobile app and are the future of this industry. Although the other types are efficient, Rheem mid-efficiency tankless water heaters offer the right balance between performance and fuel efficiency. They save up to 70 percent energy as compared to other options.
Condensing Tankless Water Heaters
For condensing Rheem tankless water heaters, the heat is extracted from the exhaust. It eliminates the need for expensive venting materials. Furthermore, condensation is not released within the venting, which means cheap venting materials can be used.
Non-Condensing Tankless Water Heaters
These Rheem tankless water heaters require venting, but they are less expensive to acquire. It has one vent air intake and one vent for exhaust. This tankless water heater comfortably fits in small spaces.
Things to Consider in Buying Tankless Water Heaters
Tankless water heaters heat water directly without the use of storage like in the traditional water heater. The water gets heated as it flows through the device.
Fuel or Energy Source
The type of fuel you decide is very key because it will impact the size and energy efficiency of your unit. It will also determine your expenses considering that switching the source of fuel is high. The common fuel choices are electricity, natural gas, and propane. Those that use gas are relatively more expensive than those using electricity. However, the gas tankless water heaters heat water faster which allows them to supply higher water pressure.
Size
Before deciding on the size there are two important things you need with you; flow rate and temperature rise. Flow rate is the gallons per minute of hot water you will use at any given time. To achieve this you have to include all the appliances that will be using hot water. Add the number and as you shop find a tankless heater that matches your number and if you don't it will mean you need multiple units. Temperature rise is the amount temperature of the tap water rises before it comes out of the faucet. Normally this is 70 degrees Fahrenheit.
Your Location
The place you stay matters also because the temperature of tap water differs with areas. There could be a very significant difference in the water coming into your house and the temperature that it has to rise to. Make sure you mention the place you will have the tankless water heater.
Introduction of Rheem Tankless Water Heaters
Rheem went into full-scale manufacturing of water heaters in 1930. Since then the company continues to advance with technology. The company has both gas and electric units. There are two broad categories; Professional line and performance line. The professional line models are usually started with RTGH and RTEX. They are sold only through Rheem and Ruud dealers with a package deal inclusive of installation. and the performance line sold in home improvement stores and online. The models usually start with ECOH and RETEX.
Rheem Tankless Water Heaters Feature Analysis
Corrosion Resistant Models:
The condensing units of Rheem are built with stainless steel heat exchangers hence increasing the durability. They give you an efficiency of up to 98%.
Linking Multiple Units:
The majority of Rheem gas tankless water heaters can be installed in multiples of up to 26 or 20 units considering the equipment to be connected.
Low Emissions:
The Rheem gas models have met the strict Low-NOx and the Southern California SCAQMD requirements.
Wi-Fi:
Models that have inbuilt Wi-Fi are connected with EcoNet, Rheem's wireless technology that allows monitoring and controlling of the water heater app. The app can be accessed with an app and a smart device. Those units that have Wi-Fi as optional, they are wired for EcoNet which is done during the installation or after heater installation.
Gas Line Compatibility:
Largest gas units owned by Rheem do not need an upgrade from the standard ½ gas line to a ¾ pipe. The compatibility plays a major role in keeping the installation cost down.
How Rheem Water Heaters Compare to Other Tankless Brands
The only brand that comes near Rheem is Rinnai because of exquisite engineering. Rheem also has the same with the addition of great energy efficiency. It also has the largest lineups of water heaters ranging from gas and electric. Rheem has many other features that help in getting the right unit for your home. The Rheem gas tankless models get ratings of above average and the electric having average ratings. All other brands were reviewed and none has a proline available except through dealers and a standard line available online.
Why Choose Rheem?
The Rheem company's priority is the customer. They aim to keep the dialogue ongoing then acting upon it. Products manufactured by Rheem have always been unique in the marketplace and they plan to keep it that way. They are also relevant to the customers' needs and lifestyles. The expertise, technology, and knowledge that Rheem dealers provide are top-notch and a guarantee of a brilliant product.
What Is the History of the Rheem Company?
The company was founded by two brothers Richard and Donald as Rheem Manufacturing Company in Emeryville in 1925. It was initially known for creating steel drums and other metal products. Over the years, the company grew by adding more business lines like shipping containers, bathroom fixtures, war equipment, and musical instruments among others. And in 1930, Rheem began full-scale manufacturing of water heaters, boilers, and tanks. In 1950, Rheem began investing in its HVAC products because they sensed an essential demand for heating and cooling systems. The acquisition of Raypak Inc. of West Lake Village, California in 1985, allowed Rheem to enter the swimming pool heater and commercial boiler markets.
After a few years, Rheem became a subsidiary of Paloma industries founded in 1911 and they are one of the leading producers of gas appliances in the world. In 2013, Rheem added commercial refrigeration equipment to its product portfolio by acquiring Heat Transfer Product Groups of Alabama which has 7 factories in America and another 75 more distributed in other countries. Rheem is one of the most recognized heating, cooling, and water heating brands around the globe. Currently, Rheem is the largest manufacturer of water heating products in North America, and they currently the only manufacturer in the world that produces cooling, water heating, pool and spa heating, and commercial refrigeration.
Rheem Electric Tankless Water Heaters Reviews
Electric tankless water heaters are powered only by electric, it is normally installed in the bathroom. Rheem Rte 7, Rte 9, and Rte 13 electric tankless water heaters are normally used in the past years.
Followings are two best Rheem electric hot water heaters reviews:
Rheem RTEX-13 is one of the most reliable and highest rated tankless water heater on the market of 2020.
Features:
Energy-efficient and money saver.
Being the best tankless water heater under $500, the price of which is really cheap and affordable. It provides endless hot water and is very efficient. The installation can be easy, takes about 1 hour for the installation process, so it really saves much money in installation cost. Multiple stranded wire makes the connection much easier.
Compact shape saves space
The small tankless water heater is able to save much space for you. You can just hang it on the wall in your bathroom, perfect for studio family. The maximum flow rate of it is 4 gallons per minute, so it provides for single bathroom use only.
The operation of the machine is quite simple, led light with digital temperature settings are equipped. You can simply dial the button and change the temperature easily. Advanced design makes it able to adjust the temperature with an increment of 1 degree F each time.
No fluctuation occurs during the using process, you can always enjoy the hot water in using. It takes about 15 seconds for hot water to flow out. The temperature of water keeps the same with no slight drop or fluctuate.
Flexible installation spots
This is the best electric tankless water heater, which means it uses electricity as the main power. Unlike gas or propane tankless water heater, this gives you more choice on installation spots, you do not need to worry about the ventilation or gas pipe, etc.
Pros:
Less using cost on electricity bill
Money saver on using and installation
No fluctuation during using period
Constantly hot water offer
Perfect for small room use
Cons:
You can use only one faucet or shower a time

---
Rheem RTEX-18 is also a good tankless water heater used for home. It is electrically powered.
Features:
In the whole using period, you can hardly hear the working noise and no clicking relays as other propane or gas tankless water heater, so you can enjoy hot water in quiet and satisfying situations.
Temperature lights up once you turn on the valve somewhere, the simple operation on control enables you to increase the water temperature one degree a time. And external digital thermostatic control with LED display makes it easier to use.
The shape of RTEX-18 is quite compact and small, you can install it anywhere you want without occupying much space. It is perfect for small and studio family use. As the flow rate is not too large, it is the best tankless water heater for one bathroom and one kitchen faucet only.
Advanced self-modulation technology is equipped, able to adjust the power so as to meet hot water demand. Even in cold climate or north area, you can still enjoy constantly hot water without obstruction.
Durable copper material protects the heating element, and it has satisfying after-sale service for you.
It is capable of providing endless hot water for you, the energy efficiency is high and thus saves much-using costs. Electric power design frees you from worrying about ventilation or gas pipe.
Installation is super easy, you can even install by yourself, which greatly reduced the high costs on installation. As a good electric tankless water heater around $500, it really worth its price.
Pros:
Durable Copper immersion two heating elements, field Serviceable
Advanced self-modulation technology
External digital dial control with LED light
Small and compact shape
Can be used perfectly in cold areas
Best tankless water heater for tiny house
Cons:
It satisfies the demand of one faucet and one shower simultaneously only
Takes up a few seconds for the water to heat up

---
Best Rheem Gas Water Heaters Reviews
Natural gas is also an important power for tankless water heaters, which includes 40 gallons and 50 gallons of natural gas tankless hot water heaters. In use, you should pay more attention to the ventilation and pipe of gas.
Here we made 4 best Rheem gas tankless water heaters reviews for you:
RTG-95XLN is a hot selling type of gas tankless water heater in 2018.
Features:
Stainless steel heat exchanger
The heat exchanger is made of stainless steel, it provides you more options to connect both vents when water demand is high. The flow rate of it is 9.5 GPM per minute, which meets the high demand for hot water. In using process, there is no fluctuation occurs.
This gas water heater is installed outside, so you do not need to worry about the ventilation. As the installation process is not so easy, we still suggest you get a professional staff, of course, the installation costs should be taken into consideration.
It has EcoNet home technology, if you want to control it remotely, just download the app and you can turn in on and off no matter where you are.
The shape of 95XLN is much smaller than the tank water heater, even when it is installed inside, it occupies only a small piece of space, so you can install wherever convenient and suitable.
Available for both gas and propane
Both natural gas and propane are available in providing power for the tankless water heater. The consumption of energy 94% high energy efficiency saves more money for your bill.
Rheem promises to keep 10 years warranty on the heating exchanger, which means you can use it for a long period of time under quality guaranteed.
Pros:
94% energy rating
App remote control
Compact shape
Stainless steel heat exchanger offers more choice
Outdoor installation, free from ventilation
Standard 10-year warranty
Cons:
Expensive for both products price and installation costs

---
The temperature range of this Rheem natural gas tankless water heater is 100-140 degrees F, it is perfect for mid-size home use.
Features:
It works on power ranging from 11000 to 150000 BTU, so it suits a good range of power input. One of the cool features is that it can be used as a commercial tankless water heater when you connect two or more of it together.
Perfect for high altitude use
This is the best tankless water heater for high altitude, the power of it is quite large, meet the demand of providing endless hot water even in cold areas or high altitude. Inside the unit is freeze protection, which protects the heat exchanger from frozen for -30 degree F.
This unit is installed outside, no ventilation is required, unlike indoor tankless water heater. There is a digital console on the unit, showing the temperature and maintenance code.
As a gas tankless water heater, the nitrogen oxide emission has always been a major task. In order to solve the problem, Rheem particularly designed the unit into ultra-low Nox type, which meets the requirement of SCAQMD and is the most environmentally friendly product.
No cold water sandwich effects
Coldwater sandwich effect is the common problem of tankless water heater, the hot water remains in the pipe after turning the heater off, followed by unheated cold water, causing fluctuation in the using process. In order to solve the problem, Rheem starts its hot starting programming, using a small tweak to continue the operation for a moment after turning the unit off.
This unit is able to save about 1100 gallons per year, which greatly reduced using cost. The exclusive water-saving settings inside the water heater is also capable of reducing the flow of water through the pipe.
Pros:
For low water flow, hot water is still available
Less using costs
Low Nox design
Large flow rate for a large family or commercial use
82% energy efficient rating
Suitable for low and high altitude both
No venting required
Cons:
Must be installed by professionals
Must be installed outside

---
This unit of 84XLN is also installed outdoor, no venting system is required and 8 gallons per minute water flow enables middle size family use.
Features:
The flow rate of the unit reaches 8.4 GPM, which is a relatively high flow rate range, it is able to provide endless hot water for you. It meets the demand for using one shower and two kitchen faucets at the same time without any fluctuation.
Hot water flows out of the unit quickly without long waiting time, so there is not much cold water wasted in showering. The high efficient design also saves a lot of money for your bills.
The same as other Rheem tankless water heater, this 84XLN type is designed to compact and small, occupying only small pieces of land and you can install it anywhere that is suitable. The outdoor installation also frees you from worrying about the ventilation.
Suitable for big families
With 8 gallons of water flow per minute, this is the perfect one for a big family or home use. You can comfortably enjoy the hot water no matter you are showering or washing dishes.
Pros:
Energy efficient
Suitable for large or big family use
High water flow rate
The outdoor unit, no ventilation required
Endless hot water supply
Short waiting time for hot water
Cons:
Like the other Rheem products, this unit is also suggested to be installed by professionals

---
Rheem Propane Tankless Water Heater Reviews
Apart from electric and natural gas, propane is another power for a tankless water heater.
Here we made a review of best Rheem propane tankless water heater on the market for you:
Quite the same as RTG-95XLN, this is powered by propane instead of natural gas. It is more powerful and meets the higher flow rate demand.
Features:
This unit is used outdoor, having no worry of ventilation but still, it lets out more nitrogen oxide and does harm to the environment. The low Nox design of the unit greatly solves the problem.
The flow rate of the unit is 9.5 gallons per minute, which is the highest among other Rheem products, able to meet the demand of large family use easily. It works on power ranging from 11,000 to 199,900 BTU.
The temperature of hot water the unit can offer is 120 degrees F, which meets the demand in the north area or cold climate. It is said to be capable of raising the temperature up to 140 degrees F with a minimal change on the remote control. You need to buy extra remote control if you need it.

Rheem Outdoor Tankless Water Heaters Reviews
Outdoor tankless water heater refers to the units installed outdoor, one worth mention advantage of outdoor water heater is its no ventilation requirements. You do not need venting kits as an indoor water heater does. Normally outdoor tankless water heaters are gas or propane types.
Here we made an outdoor tankless water heater reviews for you: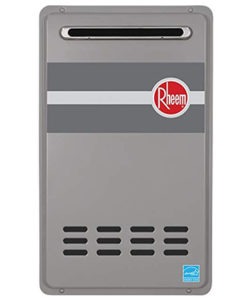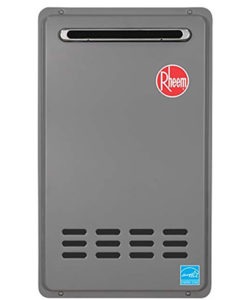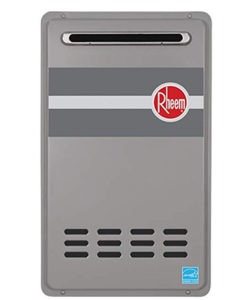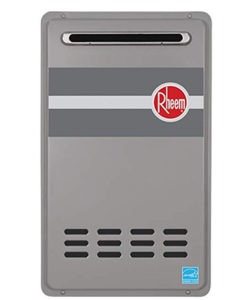 Rheem Water Heater Prices
Each type of Rheem tankless water heater prices are different, but the electric one is much cheaper than gas and propane types normally. For an electric tankless water heater, the installation is quite easy and you can install by yourself, reducing the installation costs to a large extent.
On the other hand, the gas and propane tankless water heater is more energy-efficient and saves a lot of money on your bills. On choosing a tankless water heater, you should think more about the usage, whether you are using it for a large family or for a tiny house. And then choose the best tankless water heater based on your budget.
If you have an interest in all the Rheem product prices and other information, please feel free to check it out on Amazon.
Installation Cost on Rheem Tankless Water Heaters
People are starting to embrace using tankless water heaters because of their many benefits. The average cost for installing is around $600 to $1,500 for professional installation. The following factors affect the cost:
If the unit is to be installed outdoors the cost is lower compared to being installed indoors.
The ventilation of the unit. When it is through a side wall the cost is low and if it is through the roof it is higher.
The type of vent materials used is key in determining the cost.
If there is a need for an extra gas line or water pipe the cost increases.
Plumbing Costs on Rheem Tankless Water Heaters
The plumbers are paid an hourly average rate of $40 to $150 depending on the issue they are handling. The location also matters and it will differ with the status of the area.
Placement of Rheem Tankless Water Heaters
There is standard compliance when it comes to the placement of the tankless water heaters. It must be installed in accordance with local codes and utility company requirements.
How Long Are Rheem Units Expected to Last?
The Rheem tankless water heater units are expected to have a life expectancy of more than 20 years. In addition, they have easily replaceable parts that extend their life by more years unlike the storage water heaters with a lifespan of 10 to 15 years.
How Do You Flush or Drain a Rheem Hot Water Heater Unit?
Flushing or draining the water heater extends its life and keeps it running efficiently. Depending on the hardness of the water, you can decide on the intervals between the flushing. The following are steps on how to do it:
Turn off the electrical or gas supply to the hot water heater. The Rheem gas water heater has the valve on the lower front of the water heater used to shut off.
Stop the water flow to the heater by rotating the cold supply shutoff handle clockwise with your hand.
Take a garden hose and thread it onto the drain valve on the water heater tank. Take the opposite end of the garden hose in the place you will drain the water.
Then turn the hot water on at the nearest faucet so the water heater counterclockwise allowing the water to drain from the tank via the garden hose.
Afterward, open the cold water supply when the water has completely drained from the tank. Then allow the water to flow through the tank and garden hose until it runs clear.
Make sure to close the drain valve slowly and allow the tank to fill with water. Upon the water flowing steadily through the open faucet, turn the faucet handle off.
Remove the garden hose allowing the water heater tank to fill completely. Finally, turn on the electrical and gas supply as directed in your manual.
How Do You Winterize a Rheem Unit?
Below is a step by step process of how you can winterize the heater;
Turn off the electricity and gas supply
If you had a working tankless heater, it means there is still some hot water inside the unit which needs to be let to cool.
Turn off the water supply on the main shut off valve.
Then open the taps to enable the system drain and release the pressure from the plumbing system.
Make sure to disconnect incoming and outgoing water pipes from the tankless heater.
Remove the inlet water filter.
Finally use a bucket/basin to collect the residual water.
How Do I Adjust the Temperature on My System?
You will need the following for adjusting the temperature:
Noncontact circuit tester
Screwdriver
Small flat-head screwdriver
Below are the steps to follow:
Turn off the water heater at the circuit breaker,
Locate the access panel for the thermostat(s) and use a screwdriver to remove the panel.
Peel the insulation.
Adjust the thermostat up and down using a flathead screwdriver.
In a case where you have two thermostats, make sure the top one is a few degrees higher.
Then replace the insulation and reinstall the access panel.
Make sure to restore power but for gas water heaters, you need to relight the pilot light.
What We Pick Is…
Among all the other tankless water heater of Rheem, we would like to suggest RTEX-13 Electric Tankless Water Heater for you. This unit is listed on the best selling heaters on the market in 2020. The compact and small shape saves more space for you, occupying only a small piece of land in your bathroom.
Unlike a tank water heater, this unit looks simple. Digital dial and console make it easy to use, you can even change the temperature one degree a time. Electric power also gives you more options on installation spots and frees you from dealing with the venting. But because of its small flow rate, it meets the demand of shower and one faucet simultaneously only. Thus it is the best tankless water heater for a tiny home or small house.
If you have any interest in the price and other details of the products, please check it on the Amazon by clicking the button below.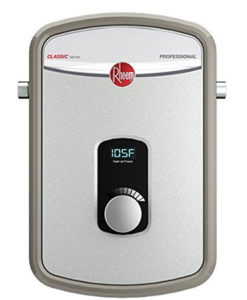 ---