Are you looking for the best inground pool heaters? This review hopefully will reduce your research work. Here is our research on the best in-ground pool heaters on the market. When you buy one of these products, you will have a guarantee of quality and durable service for these in-ground-pool heaters. This review provides you with the factors of you should consider before making your decision for that awesome in-ground pool heater to purchase.
The purchase of a pool heater requires a lot of planning and knowledge. A pool heater is usually the most expensive hardware for one's pool (other than the pool). Even the best heaters can end up failing because of installation is not done right. When selecting your best pool heater, ensure that it is a match for your water and should obviously also have high-quality for the capacity to last.
What Is the Best Inground Pool Heater on the Market?
Picking the Best Inground Pool Heaters
Above-Ground Vs In-Ground Pool Heaters
When it comes to building a pool in your back yard, you have to decide whether its an Above-ground or an In-ground pool. Besides, several factors such as your property, family size, and budget will play a big role in making the decision. The below discussed factors and overviews will give you food for thought as it were and a good insight into the type of pool heater to have.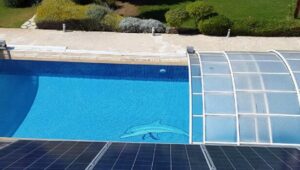 In-ground pool heater
In the case of an in-ground swimming pool heaters, you can design it in a way that pleases you. In this case, you will choose your depth, size, and shape.
Above ground swimming pool
Above ground pool heater is easy to build up and maintain. You will take a period of one to two days to complete the process in the case of a cleared ground.
Similarities of In-ground and Above-ground Swimming pools
Both may be designed in any shape, depth, and size
In both, you may add on the depth of the pools
In both, you will get up getting quality services.
Differences Between Inground And Above Ground Pool Heaters
Pool Installation
The aboveground pool can be easily installed though most will take some days due to leveling of ground, erecting the pool and filling it with water. Inground pools, on the other hand, will take a maximum of 5-8 weeks once the installation process starts. Some pool builders may complete the pool earlier, but due to some common factors such as bad weather may slow down the process.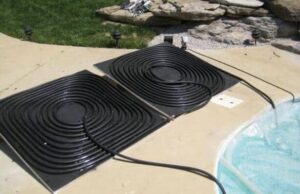 Pool Cost
Aboveground pools may range from around $900-$ 3000 when dealing with online DIY pool packages to around $4,000-$8,000 with local pool dealers. However, the price will also depend on the size of the pool, ad the quality of components. With Inground pools, the price may cost around $5000-$8000 for online DIY pool kits. For local installation, the inground pool may cost around $30,000-$50,000. Like all other pools, the price will depend on size, pool type, and optional features.
Space
Space may not be a determining factor in deciding whether to build the aboveground pool or inground pool, but it will determine the shape or size of the pool. However aboveground pools may be surrounded with wood deck depending on the terrain while the inground pool may take any shape and can be small or as large as you want.
Terrain
Many homes have different slopping surfaces. Some are having slope downs and slope ups. Terrain may affect the choice of an aboveground and inground pool. However, the inground pool may work well in sloping terrain compared to the aboveground pool, but it will be too costly.
Soil and Water
It is always tough to dig inground pools in places with big igneous rocks; hence aboveground pool may be considered as an alternative. Constructing an inground pool in places with marine clay and sandy soil can also be stressful. De-watering will also be required in places with a high water table when constructing an inground pool; hence one may opt for aboveground pools in such areas.
Different Types of Inground Pool Heaters
Gas Heaters
These are heaters that are run on natural gas and propane. They thus require the use of a propane tank or also a natural gas hookup. The gas heaters can end up being more expensive regarding operation. They will be working great for the pool owners looking towards turning them on when they have visitors. In case the pool has been located at a vacation home, it will only get used periodically. It is easier to keep water at a consistent temperature with the use of a gas heater regardless of the weather's nature. As a result, gas heaters are tending to work more significant for the spas.
Heat Pumps
Heat pumps are relying on electricity in their operation. Air will be pulled through the pump and will be run through the present compressor. This kind of pool heater is best for pool owners and athletes looking to benefit from the therapy. They will end up maintaining consistent temperature without paying much attention to the weather. They are keeping the water in a warmer state than the other primary swimming pool heaters.
Solar-Based Pool Heaters
Solar based heaters are using the sun's heat to help them in warming up of the pool. The present pool pump will be running water through the heater located at the roof of a given building or house. Swimming solar pool heaters will be working only during day hours and best in the case of bright and sunny days. They are quite limited regarding how much they will be increasing the water temperature.
What Types of Pool Heaters Do You Need?
The best heaters are solar heaters. The significant benefit of solar heating is the fact that it is free of charge. You will end up heating large volumes of water without any expenses.
The solar water heater has the capacity of providing to even 80% of hot water needs even while in temperate climates. It is thus translating into significant utility bill savings from one month to the other.
Factors to Consider When Choosing the Best In-ground Pool Heater
A pool heater is one of the essential devices you should consider installing in your pool. However, if you are considering upgrading your swimming pool, the following factors should be considered.
Matching your pool size
It would be best if you considered buying a medium-sized heater for your pool. A small pond will not get the work done while an oversized heater will waste energy. Matching your pool's gallon with the heater's capacity is very important. A heater with BTU ratings of 100-200 should be used within the pools with a capacity of 2000-10,000 gallons. The surface area of the pool should also be another factor to consider. It is because of the more the surface area, the faster the heat loss.
Maintenance of the pool
Suppose you need the pool heaters to operate efficiently, proper caring need to be done throughout the year. Besides routine cleaning, heat pumps require appropriate fixture at required levels. When you are using solar heaters, its servicing should only be done by a trained solar energy expert. Getting a trusted pool care team will help you maintain and have the necessary repairs when required.
Choosing your power options
Pool heaters will automatically add the utility bills of your monthly expenditure. Considering the operating cost should be a factor when choosing a pool heater. For instance, solar heaters are exclusively running on solar power and will only impact your wallet at purchase. Gas heaters will require a connection with a gas line or decide to have propane tanks (propane is ridiculous in my area). Electric rates can vary dependent on your location and supplier.
All that will not come cheap; hence you will have to dig a little deeper into your pockets. The good news is, you are trying to heat the pool when your house heating and cooling bills are less. Yep, typically the average pool in the USA is heated in spring, and fall.  This is to jump start, and extend use season.
Using a heat pump is more efficient with energy but are always limited at the beginning and end of the swimming season. Electric pool heaters are the most convenient but are also very expensive. Electric heaters are mostly used in indoor pools and spas.
Noise issues.
You will always want your pool area to stay calm, peaceful, and away from unwanted noise. Some heaters have pumps, fans, and motors that produce a lot of noise, thus not favorable for a noise-free neighborhood. Most heaters require the circulation of water to and from the pool, usually provided by the pool pump. Solar heaters do not produce sound at all; hence, they are more efficient by way of cost turned to heat.
Electric is another quiet pool heater, however a heat pump style pool heater has a fan that may kick on like a central air unit turning on. typically the gas powered heater, propane or natural gas have the noise of the exhaust of the combustion.
Placement of the heaters near the pump or farther away from the ear may negate any notice of the noise. This can sometimes be a better compromise than trying to heat with solar because you do not have the area for the panels, and, or there are shaded areas where you can mount them.
Reviews of Best Inground Pool Heaters
Features:
Compact design
Little electricity use
Heats fast

Are you looking for the best pool heater? It is best to buy a heater with the capacity of heating up fast. It is the only way for you to enjoy your leisure time without necessarily having to wait long before the water heats up. Additionally, the cost of power is rising daily. When buying a product, it is best to buy one that will help you in power saving. This product has been proven to use a little amount of electricity.
More also, this heater is providing all the efficiency, convenience, and reliability features you need in your swimming pool heater. Since the indicator lights are user friendly, they are making the system operation and monitoring easier. The compact design and quiet operation will not encroach on your leisure time while on the poolside. This unit can withstand all applications, including the harshest ones such as low PH, light flow, and heavy use.
Pros:
Heavy duty
The digital controls are easy to use
Corrosion-resistant and durable exterior
Heats the large pools quickly
Highly energy efficient
Cons:
High BTU output making the operation process easy
Features:
Lightweight design
Optimal heat transfer
Made using high-grade materials
Low maintenance

The Xtremepowers panel has been built using high-grade materials. These materials have been proven to end up lasting in all kinds of weather. Besides, the filter system and pool pump are circulating the pool water by use of the solar panels. The water will get heated and will later be returned to the pool.
When completely installed, these panels will be cost-effective. They will thus not end up producing greenhouse gases and will be requiring very little or no maintenance at all. It is high time you ensure you extend on your swimming this year using little money and with the assistance of the sun. The system will be designed in a way that you may use it in the in-ground or above-ground pools. All the kits are constructed using 2' x 20'ft panels. Each of its panels is durable, flexible, and lightweight.
The construction of the panel tube is creating a large surface area. It will have the capacity to optimize heat transfer from the sun to the pool.
The solar panels quantity required will be depending on the size of the pool. The location may end up getting estimated by the website, U=You may need a diverter kit for use by the pumps with 1.5hp and even more.
Pros:
Versatile to install
Increases water temperatures by 10 to 15 degrees
Easy to install and setup
Very affordable
Cons:
Requires diverter kit
With the pool measures more than 80 feet, you need to buy more than one system
Features:
Unique curved shape
Durable construction
Solar pool heater

The solar pool heater has been designed for use on in-ground and above ground pools. It is increasing the temperature of the pool in 4 days by 5 degrees. Besides, the pool heater construction is highly durable. It has been designed using high-quality materials to hold against frequent exposure to outdoor and sun elements.
The solar pool heater is well-engineered using curved shape. The shape is maximizing heat collection. Different treaded ports have also been added for use with versatile plumbing options. Since the legs are adjustable, this product is compatible with Bestway's, Intex, and different in-ground pools. The folded and adjustable legs are allowing the heat to get set for adequate exposure to the sun. Its clear cover plays a significant role in locking of heat.
This solar panel heater is not intended to be working similarly to the miracle-cure heater. It has been designed to help it in the extension of the pool season by increasing water temperature using fewer degrees. The heat output is maximum as a result of the space-saving footprint.
Pros:
Dual system for in-ground and above ground pools
Adjustable legs for easy setup
Unique curved shape
Very durable
Cons:
Has the smaller size and thus will not give the heat level that you want
Features:
80 square feet solar panels
Polypropylene heat collector to keep water warm
Panel array measuring 4 feet wide and 20 feet long
One heater hole for heating tubes

The most efficient solar panel heater in the market is the SmartpoolS601P. It is known for providing great value since the pool heater is fast-acting and thus best for in-ground pools. The smart pool S601P is manufactured using tough polypropylene that is acting similarly to heat collector. The polypropylene is a corrosion-resistant material. It uses the water's direct flow system; water will be flowing through the solar collectors as it gets heated. It is raising the pool water temperature to even 6-10 degrees.
The solar heater in use in pools has a heater collector that is measuring 20 feet long and 4 feet wide. It can be placed easily at the house rooftop to even next to one's pool. Since the installation process is easy, there is a need for the following three steps. It is the only way for you to install the heater without any form of professional assistance.
Pros:
Suitable for use in in-ground water pool
Raises water temperature to even 15 degrees
Comparative lightweight product
Its DIY allows easy installation
Cons:
Features:
The power circuit of 220V
Use COP 5.92/6.0
A temperature of 40F
Cost 24c for every hour

The best pool heater is one that is easy to install. The best solution for you lays in the FibroPool FH055 pump. The only necessity for you to get it working is the 220V power circuit. It is the best choice for use in the above-ground and in-ground pools. The pool heats pump and are thus unbeatable with the use of COP of 5.92/6.0.
The control panel is containing push buttons which are coupled using LED up-to-date display. This display is making the working process more comfortable. It can work down using ambient temperatures consisting of 40F. The operation process is easy, as it will only cost you 24c/hour.
Pros:
Zero overhead clearance
Ideal for various DIY installations
Works using 40F outdoor temperature
High 5.92/6.0 COP
Cons:
Requires replacement of water outlet washer.
Conclusion
Having read through this review, you can now decide on the pool heater that suits you best. The factors must have played a significant role in helping you make up your mind. It is high time you ensure you make your order today.
Top Rated Inground Pool Heaters with Different Power Source
Title
Best Value - GAME SolarPRO 4721-BB Curve Solar Pool Heater
Title
Best Electric - FibroPool in Ground FH055 Swimming Pool Heater
---