Most people believe that the pool heater is only for the rich, but the fact that everyone can afford to buy one of the best natural gas pool heaters to get more out of their pool. Pool heaters can come with a smaller price tag than expected, but the big deal is when and what to shop for…what is the best model for me?
Some of the products advertised online do not have detailed information about its features and operation specs. You may find that some essential and critical information for a product is left out, and this may make You the buyer get the wrong impression and not get the deserved value for their money after purchasing the heater.
In this review article, therefore, we are bringing you the upside and the downside of a product so you can evaluate and compare apples for apples. The following are our picks for the best natural gas pools heaters.
What Is the Best Natural Gas Pool Heater on the Market?
Natural Gas Pool Heater Comparison Chart
Top 6 Best Natural Gas Pool Heater Reviews
Hayward is one of the most known company brands for pool heaters. The company has produced an accessible and quality pool heater over a very long time.
The H400FDN Universal series is one of the best brand of a gas pool heater from the Hayward company. It is the best-rated heater that has a stand, and to be the first in the editor's choice within this review.
The heater features a reliable cupro-nickel heat exchanger that holds the radiator to its high standard of thermal transfer. This means you can run the pool pump less often to get the water to the same temperature.  Also, the polymer head is coupled with a bypass valve which increases its hydraulic efficiency and equipment safety.
This heater produces high BTUs, and it is more efficient (83%) as compared to other natural gas pool heaters. Further, the Hayward model is environmentally friendly having low NOx emmisions.
The heater proves its power with 400,000 BTUs, which can heat 20,000 to 40,000 gallons of water within a relative short time. His heater is ideal for pools during the winter seasons.
You should ensure that you utilize your heater properly by balancing how it is being used. You can shut down the heater whenever your pool is not balanced or whenever it is not yet clear. Also, covering your pool with a solar bubble blanket will prevent the loss of heat-loss.


This is another brand of a natural gas pool heater that is built to last and to outperform other natural gas heaters out there. The pool heater is a 400,000 BTU natural gas heater that is considered to be the best choice for many on the market. It features a rustproof exterior that is built to control and cope with changes in temperature during combustion. This heater is made with a unique feature to beat the competitors on the market.
Its energy-efficient starters come with compact design and lightweight for easy installation.
With its 400,000 BTU of natural gas power, the heater can heat an Olympic size pool for a range of 50 degrees with a short time.


Pentair is not a new name in the world of swimming. This company is well known and well respected due to the production of the leading pool heater brands. Pentair 460736 pool heater is an exceptional one with universal compatibility to the pools of all sizes. You can adjust the pool heater to suit the size of your pool heating power by adjusting the BTU range, which can be varied from 175,000 to 400,000 BTU.
While you purchase, you can still be provided with a variety of designs to choose from. The options offer a different feature that may suit you. You can also choose to have a heavy-duty option is you would want to be clear on quality, durability and powerful design.
With its rustproof exterior, the heater ensures low emissions of harmful gases, and it will be ideal for those who would like to combine both efficiency, durability and an eco-friendly option. The heater features a rotating display that makes it easy for quick adjustments.


This is another popular model of Hayward company. Hayward Hayward H150FDN 150 is a very versatile pool heater that gives 150 000 BTU of natural gas power. This is a good example of a powerful, quality and efficient pool heater that can be compared to none.
Hayward H150FDN 150 is engineered with a very energy efficient hydraulic performance to be able to raise the temperature of the 800- gallon pool water by 30 degrees within an hour and keep you warm and comfortable as long as you like it during the winter seasons or for wildest pool parties.
The heater is automated such that it can reduce the circulation of the pump to keep water at a comfortable temperature and thus economizing on your utility bill.
The heater features a hydraulic performance that for exceptional thermal efficiency, antirust heat exchanger, polymer header, a combustion chamber made of cupro-nickel, electronic ignition, digital push buttons and led display, dual thermostats. This pool heater is made with lots of features to give a pool owner a sense of confidentiality and feel proud of a quality heater.


Most pool owners mostly prefer Pentair's 125K BTU Heater since it is among the best heaters that can prove worth the money. This is the most powerful heater model that cannot be compared to an electric or a solar heater.
The above the ground heater can raise the temperature of 15000 gallons of pool water with a very short time using its 125,000 BTU natural gas power. It comes with its convenient display with control buttons for its centralized control panel
This heater is coming with special new features that were only seen in larger heaters only. It comes with energy-saving features that are rare with small heater hence allowing you to save more gas and general utility cost.
It features an already mixed gas combustion technique offering up to 82% efficiency, proving to be extremely efficient than other heaters of its category.


106A is the sizable and perfect choice heater for above the ground spars and pools. This is the only heater designed by the raypack company with all the features of the other big gas heaters. The system is built to last, with its all components replaceable and serviceable at any time.
The heater is made to fit small pools through its features that are the same as that of a standard large heater. You are free to heat you above the ground pool to your required temperature comfortably using this smart heater and extend your swimming experience the way you want. Keep your raypack on duty, and your pool will always be ready for you.


---
Which is Better, A Heat Pump or Gas Heater For a Pool?
Pool heaters and pumps are ideal for every pool owner. It is that there are some factors that a pool owner may consider before buying a new pool. These factors can be customers' needs, budget and location. The pool owners who reside in colder areas may want to extend their pool seasons, and they may want and heater instead. While those pool owners who want to save some utility cost and live in an area where most seasonal climate do not fall less than 50 degrees may go for heat pumps.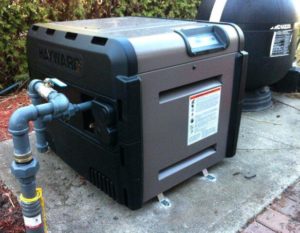 How Long Should A Gas Pool Heater Last?
A gas pool heater requires proper installation and regular maintenance. If properly taken care of, the gas pool heater can last for more than five years in its good working condition.
How Much Natural Gas Does a Pool Heater Use?
This question is frequently asked by potential pool heater buyers when finding out the much it will cost their budget when the heater is in place. Here is a quick overview that shows the normal rate of three common sources of heat energy.
Natural gas pool heaters.
With natural gas pool heaters, you can use at least 1 therm in an hour per 100,000 BTU when in operation with natural gas, and at least 4 therms for a pool heater operation from 400,000 BTU. At current prices, the natural gas goes at about $1.00 per therm, but the prices keep on fluctuating. The total approximate cost from the typical 400k BTU heater, you can use around $4.00 per hour.
Propane pool heaters.
Operating a typical propane heater rating 400,000 BTU, you can figure about 4 gallons in an hour . the current propane price goes for $2.50 per gallon. Propane prices also fluctuate from day to day. So, you should keep monitoring price change frequently.
Is It Cheaper to Heat a Pool with Gas or Electric?
Heat pumps normally run by electric power. A typical heat pump running 5 kilowatts per hour/ 100,00 BTU using national grid power consumes $0.13/ kilowatt in an hour.
The cost of electricity also varies per state, and so, you should check the prices in your respective states.
From the above information on gas pool heater for inground pools consumption and costs, electric pumps for inground pools are seen as a bit cost-effective.
Factors to Consider When Buying a Pool Heater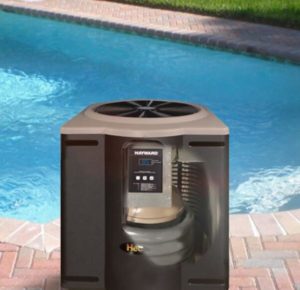 Match Your Pool Size
When choosing the right heater, you must know your pool size. If you use and undersize heater, you will discover that no job will get done. While also using an oversize heater leads to a waste of energy and resources. First, you must measure the size of your pool before purchasing a heater.
If your pool holds 1000 to 1000 gallons, then you should purchase a heater rating of 100 to 200 BTU. Those pool owners having 10,000 to 20,000-gallon pool requires 200- 300 BTU heaters while those with 40,000-gallon pool require 400 BTU heaters respectively. Also, surface area matters. A pool with a large surface area is capable of losing heat faster than the pool with a small surface area.
Maintenance
Pools require regular maintenance over time for efficiency in its operation. It requires routine cleaning, heat pump maintenance such as checking Freon levels frequently, and so you need to contact the technician once you are about to do your regular service. Remember to consider buying a pool heater that requires minimal maintenance and that its spare parts can be easily available, and also consider the company that offers after sale repair teams for frequent servicing.
Power Options
Pool heater will, therefore, add an expense to your monthly budget. This is because you must pay for monthly utility costs. The solar heater does not require much since it barely runs with solar energy. Electric heaters require you to pay for the electric bill every month, while gas heaters are connected to the gas line and need to be paid for with other gas bills. Electric pools are very convenient but tend to be more costly to operate.
Top 3 Best Natural Gas Pool Heaters
---
Other types of Water Heaters of Different Usages: