Using an infrared heater for warming your patio or outside space is an excellent step towards a more sustainable and efficient heating solution. But with the wide selection of options available could easily discourage you.
Outdoor heaters come with numerous benefits. For one, they require a low-maintenance operation. The maintenance is heaviest when the heater is most used. The rest require simple upkeep, such as checking obstructions in a gas line, clearing burner for insects, preventing the gas connections for any leaks, and so on.
These heating appliances also come in attractive designs to provide more ambiance and elegance to your outdoor space. These heaters also have a durable build. Most of them are made with resin tops and high-grade stainless steel for durability.
Moreover, patio heaters provide radiant heat, which, like the sun, uses invisible waves that infuse people and surrounding objects with warmth. Once absorbed, this radiant heat is retained to keep the surroundings warmer. Furthermore, this heat is silent and quiet, so it does not drown out music or conversations.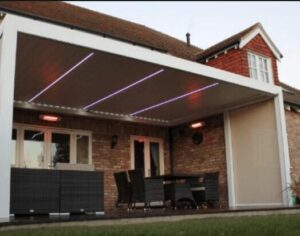 How to Size an Infrared Patio Heater for an Outdoor Patio
You need to find the patio infrared patio heater's right size for your outdoor patio for the best heating performance. Here's what to consider when choosing the correctly sized infrared heater for your outdoor space.
How big is the area to be heated?
As obvious as the answer may seem, it is still a crucial factor worth considering. Maybe you intend to heat your outdoor patio, and therefore require an infrared heater to heat the entire area. But it can get more superficial. Perhaps there is a specific area in your deck that you want to keep warm.
For instance, instead of heating the entire patio, you may opt to only heating the outdoor seating area. Focusing on this area will provide sufficient warmth without wasting energy and cutting down on your heating bills.
In other words, if your outdoor patio is 12m2 and the seating area is only 6m2, it will not only be cheaper but also easier to heat only the seating area. You can choose an ideal infrared heater from a wide range of sleek and well-designed heaters available.
Heating an exposed patio
Firstly, yes, you can heat an exposed patio. This is owing to the versatile nature of the infrared heaters. It does allow you to heat any space, be it small or big, exposed or sheltered, and so on. Finding the right heater for you will work best.
However, it naturally takes a more robust heater for a more exposed area to warm up. This can be easily explained as increased air circulation drives the warm air from the desired location. But this should not worry you, thanks to the availability of near radiation quartz heater specially designed for the exposed patios.
Therefore, quartz heaters provide more substantial heat and are the perfect solution for those with exposed patios. These heaters will give enough warmth for you despite any weather conditions. Some options are also suitable for the larger and more sheltered spaces, such as enclosed terraces or verandas. With infrared heating, nobody is left out!
Strong heating vs. gentle all-day heat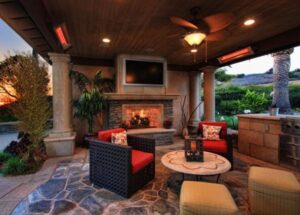 Deciding on which type of heat you want for your outdoor space is critical. Infrared heaters primarily come in two different kinds; those that use far-infrared radiation and those using near-infrared radiation.
Near-infrared heaters work to produce short wavelength radiation, which in turn provides reasonably intense heat. The heat produced is ideal for quickly warming people up in exposed conditions. It may, however, get too uncomfortable when you sit under for a long time. Moreover, this heater is ideal for spot heating and providing quick warmth at the touch of a button. This function may not be possible with other heaters.
The latter, on the other hand, is designed to produce a longer wavelength infrared radiation. This heats far more gently and is perfect for long periods like in outdoor seating areas sheltered. Furthermore, this heater is ideal for both commercial and domestic outdoor spaces.
You can easily enjoy a meal while appreciating the pleasant warmth. However, these heaters may not work as effectively when placed in windy areas. You are therefore advised to find a heater that will work best with your outdoor patio.
Positioning your outdoor heater
The outdoor heaters' properties will vary depending on the method of installation. Some infrared heaters can either be installed indoors or outdoors and will therefore heat different sized areas.
Outside areas will technically require a more robust heating technology due to the increased airflow and lack of insulation compared to the inside spaces. For instance, some infrared heaters can heat an area of 9m2 when outside and 18m2 inside.
Additionally, if it is mounted near the ground, it produces a more concentrated infrared radiation effect that results in a more substantial and cozier heat. Some heaters can therefore provide powerful warmth over a small area when mounted close to the desired location.
When mounted farther away, they provide a gentler heat for larger spaces. This conveniently gives you a different range of options and more freedom when deciding on your heating solutions for an outdoor patio.
Choosing the ideal patio heater
Even when you narrow down to the shape, model, and size of the infrared heaters, you are still faced with a wide range of options- which can be quite daunting. With this in mind, we are here to help you find the ideal heater for your outdoor patio.
The specification tab for every product is made available for a good reason. You need to pay keen attention to this tab to help you ultimately choose the perfect heater. The specifications provide sufficient detail of the heating areas both indoors and outdoors.
BTU Output
Most of the patio heaters use the British Thermal Units (BTUs) or watts as a heating power unit. Besides this, some of the models list the heating area in feet alongside the unit. The heater with a higher number of BTUs gives off more heat.
The heat output of your outdoor patio should be on the higher side. Otherwise, you will need more heaters to cover an area. Expectedly, good and free-standing infrared patio heaters have between 30,000 and 50,000 BTUs, though you may not need to utilize the full amount. More is usually better. Most of the high-quality patio heaters give you the option of reducing the heat as necessary.
To determine the perfect size of the outdoor heater that will best meet your needs, you need to make some calculations- this is done by taking the total BTUs and dividing it by the 40-30 heating factor for the colder climates. This will help you to determine whether the heater fits the desired square footage accurately.
Safety
Safety is always a crucial factor as you do not want to put your life or property in danger even as you size your infrared heater to suit your outdoor patio. During placement, you need to ensure the heater is not close to objects, so they do not catch fire. The heater needs to be placed at least at a 3-foot radius from your house or anything else flammable.
Another thing is to ensure the heater is securely placed, so it does not topple over. Any time you are operating the patio, you need to heed to the manufacturer's instruction. Moreover, it would be best if you did not use a high BTU heater to heat close quarters and never leave the patio heater running unattended.
Location
Limited outdoor use
there is a wide range of infrared patio heaters designed for use outdoors only. Also, some infrared patio heaters are applicable in the semi-outdoor spaces such as covered porches.
Level surfaces
infrared patio heaters should be placed on level surfaces. Also, these surfaces should be able to hold their weight comfortably.
Obstructions
another thing is, infrared patio heaters should not be placed near plants that can easily catch fire, tree branches that are hanging low, or windy areas.
Clearance
you need to check the permissions to combustibles as well as the wall clearances that are offers offered by manufacturers of these units. This information is usually provided in the owners' manual.
Clothing
you are advised not to hang any clothing or flammable materials near or on the patio heater.
General maintenance
before competing for any maintenance, you are required to turn the heater off. This is also advised when you move it to a different location.
Design options
Infrared patio heaters come in a wide variety of designs. For instance, the floor-standing ones are a popular option and one of the most common types. These heaters are usually thin, tall, and give off the right amount of heat. This heater is ideal for coffee shops or restaurants with patios. There are also hanging and wall-mounted heaters.
These are the go-for option for those who want to save some floor space on their outdoor patios. They, therefore, work to release sufficient heat to keep you warm while saving you some floor space. Tabletop heaters are the smallest types and heat a limited area. They are also an affordable option for those who intend to heat only a small room.
Best Infrared Patio Heaters For Outdoor Patio Recommend