A patio heater is a uniquely designed radiant heater that produces thermal heat to its surrounding, warming up an area depending on its size and model. They are ideal when placed outdoors on your lawn, patio, or pool deck on those cool nights when you are entertaining your friends and family. They create an awesome ambiance and extend seasons and duration in instances where the outdoor weather is otherwise unfriendly.
You can also enjoy the heat produced by the patio heaters on those chilly cooler nights that are also used by restaurants and bars for their customers to sit and enjoy their outdoor area with some good drink and food. This is enabled by the fact that patio heaters can warm up a sizable space (depending on the model you use) because of the infrared  heat it gives off.
What Is the Best Patio Heater For Appearance?
The dancing flames allow an attractive and memorizing focal point for gatherings.  Like a camp-fire and ghost stories without the mess and smoke. The only real downside is you can't roast marshmallows and you have to fuel it with a propane bottle.  These guys are great for around swimming pools.
What Is the Best Patio Heater For Heat Output?
The warmth from a propane patio heater is great for sitting areas that don't need light or something to look at.  In other words if family and friend can join together and have plenty of conversation and fun, these heaters will keep the gathering going keeping the chill at bay.
What Is the Best Patio Heater For Limited Floor Space?
Electric is best for enclosed Florida rooms and patios with roof coverings.  Placing over the tables and gathering areas where space for a stand is minimum, besides a trip hazard.  This heater is what we think is best, there are less expensive units, however the quality for longevity may be worth the initial upfront cost.
How Do Patio Heaters Work?
There are 3 kinds of heater styles that make up 95% of what is sold currently.  Your Glass tube pyramid heaters, the top hat patio heater, and electric infrared heaters. all of the are designed to create infrared heat waves for heat. But let's get a little more detailed on each one…
Pryamid–
Top-hat style patio heater– There is a burner fixed on top of a pole that burns gas and directs the flames against a screen that is perforated. Heat is then distributed around the appliance in a circular pattern. The heat that moves upwards is reflected by a reflector on the top. The reflector is silvered and therefore reflects back the heat because silver is a poor absorber of heat. New models use electricity to power the radiative heater emitting infrared energy that heats up the surrounding environment.
Electric–
Where Can Patio Heaters Be Used?
Patio heaters are mostly used and designed for outdoor activities. They are mostly used at home, and in commercial institutions like restaurants and hotels. The following are the reasons why it is not advisable to use patio heaters indoors.
Fire Hazard
Most outdoor patio heaters use propane and natural gas to heat up. This may present as a hazardous unit because these fuels are highly flammable and combustible when they come into contact with certain materials such as liquid soap, bed sheets, curtains, and floor rugs. Unlike other indoor heaters, patio heaters pose a much greater risk of causing fire or accidents because they contain raw fuel and their slim design makes them easy to topple over.
No safety features for indoor use
A majority of indoor heaters come equipped with automatic built-in features that detect any malfunction to the unit. Patio heaters do not contain such features and therefore this can prove a safety hazard when used indoors.
Harmful Gas Emissions
Patio heaters that use gas present a major health hazard if used indoors. This is because they produce carbon monoxide and nitrogen dioxide when fuel is burnt and combusted in the heater. Chances of inhaling these harmful gases outdoors are minimal because they disperse into the sky after emission.
Unsuitable Design for Indoor Use
The design, a slim, vertical, 60 inches to 75 inches in size are prone to be tipped over. Their circular base does not protect them from being accidentally knocked over. For patio heaters that have gas tanks, this can present a fire hazard in case the heater is tipped over. When there is a gas leakage this can cause fire and explosions.
Quick Pick on Best Patio Heaters For Heat
Buying Guide For Best Patio Heaters for Heat
Before you purchase a patio heater, you need to understand the options available for you and prioritize your options. Put these factors and features in mind when searching for the best patio heater.
Purpose
Put into consideration the size and shape of your patio, the instances when the heater will be used, and the number of people who will use the heat from the heater. If the space is small and you normally have close congregations, consider buying tabletop heaters. In covered spaces, consider buying an electric model.
Affordability
This is determined by the size, model, and style you choose. The bigger your patio space the more heat it requires to warm up. Floor standing heaters that are powered by gas are a bit costly compared to tabletop heaters. Wall-mounted heaters fetch the same price depending on the size, power, and model. Always know your budget before searching for a heater. Knowing your need also allows you to purchase a model that is not only affordable upfront but also has a low operating cost.
Thermal Heat Produced
This determines your heater's power. The higher the British Thermal Unit measure, the more powerful your heater is and the more heat it produces. This measure helps you when comparing one model from the other and how much space the heat produced will cover. Before you purchase any unit, check on what other customers are saying about the heat produced.
Safety
Regardless of the type of heater, safety should always come first. All heaters come with a risk. Consider buying a model that comes with safety features such as auto shut off. If not, buy a model that presents fewer safety hazards and dangers. The manufacturer should also have a safety manual for use during installation or use.
Type of Weather
The type of weather in your area may determine the type of heater you will use. For instance, if your area is prone to wind, then having a floor standing patio heater as they may topple over. Choose an outdoor unit that is practical for your climate all season long
User Friendly
Go for a patio heater that is easy to use and operate. Some may be hard to install and may require the services of a professional while others may present some maintenance work for you. Some outdoor heaters are extremely easy to use from the moment you get them for as long as you have them. Others will present some work or maintenance efforts for you.
Consider whether you are comfortable with putting in some work when using the heater or not.
Types of Patio Heaters for Heat
A patio heater is determined by the source of fuel for the heater. Their output and efficiency are different and this can be determined by the operation cost, energy efficiency, and logistics such as installation. The following are the types of patio heaters with regards to the source of fuel.
Propane
They are the most popular outdoor heaters. The use of propane gas makes the heater portable and can be easily set up anywhere since they do not require further installation. They have a higher thermal heat emission compared to electrical heaters.
Propane Patio Heater Recommend
Natural Gas
Of all outdoor patio heaters, they are the most affordable. However, the initial cost is high because you will be required to hire a professional to install and work on the plumbing. Once they are connected to a gas line, you won't need to worry about fuel since the supply is constant. Kindly note, after installation they become a permanent fixture.
Natural Gas Patio Heater Recommend
Electric
The model cost of use is not so much and is somewhere between propane-based or natural gas-powered heaters. You will be required to have a power source for effective operation. They are environmentally friendly since there are no emissions.
Electric Patio Heater Recommend
Kindly note, outdoor patio heaters come in a variety of designs, that is, Floor Standing Patio Heaters, which are the most common models are slim, tall, and have an umbrella-shaped top. The other model is the wall-mounted heater, which is mostly electrical and is the best for small spaces. The third model is the table-top heater which can either use electricity or gas. They look like the miniature version of the floor standing patio heaters and are ideal for small spaces and smaller budgets.
Reviews of Best Patio Heaters for Heat
In places where the footprint is relatively small this pyramid shaped model takes care of the open flame from a pit worry. Depending on the weather, this model can produce heat reaching 15 feet and can cover 2 feet by 2 feet floor space.


This model is a product of amazon and is popular because it is very affordable. It has the following features, piezo ignition system, stable base, and stylish powder-coated mushroom heater, inside the tank, moveable base wheels, and a 46,000 BTU power.


This model can heat up to 18 inches in diameter and comes at a very affordable price. Notably, they may be tall to some patios but consider the following features made of high-grade steel, does not rust, and comes with a sleek bronze hammered finish.


The 87 inches tall model compliments any patio and brings a comfy atmosphere and look to your patio. It has an output of 48,000 BTUs that gives sufficient warmth. Has a temperature control, moving wheel, and anti-tip device that switches the device off when it tips over.


If you are looking for a model that provides safe and clean emissions giving you maximum comfort outdoor and indoor then this is the patio heater for you. The model has the following features, has a 3 heat output setting, highly durable, all-weather proof, and is remote controlled.


This is a decent patio heater that produces 48,000 BTUs running on a 20-pound propane tank covering a 5-10 feet area depending on the air temperature. It is very easy to assemble, and the design is fairly sturdy. Another notable thing is that it is made from highly durable materials.


This is a very powerful model that produces 41,000 BTU covering an area up to 5 square feet. The materials used are very durable and the tank used can last up to 10 hours. It also features an easy to start ignition system. It has wheels that help in easy mobility.


This is an electric heater that works by heating an infrared carbon tube to high temperatures therefore emitting heat. The model has the following features it is waterproof and can be used indoors or outdoors, the technology used can replicate the sun, it does not produce fumes or gases making it cost-effective.


This model is a good match for outdoor use and brings a nice ambiance to any outdoor table-topping set. Notable features include an auto-shutoff tilt valve and a sensor that detects when oxygen is depleted. It can raise outdoor temperatures by 10-25 degrees.


This is an infrared heater that uses electricity to warm up the patio or the area it is placed on. The design gives an aesthetic look to your space. It provides directional heating that is efficient for use both in s commercial or residential space. The model has the following features, smart control systems, a weatherproof and spectral reflector that provides excellent radiant heat output.


---
How Much Heat Do Patio Heaters Give Off?
Before you purchase a patio heater you have to consider factors such as space where you are going to put the heater, the type of patio heater, and the British Thermal Unit. So what is the BTU? This is the standard unit of measurement for heat. For a patio heater, the BTU is the amount of heat that it can produce. It is important to note that the higher the BTU the higher the heat produced.
Here is a table to guide you in purchasing the right patio heater. The units presented on the table are a tabulation of small areas but the calculations can still be used in large square areas.
| | |
| --- | --- |
| Area In Square Feet | Recommended BTU |
| 100- 150 sq. ft. | 5,000 BTU |
| 150- 250 sq. ft. | 6,000 BTU |
| 250-300 sq. ft. | 7,000 BTU |
| 300-350 sq. ft. | 8,000 BTU |
| 350-400 sq. ft. | 9,000 BTU |
| 400-450 sq. ft. | 10,000 BTU |
| 450-550 sq. ft. | 12,000 BTU |
| 550-700 sq. ft. | 14,000 BTU |
| 700-1000 sq. ft. | 18,000 BTU |
How Do I Keep My Patio Warm in the Winter?
A patio is a great place to entertain your friends and family outdoors and that should be an all-season long activity area. Chilly winter evenings or cold spring nights should never be a reason for you not to use your patio. Here are things to do during those cold days to make your patio more comfortable regardless of the budget.
Adding a Fireplace
Installing a fire pit or a fireplace in your patio can help warm-up space. Finding a fire pit is easy as there are many styles to choose from considering a model that will compliment your patio. Alternatively, you can install a custom-built fireplace that will also serve the purpose. Moreover, this will emit the desired heat as you will build one that fits your patio space.
Installing a Roof
This is without a doubt an expensive project but with more benefits in the long run. Constructing a patio cover or pergola for that matter helps contain the heat on cold nights keeping your family and friends warm and also helps you shade from direct sun. Adding light to the cover helps generate more heat while also adding more space-time use when it gets dark.
Kindly note, a cover/roof is an extension of your house while a pergola is a free-standing shade structure that is portable. Either way, both can serve the purpose depending on your needs and space.
Install Heating Lamps
They come either as electricity powered or gas-powered. This is a great addition to your patio as it helps keep the area warm. They are a common outdoor feature in places like hotels and restaurants and shopping centers. They are also very affordable.
Furniture and Textiles
Having the perfect outdoor furniture and textile for your patio makes space feel warmer and inviting. Adding color, throw pillows, floor rugs, couches, chairs, and cushions brings warmth and makes the area look friendlier.
Patio Heaters Safety and Tips
When you own a patio heater, safety should always come first. All necessary precautions should be taken into account to make sure that no accidents occur when using a heater on a patio. For commercial institutions such as hotels and restaurants, all safety procedures should be followed putting into consideration your city's fire code.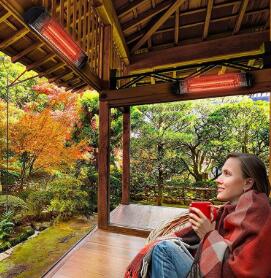 Consider the following safety precautions when using a patio heater; always use rust and leak-free tank. Check that there is no rust on the tank because this causes leakage. If you smell gas, kindly contact the fire department because if left unattended this can cause serious accidents.
Follow the manufacturer's manual on how to properly use and store your heater once you have installed it. The manual should contain clear instructions on how to handle the unit and the distance that should be there between the heater and ceiling.
For electrical heaters, always ensure that all cabling and connectivity are well fixed. Always ensure that the electrical patio heaters are put far from the reach of children and far from water.
Here are safety tips to consider when using a patio heater:
Turn off all gas valves when cleaning your heating unit
Place the heater away from flammable materials or fabric
Cover the heater with a patio cover
Remove the reflectors during storage
Move the patio heater to a protected area when extreme weather approaches
Final Thoughts
Patio heaters are arguably a great addition to your patio more especially if you are a person who spends a lot of time outdoors with friends or family. With proper considerations, you are sure to get a model that will serve you well in all seasons. The bigger your space the more heat you require to warm up space.