The best infrared heater for patios is the type of heater that emits heat in the form of electromagnetic radiation. Not as bad as it sounds, it basically saying it is making invisible light rays, like the sun, that heat what ever they hit. Further, the radiated heat warms the targeted objects directly without interfering with the surrounding air. Some infrared heaters glow, and others don't; some produce heat of high output levels as others produce gentle heating.
Weather is typically an issue with electric devises, but many electric heaters can withstand rains and winds while other types of infrared heaters should be covered and stored indoors.
What Is the Best Infrared Heater for Patio?
What Should You Know About Infrared Patio Heaters?
The infrared heaters that produce electromagnetic radiations comprise of waves with a frequency between 430THz and 300GHz. It is basically light we can't see. Most radiated heat that is given off by central heat radiators, towel rails, electric radiators, under floors heating system and wood-burning stoves are given off as infrared heat.
Infrared heaters are ideal for patios, open living rooms, family rooms, insulated garages, and in verandas. This is why we look at them for our patio and pavilion heat source.
Comparing the Best Infrared Patio Heaters on the Market
How Good Are Electric Infrared Patio Heaters?
The infrared patio heaters are essential as they keep the patio warm and cozy while not blocking use area with a stand. The use of the electric infrared heater helps with saving heat energy and adds warmth to other spaces most used. The electric infrared patio heaters are more energy efficient than any other type of space heater. The heat produced is 100% the energy used; this makes it efficient, however cost effective will be based on your electric supplier per kW cost.
Warming the target area & objects
Not like other types of heaters that heat air as well, an infrared patio heater does not heat the air.  It is designed to emit infrared radiations that only warms what it touches. Think sunlight on your face on a sunny Winter day, or a real wood campfire on a chilly night.
The targeted object, typically human beings or a table area per se, are  targeted so they feel warmth that the infrared rays are directed to and touch.
There is a calming natural feeling of well being when being warmed by the infrared heat patio heater (same kind of heat from a camp fire). It may be leftover from our Cavemen days?
Safe and friendly in use
The infrared patio heater does not move large amounts of air volume around.  This makes it not dry out the air or move dust particles around as compared to say a forced-air heater. They are also  considered safe and friendly types of space heaters for their heating coils cannot become ultra-hot, unlike other heating types.
More efficient
The infrared patio heaters are more efficient as its heat depends partly on the way the unit is designed, engineered, and fabricated.  Ironically, Thomas Edison's original electric light bulb was an ingenious invention, however most of the energy that went into making the light came out as radiant heat. The bulb was making light you could not see. This was great in the Winter, it helped heat the house.
So, in essence an electric infrared heater is a light bulb that only gives off invisible infrared light and therefore heat.
How Does The Infrared Patio Heater work?
The an infrared patio heater is working correctly it will give the energy used off as infrared heat that is efficient and gives instant warmth. The sun gives of a bunch of light rays, from infrared to ultra-violet. In between is the visible light.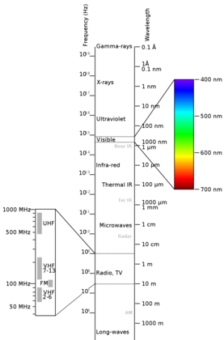 The infrared patio heater typically operates in a far-infrared spectrum when tuned between 9 to 14µm-(micron meters). The narrow range will produce heat like that of the sun with no harm to the body. The heat generated is by electromagnetic waves that cause molecules to move in an oscillating manner hence releasing heat energy that gives warmth.
What You Should Focus on When Buying an Outdoor Infrared Patio Heater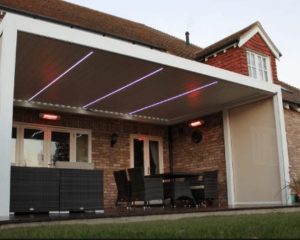 Prices of Electric Infrared Heaters for Outdoors
The high price tag doesn't guarantee good quality when it comes to infrared patio heaters; prices fluctuate over time brought about by levels of demand. For example, the electric patio heater can be about $ 50 for small portable ones and $ 1,200 for large gas powered units. You have to look for useful features, heating technology as it differs in different models, how was it constructed and you have to compare the heaters in place to get the best value for your budget.
This article should help you size your patio Infrared heater: How To Size Your Infrared Patio Heater
Cost-Savings Over Other Styles
For electric, do you have an outlet close by? The average outlet handles 15A (amps).  Depending on your voltage 110VAC to 120VAC, the average electric infrared heater is 1500W, which is 14 amps at 110V and 12.5A at 120v.  Distance is another factor, how far are you from the breaker box with your heater.
With that said, electric will be the most efficient, always available (if you paid the bill) for smaller areas.  Plus, they are cheaper per unit, say if you have a table area, and a sitting area too far apart for a bigger Propane patio heater.  The two 1500W electric heaters will cover the areas better than one standing propane heater, and two electric are about the same cost as a standing propane heater.
Now, if you are running 2 1500W electric infrared heaters on high, that will be 3000W and would require a 30A circuit, which would be 10 gauge wire.  Most electrical lines are 12 gauge wire.  You can however, run one on high and one on medium and more than likely fall within the 20 amp breaker circuit.
Quality of Craftmanship and Heat Output
Infrared patio heaters that are electric and of high quality will give the best results and will serve for an extended period. Price alone is not a judge of quality, a good thing to look for for the longevity of your heater is ability to replace the bulbs, or elements. If they sell replacement elements, it means they are in business for the long term. Of coarse, that is if they are still good reviews.
Flexibility and Appearance
What is your plan here? If you are roof mounting, appearance is your main concern after performance. If you are getting a movable, or stand mount heater, the how easy is it to move and store?
Appearance is hard, they are mostly the same, however there are a few that offer a cleaner look and will blend with your setting environment better, like perhaps a white one?
Do You Need a Natural Gas Infrared Patio Heater?
A natural gas infrared patio heater is a great addition to your patio if you have easy access to your natural gas line. It provides plenty of warmth in a patio or gazebo with open ventilated. The natural gas infrared heater provides heat quickly, and the efficient for either for large parties, pergola, and patios. They as well offer immense heating for very large rooms or outdoor decks.
The downfall can be the heat output.  They tend to produce more heat and if ceiling mounted can create an uncomfortable area only 8 feet (2.5m) over your head. A good size for close heating would be 10,000 BTUs plus or minus.
The use of a natural gas infrared patio heater provides a better quantity of heat;
This comes as there is full burning of the natural gas and offers an very ample amount of heat compared with the electric patio heaters.
The natural gas infrared patio heater has a stylish design features.
The sleek exteriors blend excellently with the outdoor or patio décor hence making the conditions loving and appealing.
However, there are a few disadvantages that a natural gas infrared patio heater has and are as follows:
The installation typically needs to be a professional for its safety and to safeguard products from accidents related to burning and leaks.
It has a fixed amount of heat, and mostly they are mounted to the wall hence providing a permanent setup.
It will not work correctly in a poorly ventilated patio or a room; hence is selective and constrained by space and air movement.
When igniting it, you have to turn it on and off directly on the heater on most brands which can be challenging.
The Advantages of an Overhead Radiant Infrared Gas Patio Heater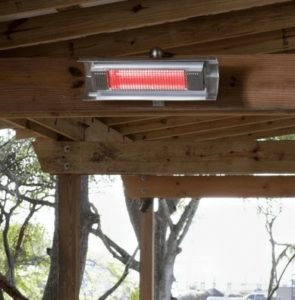 1. Silent operation;
The overhead infrared gas patio heater does not have a fan and is, therefore, operating silently hence making it ideal for quiet environments and creates a serene ambiance.
2. Friendly to the environment;
The overhead radiant infrared gas patio heaters are very eco-friendly as there is full combustion of the gas, and natural gas produces less to no environment harming gas.
3. Safe heat;
Infrared is a safe form of the electromagnetic spectrum, like the visible light is not harmful, infrared is a form of light we can't see.  It is when the wavelengths get longer than infrared, or shorter than the visible light spectrum harm can be had.
4. Cost-effectiveness;
This type of infrared heater is warms specific areas and objects in place rather than the air; this saves energy from being wasted, well especially when heating the outside.
5. No maintenance;
After the overhead radiant infrared gas patio heater has been installed, there are no other costs of support needed as there will be no moving its parts or lubrication that you have to be worried about. unlike an electric infrared heater that does have the element that can wear out.
6. Uniform heat.
The heat is always there as long as it is on. Not like heating the air that has on and off cycles or periods of warm and cool feelings in the air. Infrared heat is like being in sunshine in a chilly spring or fall day, with no clouds in the sky. as long as the heater is on there is a steady heat. You can also feel the heat radiating back off of objects that help you feel warm.  Like say a table with a glass top, if the infrared waves were reaching the glass, the glass will warm and radiate the heat off too.
Top 10 Best Infrared Heater for Patio Reviews
This can be a DR-238, and it can use servers indoors and outdoors hence providing maximum comfort for your winter activities wherever you are.
It has the following suitable features;-This system is ideal for both outdoor and indoor installation and produces clean, odorless, and instant infrared heat between 900w to 1500w.
The system can be mounted on the wall or in the ceiling and has a remote control and can be easily being operated. The aluminum material makes it durable and suitable for all weather conditions.

This infrared patio heater is designed to filter out strong light radiations, and one will not feel a glare during its use. It is as well made in a way that the electric infrared heater will avoid drying up your skin as a result of prolonged radiation. Its radiations are friendly and protect the moisture in your body has it warms healthily.
The infrared patio heater uses a carbon fiber tube for heating, unlike other types of heaters. This gives a comfort one needs when heating, and it saves 40% to 60% of the energy used hence cutting on bill costs. It works efficiently and very fast, one can quickly get heated in a second. As well it is easy to install and is lightweight.
It is weighing about 4.9 lbs. And can easily be operated by use of its touch screen or by the use of remote control to do all operations without you moving.
The infrared patio heater has a safe timing and can be adjusted by the use of power level. You need not worry about your infrared heater when you are asleep, as to meet your needs, there are power output and low power output that you can choose for this radiant heater. This will make you feel more comfortable when using it, and it saves your energy bills.

this produces a high level of heat within a short time, enabling one to warm up a large room, patio, or inefficient garage way during cold weather. It is as well suitable for commercial outdoors spaces, i.e., studio, balconies, backyards, outdoor bars, and restaurants.
It has three adjustment levels, that is 500w, 1000w, and 1500w modes. The three levels give different space and temperature that will suit your needs and desires and contains timing that can run in a period of 24 hours. This is to provide you with a good sleep during the night as it can turn itself on and off as per your timing.
This is fast and easy to install as it comes with 4 brackets and fasteners and with a simplified procedure of mounting it on the wall and is made of aluminum materials that allow it to withstand water, and it is dustproof. It can serve both indoors and outdoors purposes hence meeting most needs.
It comes with an overheat protector in it as it can turn off automatically hence protecting your electrical safety.

This heater works in a unique way as it reflects the sun's UV rays and it does not produce any odor, fumes or chemicals that may have a negative effect on the human.
It is also made of waterproof materials, freeing it from unfavorable weather conditions. It provides instant heat all around and at a faster rate because of the carbon fiber tube that emits heat.
It is well covered with an aluminum reflector which is stainless steel and with a switch to turn it on and off.

This can work indoors and outdoors and is mostly mounted on walls to bring warmth and comfortable feeling hence improving the quality of life. It is built by the use of a carbon fiber heating tube, making it heat very fast.
It has adjustment levels that are 500w, 1000w and 1500w modes. The three levels give different space and temperature that will suit your needs and desires.
It comes with a remote control which you can adjust the modes, power, and timer from a distance and contain an apparent screen that is easy to read instructions and tunings. Gases emitted from this heater have no harm to humans as they emit odors that will make you feel at ease.
It is made of aluminum covering hence making it more durable, and installing it is very easy as it comes with four brackets and detailed instructions on how to mount it.

This contains an infrared carbon tube that is used for heating at a high rate hence providing heat efficiently and is waterproof. This heater is made of technology that can replicate rays from the sun as the rays are well filtered as not to cause harm to your skin.
The heater does not produce any odors, fumes, or chemicals, and it warms the object in place rather than warming the surrounding air hence making it cost-effective.

This is waterproof and can withstand all weather conditions and it has an LCD display making it more attractive in the room. It reflects heat more comfortably hence warming the objects, and it does not produce any fumes, odors, or chemicals.
It is fast and easy to install as it comes with 4 brackets and fasteners and with a simplified procedure of mounting it on the wall.

This is safer as it contains a switch that can be turned on when mounted to a heat storm accessory or on the wall. This can't be mounted on the ceiling.
It provides instant heat in just a second and is well protected against rains and dust. Its portability makes it be fully adjusted to 6.5 inches and can suit most of your needs and contains codes that are ideal for patios, workshops, balconies, garages, etc.

This heater is well protected with a glass covering, mounted on an offset pole, and is 1500watt infrared heat provider. Its operation costs about 1/10th of the propane heating systems making it to be cost-effective.
The infrared heater is waterproof and can withstand any weather conditions as its body is made of aluminum and measure 22 by 33 by 87 inches and weigh 55 pounds hence diving its maximum stability. Therefore, it is safer on its stand.

This type of an infrared heater can both be used outdoors and indoors has 3 adjustment levels of 500w, 1000w and 1500w modes.
The three levels give different space and temperature that will suit your needs and desires. It as well produces a high level of heat, and it warms very fast, enabling one to warm up a large room, patio, or garage inefficient way during cold weather.
Assembling and operating it is very easy with the help of remote control. It is as well suitable for commercial outdoor spaces i.e., studio, balconies, backyards, outdoor bars, and restaurants. In case of breakages, it comes with a free replacement for installation or even missing parts with a one year warranty.

---
When the infrared patio heater is mounted overhead, you will only be receiving an even spread of heat all across the patio and even in the vicinity.
Our Verdict – Top 3 Best Infrared Heaters for Patio
---
You May Also Like: