There are altogether two ways of installation, one is an indoor installation, the other is outdoor installation. Indoor installation is the most common method and is frequently adopted for the residentially. In this post, you will get the top 5 best indoor gas tankless water heater reviews and also buying guides.
Now, let's start!
Top 4 Indoor Gas Tankless Water Heaters of 2021
Features of Tankless Water Heater Gas Type For Indoor Use
1. Short waiting time
According to the working principle of a gas tankless water heater, hot water needs to flow through the pipe and then you can use it for bathing or washing in the kitchen. If you install the natural gas tankless water heater outdoor, then it takes quite a long time for hot water to flow to destinations. Thus the waiting time for hot water is prolonged, and it means more cold water is wasted, your water bill will be added accordingly.
2. Long using time
When you install the tankless water heater outdoor, it is easily broken with the wind or rain unless you add a particular protection cover on it. However, indoor gas water heater absolutely reduces the matter, the machine will not be corroded by severe weather and thus the using time can be longer than outdoor gas tankless water heaters.
3. Easy installation
For indoor gas tankless water heater, the installation is quite easier than an outdoor one. And thanks to the simple design of most tankless water heaters, some of which can even be installed totally by oneself, and takes about only 2 hours to hook them up.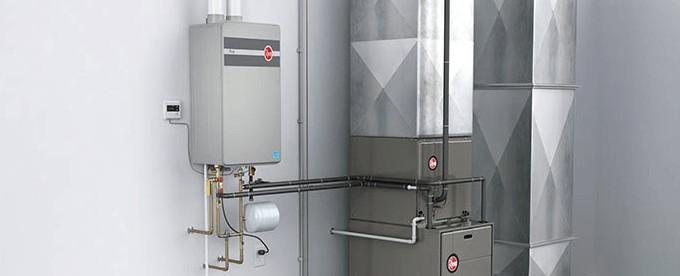 Indoor Gas Tankless Water Heaters Vs. Indoor Electric Heaters
When comparing the two heaters, it is hard to determine which is better because one can be better in your household while not best for another. The right choice will depend on the needs of your household, the capabilities of your building, the climate, and your personal preferences.
Indoor Gas Tankless Heater
You should opt for a gas heater if you are looking for a single unit to supply your home with a larger quantity of hot water at any time of the year, including the coldest months.
Pros
Gas heaters can have a higher capacity
Operating costs tend to be lower
They are expensive to purchase
Cons
Installation can be complicated and expensive
Proper venting is critical
Gas heaters pose a higher risk
Your heater will need yearly maintenance
If you run out of gas, you run out of water
Operating costs may arise in the future
Electric Tankless Water Heater
This is the best option for homeowners who have existing electric water heaters. The process of switching from electric to gas is somehow complicated and time-consuming. It's also a great choice for those who are interested in setting up the heaters immediately and are short of cash.
Pros
The initial investment is low
Installation is easy
Electric heaters meet any space requirements
Maintenance is minimal
Problems are easy to fix
Electric heaters have a higher thermal efficiency
You lower your carbon footprint
They only use power when running
Cons
You may need a high amount of power
Flow capacity is lower
You'll have no hot water in a power outage
Which Is the Best Option?
I would go for gas tankless heaters because they have lower operational costs and are cheaper than electric heaters. Also, they are better at warming up larger spaces.
How to Choose Best Indoor Gas Tankless Water Heater
Gas tankless water heater adopts natural gas as its main power source, therefore, there needs to be a venting system for safety. Not only for the venting, but there are also many other things you need to consider in choosing and buying the best indoor gas tankless water heater,
here we will give you some tips on choosing:
1. Venting
As we have said, venting kits are the most important factor you need to consider. For some indoor gas tankless water heaters, the venting method is special and needs to be bought along with the machine. Besides, most residential 1/2 inch PVC pipe may not suitable for the venting kits, and they may require 3/4 inch ones. In order to reduce installation and using costs as much as possible, you should ask the manufacturer clearly about the venting requirements before buying.
2. Installation place
Some of the indoor gas tankless water heaters is a point of use types, while others may be the whole house types. Before buying, you need to make sure where you intend to install it, and if you want to get a whole home gas tankless water heater, or just want to install a small one for kitchen sink use.
3. Size
Though compared with tank water heaters, the tankless gas indoor water heater is much smaller. But the size of them still differs a lot. If you want a whole-home tankless gas water heater, you may need a large size one. And for kitchen faucet only, portable and point of use tankless water heater may be more suitable.
4. Flow rate
The flow rate of each tankless water heater gas indoor can be various a lot, ranging from 3 GPM to perhaps 13 GPM. Mostly for residential tankless water heaters, the flow rate from 6-9 gallons per minute can well suit multiple bathrooms use. So thinking about the actual flow rate you need before buying and choose the most suitable one.
Best Indoor Gas Tankless Water Heaters Reviews
There are many types of indoor gas tankless water heaters on the market of 2020. According to the usage, they can be divided into residential use, commercial use, point of use type, and whole-house type. We have made reviews for each of which mentioned above, you can check them out freely if you have an interest.
After making a detailed comparison, we finally picked the following 6 types and made the best indoor gas tankless water heaters reviews for you:
Features:
Adopting stainless steel condensing heating exchanger, you will find this indoor gas tankless water heater saves much energy, leading to the reduction of energy costs. Compared with conventional heaters, it saves around 94% of the costs.
It comes with intelligent electronic controls to auto-shutoff when the temperature reaches the maximum levels, and make sure to bring constant hot water for you in bathing or washing dishes.
The large demands allow you to use it in a large home, perhaps with 3 or 4 family members. By using the EZ-Link cable, you can also connect the two units together to meet your demands on commercial use such as in the restaurant or in the hotel.
Pros:
Freeze protection
High altitude
Perfect for commercial and residential use
Direct vent
Low NOx design
Cons:
A bit expensive

---
Features:
The flow rate range of the unit is 11 gallons per minute, which is really a high capacity indoor tankless gas water heater. It supports three bathroom and kitchen faucets in warm areas and two bathrooms in cold areas.
Circ-Logic technology is equipped for a smart setting, allowing you to set recirculation patterns so that you can use hot water based on your customized habits.
The compact shape spares you a lot of space in your bathroom, estimating around 16 sq. foot. Be small as a tiny suitcase, it brings no much pressure for a tiny home or apartment use.
The average life reaches 20 years, much longer than traditional tank water heaters. All the components are in premium quality in assuring the sustainable excellent performance.
Pros:
Highly energy efficient
Endless hot water
Can be used for high altitude
 Multiple power choice
Simple operation
Cons:
Indoor installation only

---
Features:
Like Noritz indoor tankless gas water heater, the flow rate of this unit is also up to 9.8 gallons per minute, which can be used perfectly for whole-home use and is the best choice for a large family or middle size family use.
For venting kits, it gives two options for you. One is concentric PVC while the other is a twin-pipe. You can choose one that fits your home best.
The thermal rating of the unit reaches as high as 0.95, which is really a high energy efficient natural gas tankless water heater. It means nearly all-natural gas is used without waste.
Pros:
Commercial & residential use both
Quiet working condition
Endless hot water supply
Perfect for whole-home use
Smart digital control panel
Cons:
Need to get professional for installation

---
Features:
Compared with most of the recommended indoor gas tankless water heaters above, this unit has a relatively low flow rate, reaching only 8 gallons per minute, but it is still able to support multiple bathrooms and kitchen faucets use simultaneously.
The temperature range of it is between 99 to 140 degrees F, which suits the need for residential and even commercial use perfectly. But there are only 4 temperature settings that are available. With the remote control, the maximum temperature reaches even more than 167 degrees F.
With the self-diagnostic system, the heater is able to protect itself. When it attains too much heat, the light shows off and it stops working automatically.
Pros:
Large power consumption
Both indoor and outdoor installation
Smart internal freeze protection
Remote temperature control
Commercial use available
Cons:
You need to buy an extra remote controller for remote control system

---
Features:
This unit is a small flow rate of indoor gas tankless water heater, it is perfect for small or tiny home use. Able to support one bathroom and one kitchen faucet at the same time.
As a natural gas tankless water heater, the heating time is pretty fast. And it takes about only 5 seconds for hot water to flow, which saves much cold water and also saves a large number of water bills for you.
There are clear and easily operated digital control, water temperature shows on for you to adjust. And two buttons are set for adjusting both gas and water temperatures.
Pros:
Easy installation
Perfect for tiny or small house use
Short waiting time for hot water
Easy to operate
Compact shape
Cons:
Hard to get temperature accurately that you want

---
Features:
Among all the recommended best residential tankless gas water heater, this is the largest one on flow rate. It is capable of supporting 4 bathrooms and multiple kitchen faucets at the same time. And it can also be used for a commercial tankless heater.
The energy efficiency of the unit reaches 0.96, and the maximum input is 199900 BTU per hour. It helps to save a large amount of money on heating bills for you.
As one of the modern tankless water heaters, this is designed with the preheating system, it can smartly preheat for you if you use the hot water in regular time each day, and hot water maintains for a long period of time.
Pros:
Ultra condensing efficiency
Endless hot water supply
Digital control panel
Smart design
High energy efficient
Cons:
A bit large in size compared with other types

The above six best indoor gas tankless water heaters are all in excellent working performance, you can check the prices on Amazon if you have an interest.
---
Why Is Venting Important for Indoor Gas Tankless Water Heaters?
In the current digital world, machines are used in almost every aspect of life. Their ability to make work easier not only makes them an essential component but also helpful. Among some of these gadgets are indoor gas tankless water heaters and are vented in the following ways.
Power vent units use indoor air for combustion and simply vent the exhaust to the outside. You can place them in small rooms because they use air from outside. On the other hand, the air is pulled from outside in direct venting, meaning they have two vents (exhaust and intake). And you have to place them in a large, well-ventilated room to combust effectively.
Can Outdoor Heaters Be Used for Indoor Tankless Water Heaters?
An indoor tankless water heater is installed inside your home. And an outdoor unit is installed outside the home and is designed to withstand the climate elements. If you live in a climate where temperatures drop below freezing, you must always be sure to take precautions to avoid freeze damage such as draining the unit.
When deciding to either use an indoor or outdoor tankless heater, you should consider the home itself. Existing houses may benefit from an outdoor model, as there are not as many adjustments needed for the plumbing, and you likely will not need to make changes to your house for venting.
You should also know the space the unit will need before installing heaters, unlike outdoor units, indoor need space to accommodate the heaters, and vent installation. While with outdoor heaters, you don't need space.
Both indoor and outdoor water heaters are better choices compared to conventional heaters, owing to the fact that the former are extremely energy efficient. If you live in a secure environment, you should buy an outdoor heater. You should also consider the risk of vandalism when installing heaters. Outdoor heaters can be easily destroyed or stolen, unlike indoor heaters.
The Flow Rate of Indoor Installation Gas Tankless Water Heater
You can measure the heater's flow rate by GPM. Although most homes use water heaters will flow rates around 4 to 5 gallons per minute, households in northern climates should choose a model with a flow rate of 6.5 to 8.5 gallons per minute.
Safety Issues on Indoor Gas Tankless Water Heaters
Hire a professional to install and service your heater once each year. Also, ensure that you observe all the safety measures when using the heater. Go through the manual carefully to avoid some mistakes, and familiarize yourself with carbon monoxide's symptoms, which come about when the gas heater is faulty. If your heater is outdated, consider replacing it with a new one.
How to Keep Your Water Heater Safe
Monitor and maintain the right combustion.
Monitors in the heater regulate the temperatures to ensure it is safe.
They have Hi-Limit switch that can disengages gas valves if water temperature exceeds its normal rate
They have a freezing protection system that prevents the exchanger from falling below a certain temperature and reduces the chances of freeze damage.
They are built with an overheat cut off the fuse to help protect your water heater if there is a breach in the heat exchanger.
The Installation Costs on the Indoor Gas Tankless Water Heater
Water heaters are an integral part of the plumbing systems in residential homes and commercial buildings. Increasingly, consumers are turning to tankless water heaters for their many benefits. They are known to heat the only water you are using at the moment rather than heating and storing it continuously.
There are two basic ways you can use one. Single point units are installed close to the water source and are fairly inexpensive to purchase and install. While whole house units are more costly but will heat all the water in your house.
The average cost for installing a tankless water heater is around$3,500-$4,500, with the average customer paying $4,000 for a gas whole house unit.
Tankless Water Heater Installation Costs
National average cost – $4,000
Average range – $3,500 – $4,500
Minimum cost – $1,500
Maximum cost – $6,000
How to Install Tankless Water Heaters Indoors
To successfully install the heater, connect the gas and water lines, and install a flue. For those who would prefer installing the heater by themselves, they should make sure that it's off, and know how to cut and fit pipes properly.
Here are several important components to consider when installing a gas tankless water heater:
Do you have the correct gas connection coming into my house? Also, do you have enough gas power to run the tankless water heater you purchase? If you contact your local gas company or installation professional, they can determine whether you have enough gas coming into your house to power a tankless water heater.
Do you have the right ventilation? The heaters vent horizontally, vertically, and some vent through both ways. You will want to know what options you have for venting before making the decision on which gas tankless water heater is right for you.
Maintenance of Indoor Gas Tankless Water Heaters
When used for a long time, the heating chamber erodes as a result of the build-up in minerals. So, you need to get rid of the mineral deposits one or two times a year. Below are some steps you need to take to ensure the heater is well maintained:
Turn off the power source
Turn off the water valves. They are attached to your tankless heater
Remove the valve caps strategically and perpendicularly
Attach the hosing lines to each of the three valves
Use around 10 liters of white vinegar, undiluted, to clean. Avoid using chemical solutions
Flush and drain following the manual
Close the valve again
Separate the hosing lines and the water valves
Replace the valve caps onto the purge valve
Locate the filter, remove it, and clean out the housing and inside screen by running it under tap water. Then replace the filter.
Refer to the manual on safely restarting the water heater
Slowly turn on the hot water tap in your skin so air passes through the pipe.
 Top 3  Best Indoor Gas Tankless Water Heaters

If you still have any other trouble in choosing the best indoor gas tankless water heater or want to get more detailed information on products, please feel free to contact us or to check on Amazon directly.
---