The outdoor tankless water heater is the heating machine that needs to be installed outdoor, it saves the space of home especially for small studios.
Facing so many brands and types of outdoor tankless water heater brands and specifications, there are some tips on choosing the most suitable one and the best outdoor tankless water heaters.
Therefore, we made the best outdoor tankless water heater review for you as follow:
What Is the Best Outdoor Tankless Water Heater on the Market?
Why Outdoor Tankless Water Heater?
1. Needs no venting facilities
As an outdoor tankless water heater, no matter for the propane or for the gas tankless water heaters, there is no need to install venting facilities, wasted gas can be let out directly to the air. Thus it saves a lot of money in purchasing and installing a ventilation device and is much safer.
2. Space Saver
Exterior tankless water heater is able to save a large amount of space for you, it is installed outside the wall of the bathroom or kitchen, so even with a small home, you can still get one for convenience using.
3. Save money
Purchasing the venting facilities needs a large sum of money, and installing costs of it is also a big deal. With an outdoor tankless water heater, you need only to install the heating machine, so it is able to save a lot of money for you.
Top 6 Best Outdoor Tankless Water Heaters
Best Outdoor Tankless Water Heaters Reviews
Features:
The flow rate of this unit reaches as high as 9.5 gallons per minute, it is able to support three bathrooms use in the southern part and two bathrooms in the northern parts. Once heated up, it is able to support endless hot water for you.
The thermal efficiency of this machine reaches as high as 94%, which means only a few energy is wasted in the using process. Thus more energy is saved and much money on heating costs is also saved to a large extent.
Once you download its app on your smartphone, you are able to control the water temperature remotely on your phone. This is realized all by the EcoNet smart home technology.
Pros:
Stainless steel heat exchanger
Available in both propane and natural gas
Compact
Standard ten-year warranty
Outdoor use, require no ventilation (both for indoor and outdoor installation)
EcoNet smart home technology to remote control via the app
Cons:
High installation cost

---
Features:
6.6 gallons per minute water flow enables the unit to support multiple bathrooms and kitchen faucets at the same time. Even when you use hot water in multiple places, there will be no decrease in flow and temperature.
It can be installed by oneself easily, 1 or 2-inch gas line is compatible enough so there is no need on buying extra 3/4 inch line. It has also got certification for installation in Manufactured or Mobile Homes.
The remote thermostat is equipped to adjust the temperature so that you are able to turn on your heater and adjust the water temperature inside your house straightly. Enhanced scale detection lessens the possibility of damage to the unit. Thus the service life of the unit is quite long.
Pros:
No fabrics
0.82 energy factor
Temperature lock equipped
Large power
Small compact shape
No working noise
Low NOx design
Cons:
Water gets cold again when you turn the tap off

---
Features:
8.4 gallons per minute flow rate enables you to get a large amount of hot water in bathing or doing laundry. It supports two bathroom and multiple kitchens sink at the same time.
The waiting time for hot water is quite short takes only for few seconds for hot water flowing out of the pipe. But of course the nearer you install the unit, the faster it gets.
It is designed to be compact and small, occupying little space of yours. The outdoor installation enables it to be free from venting. It is remote control available, but you need to get an extra controller.
Pros:
Endless hot water supply
Hot water flows out fast
Suitable for big homes and families
Compact shape
Lightweight
Cons:
Better to get a professional to help hook it up

---
Features:
This outdoor tankless water heater is able to meet the demand of two bathrooms use simultaneously, therefore, you can use it for small or middle-sized family. It is able to support constantly hot water for you.
Gas power input of the machine reaches 140000 BTU per hour, 0.83 energy-efficient rating saves much money on heating costs per month for you. It is natural gas and propane available both.
As it is installed outdoor, there is a digital remote control for you to turn on and off the unit inside the house. It demands minimal maintenance and the maximum temperature reaches 150 degrees F.
Pros:
Compact size
Natural gas and propane available both
Large power
Energy efficient
Easy installation
Cons:
The working noise of the machine is a bit loud

---
Features:
The flow rate of the unit is only 1.32 gallons per minute, only able to support one bathroom or sink use, thus it is not designed for whole-home use, but is a perfect one for camping and for traveling.
It has a low water pressure requirement, needs only 2.5 PSI, and is able to support constantly hot water for you. The maximum temperature rise is 114.8 degrees F and the minimum one is 46.4 degrees F, so it is wonderful for camping shower.
Anti frozen protection is equipped together with tinning copper water tank, making it highly heat resistance and anti-corrosion. Two buttons are set, one for gas control while the other is for water flow control, you can turn it on and off quickly for controlling water flow starts and stops.
Pros:
Low water pressure required
Anti frozen protection
Anti-corrosion
Perfect for camping shower
Stainless steel burner
Easy operation and easy installation
Cons:
Cannot be used for whole home
Difficult to adjust the exact temperature you want

---
Features:
This unit is able to supply constantly hot water for you for a long time shower, it can even support 24 hours shower. The water temperature always stays the same without dropping even when you use it elsewhere.
The water flow of the unit reaches as high as 9.4 gallons per minute, which means it is able to support 3 or 4 bathrooms in warm regions and 2 bathrooms in cold regions. The temperature range of residential is between 98 to 140 degrees F, if, for commercial use, the maximum temperature reaches 185 degrees F with the commercial controller.
It is Wi-Fi enabled, anywhere if you connected with it, you can control it with an easily operated touchpad and a digital display to control water temperature.
Pros:
Large power range (9900-199000 BTU per hour)
83% thermal efficiency
Computer remote control
Wi-Fi enabled
Easy installation, you can install it all by yourself
Quiet working condition
Cons:
It takes a long time for hot water

---
Indoor vs Outdoor Tankless Water Heater
Indoor tankless water heater and outdoor tankless water heater are two major installation methods, some of the machines are both methods available, while some are designed to a specific one. Here we made a comparison between the two installation ways:
1. Installation spots
Installation methods of indoor tankless water heater are more flexible, you can either get it hooked up on bathroom wall, kitchen wall, or under water sink, for whole-home types, you can also install it anywhere that is convenient.
But for outdoor tankless water heater, especially when it is used for home, it is suggested to be installed on the outside wall of your bathroom or kitchen for the short waiting time of hot water. Of course, if you intend to use it as a travel heater, then the installation spots are more flexible than the indoor type.
2. Waiting time
The waiting time for hot water is determined by the distance between the machine and tap, the nearer you install the unit, the shorter waiting time is. Therefore, no matter for indoor or tankless water heater outside, there is no big difference.
3. Installation difficulty & Costs
Installation difficulty of the two types is nearly the same, for it is mainly decided by the design of the machine but not for installation spots. However, in terms of costs, there is a big difference. For external tankless water heater, it needs to get enclosure or protection cover outside to prevent the machine from long term damage by complicated weather outside.
4. Service life
The outdoor conditions are complicated, rain, sunshine, and wind will all do harm influence on the heating machine. Therefore, compared with indoor tankless water heater, the service life of outdoor type may be a bit shorter, unless you protect it well enough.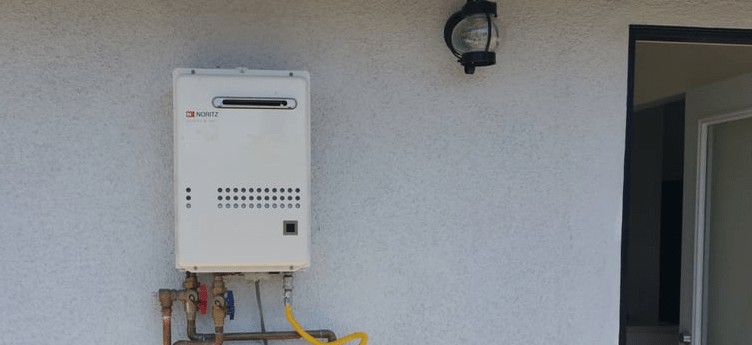 Types Of Outdoor Tankless Water Heater
Outdoor tankless water heaters can be divided into several different types based on its power source and applications.
By power source:
1. Outdoor electric tankless water heater
Outdoor electric tankless water heater normally refers to those used for traveling or camping. It is more convenient in installing and using, supporting endless hot water for you when traveling outside. The low flow rate and lower power demands make it a good helper for you.
We have picked several best outdoor electric tankless water heaters and made a detailed review for you, please check out freely if you have an interest. Or you can get more information through Amazon directly.
2. Outdoor propane tankless water heater
Propane tankless water heater and gas tankless water heater are quite familiar, both of them need ventilation facilities, but the clean power source makes propane type an environmentally friendly type. If you lack a pipeline or do not want to get an extra gas line, you can consider the outdoor propane tankless water heater. For more information on it, please come to the best outdoor propane tankless water heater reviews.
3. Outdoor tankless gas water heater
The outdoor tankless gas water heater is the most powerful among the three power source machine. It is normally used for the whole home, large flow rate and high energy-efficient performance makes it more and more popular on tankless water heater markets. If you are interested in the item, just get to the best outdoor tankless gas water heater reviews we made for you.
By Applications:
1. For home use
Outdoor tankless water heater for residential use is mostly installed on the outside wall of the bathroom, the flow rate of it is normally large enough to meet the demand of one bathroom and one kitchen faucet use at least. It is quite powerful to support constantly hot water for showering.
2. For travel use
If used for travel or for RV, it is normally designed as portable types. The small compact shape along with the low flow rate and water pressure-demand is suitable to be used anywhere you want in traveling. There are many best tankless water heaters for an outdoor shower on the market, you need to get the one with stable temperature and water flow.
Buying Guides On Outdoor Tankless Water Heater
When facing so many outdoor tankless water heaters brands on the market of 2020, there are many factors you need to consider:
1. Your home location
Water temperature and flow rate range will change according to the exterior weather and temperature. Most of the outdoor tankless water heaters reach standard range only when they are used in warm places, but for cold areas, the flow rate will drop 2-3 GPM. Therefore, if you live somewhere cold, you should consider the weather and choose a suitable range. And the selected water heater needs to get freeze protection for long term outdoor use.
2. Flow rate
Before buying, you should know how much flow rate you need on water heaters. Estimate the average water flow demanded in your home per day and compare it with product range, then you will know which exactly suits you most.
3. Power source
There are three types of outdoor tankless water heaters, including electric, propane, and gas. Each of them has different performance and installation requirements, if you have trouble selecting, you may get more information from the comparison we made among the three types of heating machines.
4. Size
As we introduced before, outdoor tankless water heaters are mainly used for both residential use and travel use. For residential use, the size of which is depended on your home size. But for travel use, you had better get a small and light-weighted one, or it will be a big burden on your way to travel.
5. Safety
Safety is a major consideration, the heating machine must be qualified and designed with an excellent quality level. For some high technological tankless water heaters, there are also many self-protection functions to turn the machine off automatically when in danger.
6. Smart functions
Anti-frozen, anti-corrosion, and Wi-Fi enabled remote control, there are more smart functions as listed. Some of them may be a good helper for you but some may get no meaning at all. Facing the smart functions, you should figure out whether you need it and then choose according to your basic needs.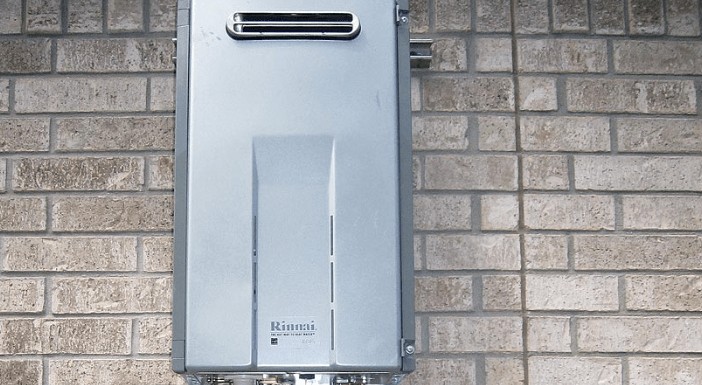 The Best Outdoor Tankless Water Heaters
Other Tips on Purchasing An Outdoor Tankless Water Heater
Tankless water heaters play an important role in creating a more energy-efficient. The truth is that these appliances help save money in the long-term. However, the initial costs are quite higher as compared to tank models. According to the US Department of energy, it estimated that they help save up $108 in energy costs over their regular tank counterparts. Remember that these systems do not have to re-heat water again, but rather provide on-demand hot water.
The followings are some other factors you should consider in buying!
Price
You need to take into account your budget. When you set a budget, you can narrow down the options you have. Remember that tankless heaters are more expensive as compared to their tank counterparts. Also, consider the installation cost.
British thermal units
There is a need to know the amount of BTUs of your appliance. This will help you determine whether it can get hot enough to handle your needs. You should note that a single gallon is equivalent to 8.3 BTUs.
Warranty
This is another vital thing to consider. Ensure you get a tankless water heater with a warranty for several years. It is crucial to have a warranty for the technical parts. That is because you can never tell when something will stop working. In this case, getting a free repair service can be of great help.
Compatibility
This means you ought to ensure that the heater fits perfectly with the pipes of the house. With a compatible system, you can reduce your expenses as much as possible.
Reliability
The reliability of the system should be the main concern. You do not want to purchase a system that is not reliable, as it will be a waste of money. Moreover, you do not want to buy a new water heater every winter season. A water heater that does not mess with your plumbing system tends to last long.
Material
There is a need to consider the materials used to make your water heater. That is because it's the materials that will be exposed to harsh weather conditions. Ideally, you do not want your outdoor tankless to rust.
Features
Remember that you get what you pay for. Check for features that your unit comes with. Consider all the features, and you will have an idea of what your heater can do.
Outdoor Tankless Water Heater Costs
For each different types, outdoor tankless water heater prices can differ a lot, the portable or travel use outdoor types are far cheaper than residential types. But the service life of it can be quite short. Large flow heater used for home is designed more delicate, no matter for the working performance or for the service life, it is more reliable and more cost-effective for long term use.
Apart from purchasing price, you should also consider the using costs, getting a high energy efficient one is helpful in saving a large sum of money for heating bills. And you need to get protection covers for it when installing outside.
For the detailed price of each product, you can get information on Amazon directly, there will always be constantly discount for each outdoor tankless water heaters, do not miss the chance of saving money.
Can You Keep the Tankless Water Heater Outside?
You should note that an indoor water heater is designed to be installed inside the home. There are also outdoor tankless water heaters that can be installed outside. Such systems are designed to withstand a lot of elements. For those installed outside, they have features meant to prevent freezing during the winter season.
How Do I Keep My Tankless Water Heater From Freezing Outside?
As you know, winter is not kind enough to the plumbing systems, particularly in the northern climates. Water heaters fall prey to the icing if appropriate precautions are not taken. The freeze damage to tankless water heaters takes the form of standing water inside the unit into ice, hence damaging internal components. The following are tips to help prevent freezing of your water heaters.
Install it in a warm place
Sometimes this may not be possible but will help prevent freezing during winter months.
Drain the water heater
You should note that standing water that collects inside the unit can freeze. As a result, the ice damages internal components. You can prevent this by draining the unit.
Consider Recirculation system
You can install this system to have hot water for on-demand use. The good thing about this system is that it allows the heater to warm your pipes continuously to prevent plumbing fixtures and lines from freezing.
How to Winterize Your Tankless Heater?
Start by shutting off the water supply on the main shut-off valve. Also, open the taps to ensure the system drains and releases pressure from the plumbing system. In addition, you need to disconnect outgoing and incoming water pipes from your tankless water heater. Also, you can remove the inlet water filter.
Can the Tankless Water Heater Run Out of Water?
You can end up with a cold shower until this happens. You should note with a tankless system; there is no supply of hot water that may be depleted. Rather, the heater heats water whenever there is a demand for it. Although the tankless system cannot run out of hot water, it is possible for it to get overwhelmed with demand.
Outdoor Tankless Water Heater Installation
1. For different types and flow rates, the installation spots are different. If it is used for a home shower, then it should be installed outside the wall of the bathroom. If you intend to get one for travel use, then the installation spots totally depend on you.
2. Get enclosure devices outside the heating machine, if not, the complicated weather such as rain and long term sunshine will do permanent damage to the machine and shorten the service life of it.
3. You should install it somewhere dry and in airy places, damp areas will easily get the machine into corrosion.
Attention:
Do not put the inflammable thing on the machine
Always use it under instructions
Check the machine regularly for safety
Stop using it immediately once it is in bad working performance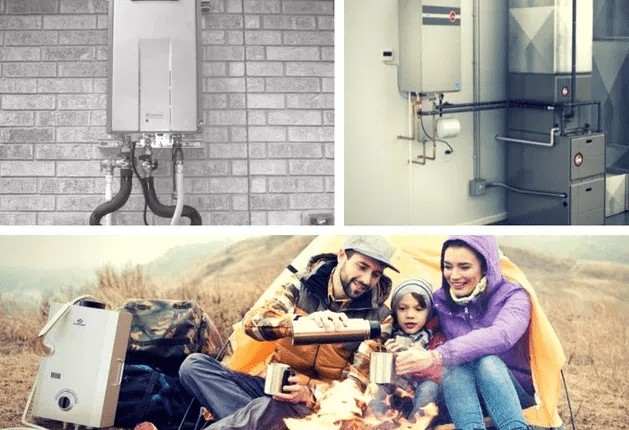 FAQ:
1. Can outdoor tankless water heater be used indoor?
Most of the outdoor tankless water heaters can also be used indoor, but for gas or propane tankless water heaters, you need to get ventilation devices to let out gas. If you are not sure about it, you can ask the manufacturer before buying.
2. Does outdoor tankless water heater need ventilation?
No, when the heating machine is installed outdoor, the gas can be let out directly through the air, therefore you do not need to install venting facilities.
Summary:
The outdoor tankless water heater is just the other way of installation method, there are many different types and applications for you to choose. But remember to always select in your budget range and meets your needs.

For more information or other best outdoor tankless water heaters, you can go to Amazon directly, there will be a more reliable service and reasonable price.
---