Takagi started its business in 1952 worldwide, until now, it has provided high-quality products to solve all sorts of hot water heater issues for over 60 years. It regards safety, quality, and service as its cornerstone for developing. To learn more about the brand, please go on reading our best Takagi tankless water heater reviews for the best pick!
About Takagi
Being a top rated tankless water heater brand, Takagi is the first one who specialized in tankless-only products in North America. It is also the first to improve the thermal efficiency of the tankless water heater to 95%. It utilizes the Air-Fuel Ratio sensor to keep the safety of working and primarily offer a "direct vent convertible" model, it is used to transfer the unit into direct vent type easily.
For a long period of time, Takagi devotes all its efforts to designing and producing high quality and safe natural gas and propane tankless water heaters.
4 Best Takagi Tankless Water Heaters of 2020
Takagi Tankless Water Heaters Features
Takagi tankless water heater condensing models are equipped with 316L stainless steel secondary heat exchanger. This feature helps in transferring heat from the burning gases in order to pre-heat the incoming water. Furthermore, stainless steel is an incredible material that makes the Takagi tankless water heater durable since they are resistant to corrosion.
Some Takagi tankless water heater comes with remote control; this helps in improving convenience. Furthermore, you can link several Takagi units together in order to have a larger volume of hot water. There are some Takagi models that are certified for elevations up to 10,100 feet, unlike 8,400, which most tankless water heaters are rated. However, Takagi tankless water heaters are not equipped with Wi-Fi.
Takagi Vs. Other Brands
Very few Takagi tankless water heaters suffer any severe mechanical problem within the first ten years, making them the most durable brand in today's market. Their rate is approximately 10%. This is an incredible tribute to Takagi's excellent design as well as quality build. The installation process is often associated with failure; therefore, you should consider having a licensed plumber with an incredible experience to install your water heater.
Takagi Tankless Water Heater Prices
Takagi tankless water heaters tend to differ significantly when it comes to rates; this is often determined by both the model and online and local sellers. However, propane Takagi tankless water heaters tend to cost more when compared to natural gas units. Furthermore, some outdoor units are a bit expensive compared to indoor units. Takagi tankless water heater price ranges from $490 to $1,225.
Takagi Tankless Water Heater Installation Cost and Factors
Installing a gas water heater will cost you approximately $1,000 to $1,500. However, this will be determined by several factors such as;
Will you require new lines
If a recirculation pipe will be installed to help in providing hot water faster at designated outlets.
How your unit will be vented and the material used for an indoor unit
If there is an existing unit that has to be uninstalled
You should note that Takagi warns that your warranty will be void when the unit is not installed professionally. Therefore, you should consider hiring a licensed contractor to help in minimizing the potential of injuring from shock, carbon monoxide leakage, or gas explosion. When installing a Takagi tankless water heater, you should consider requesting from several individuals to help you get the lowest installation price. The installation process is relatively easy; however, you should always let a professional and a licensed contractor do it for you.
Takagi Tankless Heater Repair and Maintenance
Takagi tankless water heaters have shown to be of high quality and very reliable over several years; as a result, they require little repair and maintenance. Nevertheless, some service requirements should have to be carried out at least once a year; by doing so, you will be able to ensure a trouble-free performance. Usually, it is outlined in the Service and Installation Manual, which is under Maintenance and Service.
Warranty of Takagi Tankless Water Heaters
For a residential Takagi tankless water heater, the warranty is 15 years for heat exchanger and five years for other parts other than the fuses. For commercial Takagi tankless water heater, the warranty is ten years on the heat exchanger and five years on other parts.
Types of Takagi Tankless Water Heater
Takagi is well-known for designing high-quality tankless water heaters. In addition to that, they only create gas tankless water heaters. They have two types of gas tankless water heaters for residential use; condensing and non-condensing units. In addition to that, the company produces commercial water heaters as well. When it comes to pricing, most of Takagi tankless water heater models are relatively affordable when compared to other brands out there. However, their propane units tend to be a bit expensive when compared to the natural gas models. Moreover, some of their outdoor units are a bit expensive compared to their indoor units.
Condensing tankless water heater
The condensing Takagi tankless water heater is equipped with a heat exchanger that is made of impervious materials; stainless steel is the one that is commonly used. This material helps in optimizing heat exchange that is between combusting gases and water that will be heated. In addition to that, a condense model features combusting products, and it tends to recover most of the heat energy latent.
Non-condensing tankless water heater
On the other hand, the non-condensing Takagi tankless water heater tends to utilize a single heat exchanger that heats up the water to the desired temperature. The water that flows in the heat exchanger is heated to the desired temperature by hot exhaust gases. The non-condensing tankless water heater tends to have higher temperatures than a condensing tankless water heater model, and they help reduce the risk of corrosion.
Where Are Takagi Water Heaters Made?
Originally, Takagi made their water heaters in Shizuoka, Japan. However, in 2010, the company decided to open new joints ventures with A.O Smith to help in serving the North American market. The agreement was to assist in bringing the manufacturing of water heaters to the United States. Since then, the company has met a specific volume threshold for sales in both Canada and the United States.
How Long Do Takagi Tankless Water Heater Last?
Takagi tankless water heaters have been designed to be long-lasting. All Takagi tankless water heaters have been equipped with an energy-efficient solution which makes them highly reliable and very durable. For maximum durability, Takagi tankless water heaters are made from stainless steel. Takagi models are equipped with 20 years lifespan; this is due to their perfect durability. In addition to that, they are equipped with incredible warranties which make them worth investing in.
Are Takagi Water Heaters Good?
All Takagi tankless water heaters are made of high-quality and have been designed for optimal safety, such as using an air-fuel ratio meter. The best part is that they require minimal maintenance. This makes them worth your money. Takagi is a well-known company, and they have an excellent reputation when it comes to designing durable gas tankless water heaters. Most of their models use natural gas; however, there are a few that operate on propane as well. Therefore, you will have an array of options for you to choose from.
It is highly advisable to go through customer reviews before purchasing any product, and according to Takagi tankless water heater customers review, their products are durable, and most of them are highly satisfied with their products. Most customers have reported an incredible flow rate along with high-temperature rise.
Furthermore, most individuals have claimed that Takagi's products have made an incredible difference, and they have enjoyed their products, unlike their previous old-fashioned tank water heaters. Due to these positive reviews, there is no doubt that Takagi tankless water heaters are good and they are worth your penny.
Takagi Tankless Water Heaters Reviews
Takagi tankless water heaters, especially for t-kjr2 and t-k3 series, are on hot sale on the market. Most customers would like to get Takaji products like commercial and residential units.
Here we will offer you detailed Takagi Tankless Water Heater Reviews for you to choose and buy:
This Takagi tankless water heater is powered mainly by propane, indoor installation means venting kits need to be installed.
Features:
Best tankless water heater for large homes
6.6 GPM flow rate of hot water enables it to be used for 5 multiple showers. It is able to provide constant hot water no matter the climate and season. However, when you use it in a cool region, the flow rate may drop to 3-5gpm.
Compact and lightweight size has always been a major principle of Takagi in producing heaters. Compared with traditional tank water heater, this unit is super light and can be installed anywhere you want, for it occupies only a small piece of space in the bathroom.
Takagi tankless water heaters are equipped with self-modulating devices, so does this unit, it will monitor and change the temperature so as to reduce water fluctuations.
The unit is designed simply to operate, the digital remote control is available for you to turn it on and off or to change the temperature wherever you are. But as an indoor tankless water heater, you may need to spend more upfront money in venting the propane gas to outdoor, but that is the common problem of indoor heaters.
Above 150 degrees F temperature
The maximum temperature of the tankless water heater reaches 150 degrees F, able to constantly provide hot water for you. The gas consumption is up to 140000 BTUs. But energy efficiency is only 81%, which is rather low when compared with other propane tankless water heaters.
You can install it all by yourself, the installation process is quite easy and simple. There are also detailed instructions if you have no idea how to install it safely. It takes about 1 hour to hook the unit up. And one worth mention feature is that it demands minimal maintenance after using process.
Pros:
Digital control
Constantly hot water supply
Compact and easy installation
Demand minimal maintenance
Can be used for 5 multiple showers
Easy installation
Cons:
Working noise is pretty loud
Not suitable for whole-house using

---
This unit can be used both indoor and outdoor. Unlike propane tankless water heater, it requires a gas line when installing indoor and you need to make sure it suits your home.
Features:
Both indoor and outdoor installation
Outdoor installation frees you from installing venting kits. And of course, you can also install it indoor in the bathroom for better performance. And special design of it enables you to install it both vertically or horizontally.
The maximum flow rate of the unit is 8gpm, which is relatively high. So you can enjoy constantly hot water without worrying that running out of it. It is designed for residential use and supports middle size homes. But if you connect several of each together, it can also be used commercially.
For most tankless water heaters, the water flow will drop 2-3 gallons because of cold weather. However, the hot water output of this unit is not affected by the climate at all. You can still enjoy endless hot water even in the north or cooler regions.
The power consumption range of the unit is between 11000 to 190000 BTUs per hour, which is quite efficient and saves a lot of money for your bills.
This unit is equipped with a self-diagnostic system, when the heater retains too much heat, led light shows off on the console. At the same time, the system will shut down by itself to protect heaters.
Remote temperature control
You can control the temperature remotely, and the temperature range of it is 99 to 167 degrees F. But without remote control, there are only 4 temperature settings available, and the temperature ranges drop between 113 degrees F to 140 degrees F.
Pros:
Indoor & outdoor installation
Commercial and residential use
Self-diagnostic system for safety
Internal freeze protection
hot water is not affected by climate
Large flow rate
Cons:
Installing remote control is an extra cost

---
As the name suggests, this unit needs to be installed outdoor, which saves a large sum of money in getting and installing venting kits.
Features:
The same as the indoor T-KJr2 tankless water heater, the size of this unit is also compact. You can hook it up anywhere that is suitable and spend only a small piece of wall space. 8.5 x 13.8 x 20.5 inches of it and 43 pounds of the weight determines it to be easy carrying.
Natural gas and propane both
If you do not have a gas line, then you can choose propane as the main power. On the contrary, natural gas is also a good idea to save a large amount of energy and money for you.
The unit is able to support 2 bathrooms or one bathroom and two faucets. There will be constantly hot water, and you do not need to worry about running out of water. But when taking a bath, you will feel a slight drop as another faucet runs.
You can easily install the water heater if you have enough knowledge about plumbing, if not, YouTube is also a good way to help. Or you can just find a professional to have it installed, but the cost can be much higher.
The gas power input is 140000 BTU per hour, but the energy rate is only 0.83, which means only 83% of gas can be used. Besides, it takes a few seconds for hot water to flow out of the pipe, that is to say, much water is wasted in the process. Thus it is the other drawback of the heating machine.
Pros:
Reasonable and affordable price
Outdoor installation
Endless hot water
Compact and light-weighted size
Best for small apartment use
Both natural gas and propane gas are available
Cons:
Take little time for hot water flowing
Water temperature drops when hot water is used simultaneously elsewhere

---
This tankless water heater also adopts natural gas as the main power, and condensing design makes it more energy efficient.
Features:
The flow rate of the tankless water heater is 10 GPM, which is a huge flow rate, thus it is able to support 3 bathrooms easily in warm regions and 2 bathrooms in cold areas.
According to the reviews of buyers, most praised it everlasting hot water. The released hot water temperature can be as high as 185 degrees F. It demands 199000 BTU per hour to perform in the best way.
Condensing design of it ensures its high energy efficiency and is able to save much money for you. The lightweight of 11.2 x 17.8 x 24.9 inches keeps it simple to be installed anywhere you want.
For this unit, you can also integrity with remote control and control it far away from the machine, but you need to buy it separately. The led light on the console shows temperatures and wrong code for you.
The unit is equipped with overheat cutoff fuse, ensuring that there are no breaches in combustion. The heater is able to shut down automatically when it retains too much heat to protect itself.
The hi-limit switch is added in each product of Takagi, it keeps the water temperature in absolutely safe levels, and activated by disengaging the gas valve and shut down water heater automatically.
Pros:
Huge flow rate offer
Weights light
High water temperature range
Able to integrity with remote control
Condensing design
Cons:
Wait time for warm water is quite long
The flow rate will be lowered when in cold regions

---
Takagi Electric Tankless Water Heater
The electric tankless water heater is a commonly used unit for most people, it heats the water quickly and is more environmentally friendly compared with gas or propane tankless water heaters.
However, Takagi is a brand that experts mainly in Natural gas and propane tankless water heaters, so seldom electric water heaters are recommended. If you do like one for electric power, you may check the electric tankless water heater reviews we have made, or find more other types on Amazon.
Takagi Tankless Gas Water Heaters Reviews
As is known to us all, Takagi is famous mainly for natural gas tankless water heaters. The security and quality have always been primary factors in producing tankless water heaters for Takagi.
Followings are best Takagi tankless gas water heater reviews we made for you to buy: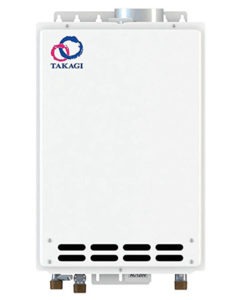 This tankless water heater is powered by natural gas, indoor installation requires venting kits to vent gas to outdoor.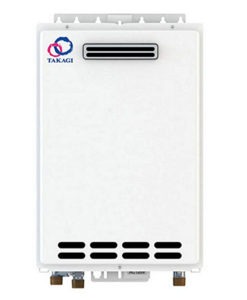 Outdoor tankless water heater saves you both money and energy on buying and installing extra vent kits. You can hook it on the outside wall anywhere that is suitable.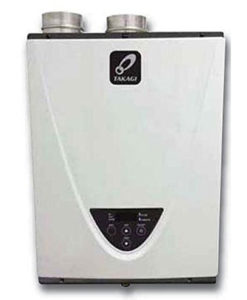 Different from the above two natural gas tankless water heaters, this one adopts a condensing system for energy saving and a large amount of gas will be used through the system.
Takagi Propane Tankless Water Heater Reviews
If you have no gas line or are lack enough budget on buying natural gas or electric tankless water heaters, propane tankless water heaters will be the best choice. It is a perfect unit for you to use when you are camping outside or going out for traveling. It can be simply installed and hooked up.
If you have any interest in propane water heaters, here we offer you the best-recommended propane Takagi tankless water heater for you:
Takagi T-KJr2-IN-LP Indoor Propane Tankless Water Heater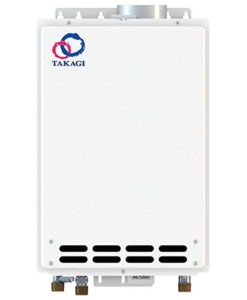 This one needs to be installed indoor, and 6.6 GPM satisfies the basic needs of two bathrooms in warm regions. Self-modulating and digital remote control make it be used simply and safely.
The maximum temperature of it reaches 150 degrees F, and constantly hot water gives you the best user experience in both bathing and washing dishes in the kitchen. If you have any interest in the product or want to know more about the product details, please feel free to check the price on the Amazon.
Takagi Tankless Water Heater Prices
Compared with tankless water heaters of other brands, Takagi tankless water heater prices are much cheaper and are more cost-effective. Most of the Takagi water heaters prices are around $500, which is highly affordable and reasonable.
For most occasions, the price level is closely related to quality level, but there are also those high-quality types at low prices. When choosing suitable tankless water heaters, you should take all the important factors into considerations, and pick the best suitable one for you. If you have any inquiries on how to pick the best tankless water heaters, you can check our buying guides for you.
Different products point to the different price level, if having an interest in the product price, please feel free to check on Amazon.
More About Takagi Tankless Water Heaters…
Takagi is the first brand to bring tankless water heaters into our sights and it is always innovating new technology for safe working of water heaters.
Here are three technologies Takagi adopt on their products and that is why you should choose Takagi:
1. Air-Fuel Ratio (AFR) sensor
Basically, all the Takagi tankless water heaters are equipped with an AFR sensor to monitor and maintain combustion all the time. It is able to adjust fan motor speed, aiming to ensure that air and fuel have a proper ratio. It can minimize gas emissions and maximum water heater efficiency.
2. Freeze protection
Freeze protection is used to protect the water heater. When the water temperature falls below the safety level, the heater will be frozen and can not be used any longer without repair. The freeze protection is able to keep water temperature into safety levels all the time for protecting freezing damage.
3. Hi-limit switch
Hi-limit is capable of keeping the water temperature in safe levels, it is activated by disengaging the gas valve and shut down the water heater effectively and automatically.
4. Overheat cutoff fuse
This system is adopted for no breaching in combustion. It shuts down when the water heater retains too much heat.
All four technologies and systems are adopted and installed for protecting water heaters. On safety, Takagi is highly reliable and trustful.
Top 3 Best Takagi Tankless Water Heater

---