Small tankless water heater refers to the machine with a small and compact shape, it can be widely used for a tiny home, cabins, RVs and camping tents, etc. Because of its lightweight, you can easily take it anywhere with you and install wherever is convenient.
In order to help you find the most suitable one, we would like to give you the best small tankless water heater reviews as follow:
Top 7 Best Small Tankless Water Heaters
Best Small Tankless Water Heaters Reviews
This small tankless hot water heater is the most recommended and best-selling one on the market of 2020. It is a propane type, can be used for RV, camping, traveling and also for residential use in small homes.
The temperature range of the machine is between 46.4 degrees F and 114.8 degrees F, and it requires the lowest water pressure, needs only 2.5 PSI of water pressure to activate the machine.
There are two buttons set on the machine, one for flow rate, while the other for gas, through adjusting the two buttons, you can get the most suitable temperature that you want, of course, it is quite hard to adjust.
The maximum flow rate is 1.32 gallons per minute, able to meet the demand for simple bathroom use. But if you intend to use it for the whole house, then you need to get a large flow rate one.
Pros:
Low water demand
Compact size, save much space for you
Anti frozen protection for outdoor using
Turn it on and off quickly for controlling water flow
Stainless steel burner
Anti-corrosion materials
Cons:
Not suitable for whole-house use
Hard to adjust the exact temperature you want

---
This tankless water heater has a small and compact shape, which is suitable for small studio use. The flow rate is 4 gallons per minute, able to meet the demand of one single bathroom use.
The price of it is really affordable and unbeatable, besides, the using costs are also quite low because of its high energy efficient and easy installation. It heats fast and water flows out in about 15 seconds.
For water temperature settings, it is designed with LED light and simple dial, with which you can get the exact temperature you want. Error codes and temperature shows on the screen clearly.
The water temperature always stays the same, even for long-time use with high technology.
Pros:
Easily operated temperature control panel
Stable water temperature
Less using costs on electricity bill
Easy installation, multiple stranded wire makes the connection much easier
Small compact shape
Cons:
Good for one single bathroom use only

---
This unit bears the maximum temperature of 67 degrees F, and is able to support 2 gallons of water each minute. You can use it for bathroom use and also for recreational vehicle use in traveling or camping.
It is designed compact and small, can be used for tiny studio perfectly. Just hook it on your bathroom wall and it is able to provide constant hot water for you. If you install it as a point of use heater, the waiting time for hot water can be quite short.
Self-modulation technology enables the machine to operate only when you need hot water, thus it saves much energy, about 60% of your electricity bill each month. But the water temperature is not so stable, goes warm and cold back and forth several times.
It has automatically resettable thermostat, the digital temperature control panel makes operation much easier. EcoSmart promises to give lifetime warranty for the heating parts, so you do not need to worry about its quality level.
Pros:
Self-modulation technology
Compact and stylish small shape
Energy efficient
Automatically resettable thermostat
Lifetime manufacturer's warranty
Digital temperature control
Cons:
Unstable water temperature

---
This small tankless water heater is actually a whole house type, it meets the demand of two bathrooms use in the small or middle-sized family. The maximum flow rate reaches 5 gallons per minute and is able to raise water by 54 degrees F at 3 GPM.
The energy efficiency of the unit reaches as high as 99%, which means nearly no heat loss occurs in using process. When you cascade several of it together, it can also be used as the commercial tankless water heater.
The built-in advanced flow control system is used to regulate water pressure automatically, and full power modulation makes it a high power heating machine. It is built with high-level electronic parts and reliable cover, the service life reaches as long as 20 years. Digital control can be used to adjust exact water temperature, error codes show off.
Pros:
Quiet working performance
High-level material
Self-modulating technology
High energy efficient
Compact but powerful design
Full power modulation
Cons:
It is difficult to install, needs 240v power and heavy-duty wiring

---
This is actually a tank water heater, but we still list it in our reviews because of its small shape and easily operating performance. It is installed mainly under sink and used for faucet only.
The flow rate of it is 2.5 gallons per minute, you can either use it for wall hung or floor mounted, both heats water fast. But it is most ideal when installing right near the application fixture.
The machine heats water fast, greatly eliminates the long waiting time for hot water. And using it is quite simple, just plug it into the outlet. No complicated machinery is needed in the installation process.
Pros:
Compact shape
Perfect for sink use
Simple operation
Fast recovery for hot water
Energy efficient
Cons:
Lack of consistency on water temperature
---
Atmor tankless water heater of this type of weight extremely light, only 17 pounds, which means you can take it anywhere for traveling or for camping. And small footprint helps save a large amount of wall space when used for home.
The temperature range is between 90 and 135 degrees F, and the high energy-efficient system saves about 50% on the electricity bill. The durable stainless steel interior perfectly resists corrode, prolongs the life expectancy largely.
It is equipped with Atmor's advanced ThermoPro self-modulating system to regulate the amount of energy required to heat water, and automatically detect water flow to eliminate wasted water flow and lower the water consumption.
Pros:
Digital temperature control to set temperature in the increment of 1 degree F
Lightweight and small footprint
Self-modulation technology
Automatic detection system
Easy and straight forward installation
Corrosion resistance performance
Cons:
Need to install a pressure relief device

---
This unit is another small propane tankless water heater, it is said to be used for whole home available, but we still suggest to use it as single bathroom use, because the flow rate is only 3.6 GPM, not powerful enough for multiple bathrooms use.
It adopts safe electronic ignition system, you can just plug it into standard 120v electrical outlet with UL-listed cord. The self-modulation system enables the machine to be activated only when in use, thus is highly energy efficient.
The error codes and temperature shows off on the screen, two buttons are set for controlling water flow and gas, through them, you can get a suitable temperature for bathing or handwashing. But it is hard to get the exact temperature you want.
Pros:
Energy efficient
Low working noise
Safe electronic ignition system
Easy installation
Efficient power ventilation
Perfect one for small home, cabin or apartment
Cons:
Hard to get exact temperature you want

---
Features Of Small Tankless Water Heater
1. Perfect for a small studio and home use
For a tiny home or small studio, adding a tank water heater will occupy large space of your wall, and make your home more crowded visually. Thus you need a small tankless water heater, it is designed small and compact, you can install anywhere you want and some can even be installed under sink, saves much space for you.
2. Small flow rate
The small tankless water heater is normally supporting one single bathroom or one sink the same time, for whole house use, it is not powerful enough. The flow rate of it is also quite small, reaching around 2-5 GPM.
3. Money saver
Another function of a small tankless water heater is to use it as assistance with other heaters in your home. If living a large family especially with multiple bathrooms and upstairs, waiting time can be quite long and a large amount of cold water is wasted. Therefore, if you install a small tankless hot water heater near the hot water side, it will help shorten the waiting time greatly. Thus much money is saved accordingly.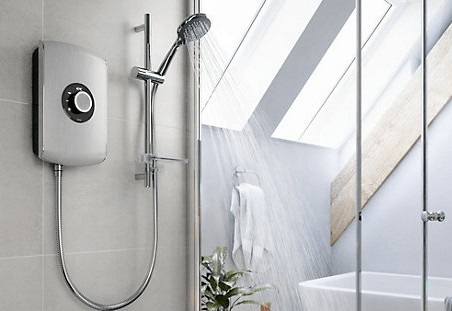 Small Tankless Water Heater Types
Altogether there are three types of small tankless water heaters based on the power source, they are a small tankless gas water heater, small propane tankless water heater, and small electric tankless water heater.
-Gas tankless water heater:
The natural gas tankless water heater is normally the most powerful type compared with the other two types, therefore, it is mostly used for the whole house. For small gas tankless water heater, you need to install venting facilities to let out wasted gas if it is installed indoor.
For more information on best natural gas tankless water heaters, please click into our reviews.
-Propane tankless water heater
Most of the portable or RV use small tankless water heaters are made into propane type, like natural gas, small propane tankless water heaters also need venting facilities when installing indoor. Compared with electric type, it is more convenient to use outdoor and is much cheaper in using costs.
We have made detailed reviews on best propane tankless water heaters, check for more if you have an interest.
-Electric tankless water heater
The installation of an electric tankless water heater especially the small type is quite simple and straight forward, you can start using it by plugging it into the outlet. And the working noise is lower, some can hardly be heard even.
Please feel free to check out more information on our small electric tankless water heater reviews if you are interested in the item.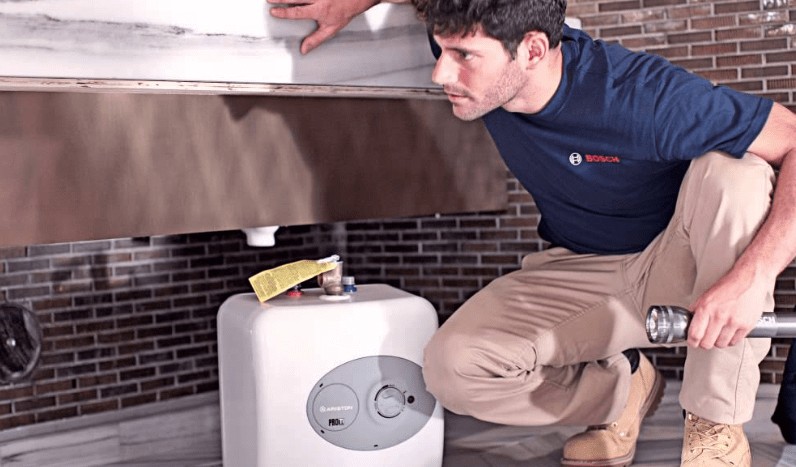 Summary

The small tankless water heater can only support single bathroom use for most occasions, therefore, before buying, you should estimate the amount of hot water you need and think whether the small type meets your demand.
If you want to know more details about the recommended best small tankless water heaters, you can find more information on Amazon, there will always be a large discount that helps you save money on purchasing.
---
You May Also Like: